Lady Macbeth review - memorably nasty |

reviews, news & interviews
Lady Macbeth review - memorably nasty
Lady Macbeth review - memorably nasty
Feminist psychosis in 19th-century Northumberland
Lady in blue: Florence Pugh as Katherine
The Scottish play's traces are faint in this bloody, steamy tale of feminist psychosis.
Based on
Nikolai Leskov's Dostoevsky-commissioned novel
Lady Macbeth of Mtsensk
, its 1865 setting is transferred from Tsarist Russia to Northumberland. Little of the isolated, feudal oppression is lost in translation, as teenage Katherine (Florence Pugh) finds herself chattel to the sullen, impotent, older Alexander (Paul Hilton), till lust for a servant sparks her to life, and consumes everything around.
Though Katherine is lady of the manor, this is a tale of gilt-edged slave days from a female perspective – Naomi Ackie, as her black maid Anna (pictured below between Pugh and Cosmo Jarvis), adds another angle. The hollowly echoing, lifeless stone of a house she can't leave, and the clink of cutlery at otherwise silent meals, combine with humiliation at bedtime, when Alexander wanks uselessly, and she is blamed for their childlessness. Christopher Fairbank, as Alexander's callous dad Boris, is the ultimate monster in this mausoleum. Even the men's sadism is somehow anaemic, in contrast to Katherine's vainly pumping blood. Any woman would feel like screaming, or, like Shakespeare's Scottish queen, plot to kill and kill.
Theatre and opera director William Oldroyd's feature debut is heavy on colour-coded atmosphere, from Katherine's electric blue dress to the lush countryside she sometimes escapes to. As Sebastian, the violent servant she erupts with lust for, the part-Armenian Cosmo Jarvis (pictured below right with Pugh), is in this context a dark, forbidden other in the mansion's pale world. This recalls Andrea Arnold's Wuthering Heights (2011), when the "Laskar" skin of Heathcliff allowed an interracial affair with Cathy. Race, as well as class and gender, also simmer in Lady Macbeth's 19th century rustic England.
The affair with Sebastian, conducted in Alexander's absence, continues on his return. Katherine's addiction to their sex's life-force, and her own awakened agency, won't be stilled. But finally even this leaves her torpid. What begins as sexual power becomes a matter of vampiric survival, as she pushes herself further out on a social limb. In this world, female independence requires murderous madness.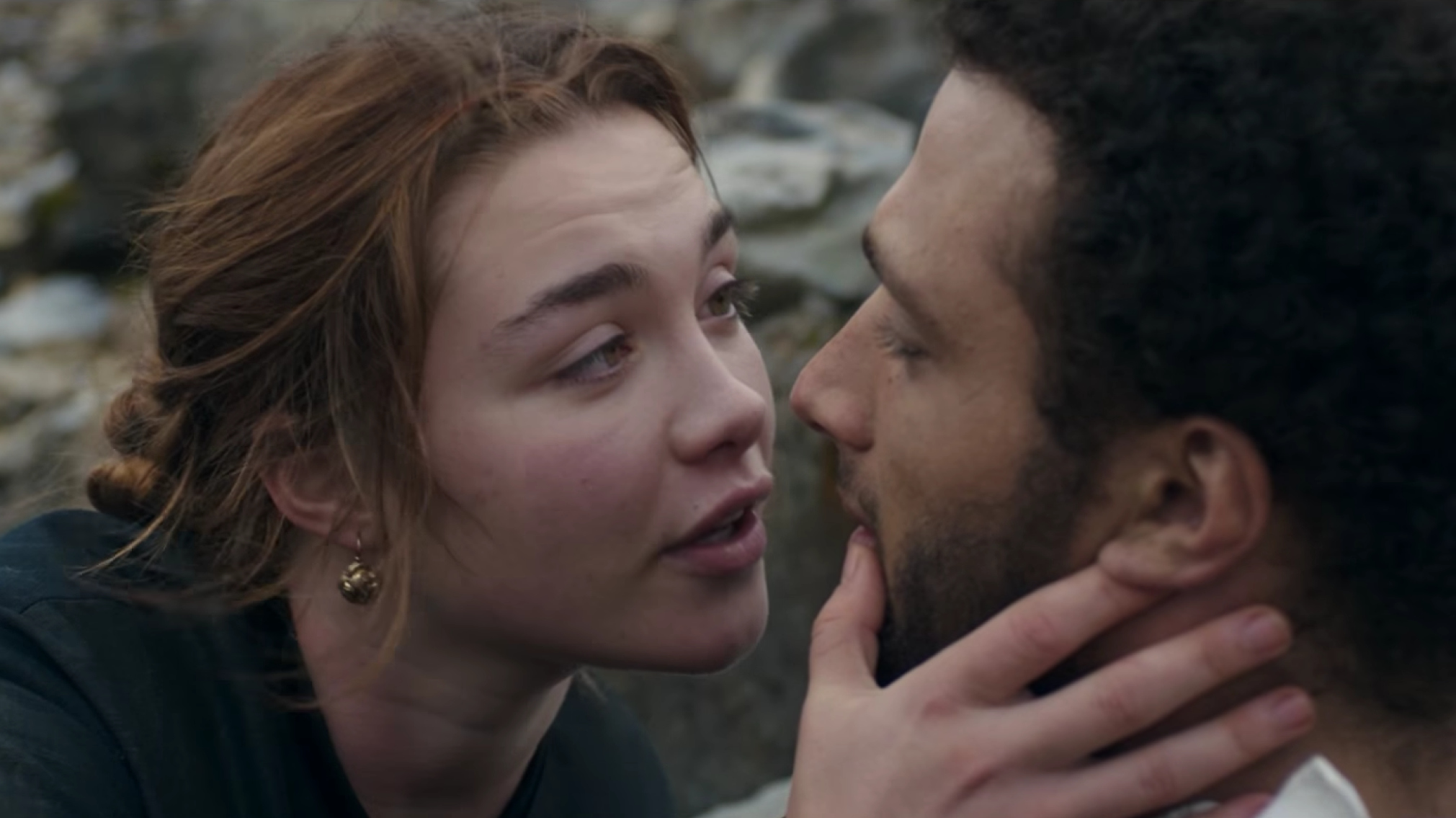 Pugh, aged 19 during Lady Macbeth's shoot, powerfully conjures a woman who, having escaped her trap, pulses with heedless, consuming sex and violence, and underlying, unrelenting desperation. The fatal end reserved for transgressive women in 19th century literature is tweaked a little from the book, but she remains a fascinating creature.
Oldroyd and screenwriter Alice Birch don't, though, quite find the tempo for the increasingly giddy grand guignol. The first hands-on murder is a convincing, shocking bit of chaos. But as the Lady's crimes pile up, absurdity creeps in. The early, aristocratic Northern chill convinces much more than the supposedly feverish end.
Perhaps it's the tale's origins with Leskov, a despised outsider in Imperialist Russia's leftist salons, which anyway gives Lady Macbeth's feminism its memorably nasty edge. The blade is swung wildly, though, and blunts too soon.
In this world, female independence requires murderous madness
rating
Share this article