Sughayer, Manchester Camerata Soloists, Manchester Cathedral |

reviews, news & interviews
Sughayer, Manchester Camerata Soloists, Manchester Cathedral
Sughayer, Manchester Camerata Soloists, Manchester Cathedral
Mancunian musicians and friends excel in music for a sacred space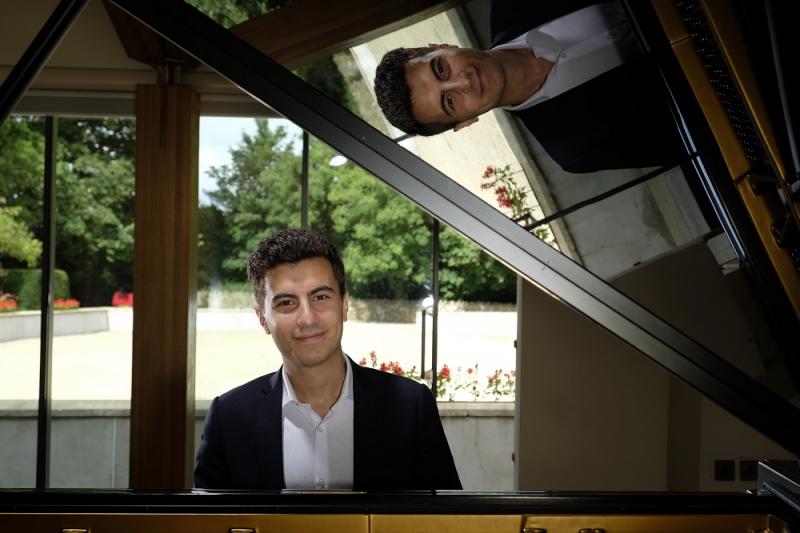 Iyad Sughayer
Two works whose whole significance depends on (unspoken) sacred texts made a stimulating combination for a concert in Manchester Cathedral's sacred space. Haydn's The Seven Last Words of our Saviour on the Cross – usually heard in its string quartet version – is an instrumental version of Christ's words from the Gospels' descriptions of the Passion.
On this occasion the Camerata musicians chose to give three of its nine sections (there's an introduction and a short final account of the earthquake that follows the death of Jesus in the
Bible
account) to their guest pianist, Iyad Sughayer – an interesting mix of media, as Haydn did publish the whole thing as a piano solo, too.
Messiaen's Quatuor pour la fin du temps, famously conceived and first performed in a Nazi internment camp during the early years of the Second World War, was inspired by Revelation chapter 10 and has (like a number of other Messiaen works) quite specific Christian theological ideas as titles to its eight sections.
So, in both cases, the music really requires that you consider the words it relates to, at every turn. And yet it speaks of itself, wordlessly, too. Haydn's musical language is that of "sensibility" (except possibly for its final Terremoto depiction) – the story may be among the most heart-rending ever told, but the music is formally balanced, the harmonic progressions civilised, the effect one of order rather than horror.
The Camerata quartet (Adi Brett, Rakhi Singh, Ulrich Eichenauer and Hannah Roberts) took this on board and gave their playing great depths. There are depths there – the texture thickens in the lower registers and there are gasping phrases in "My God, my God, why have you forsaken me?", which is the biggest challenge of the whole piece – and they rose to that. And the seventh Word ("Father, into your hands I commend my spirit"), was delicately and beautifully played by the two, muted, violins. (Pictured below by 0161, the ensemble in Manchester Cathedral).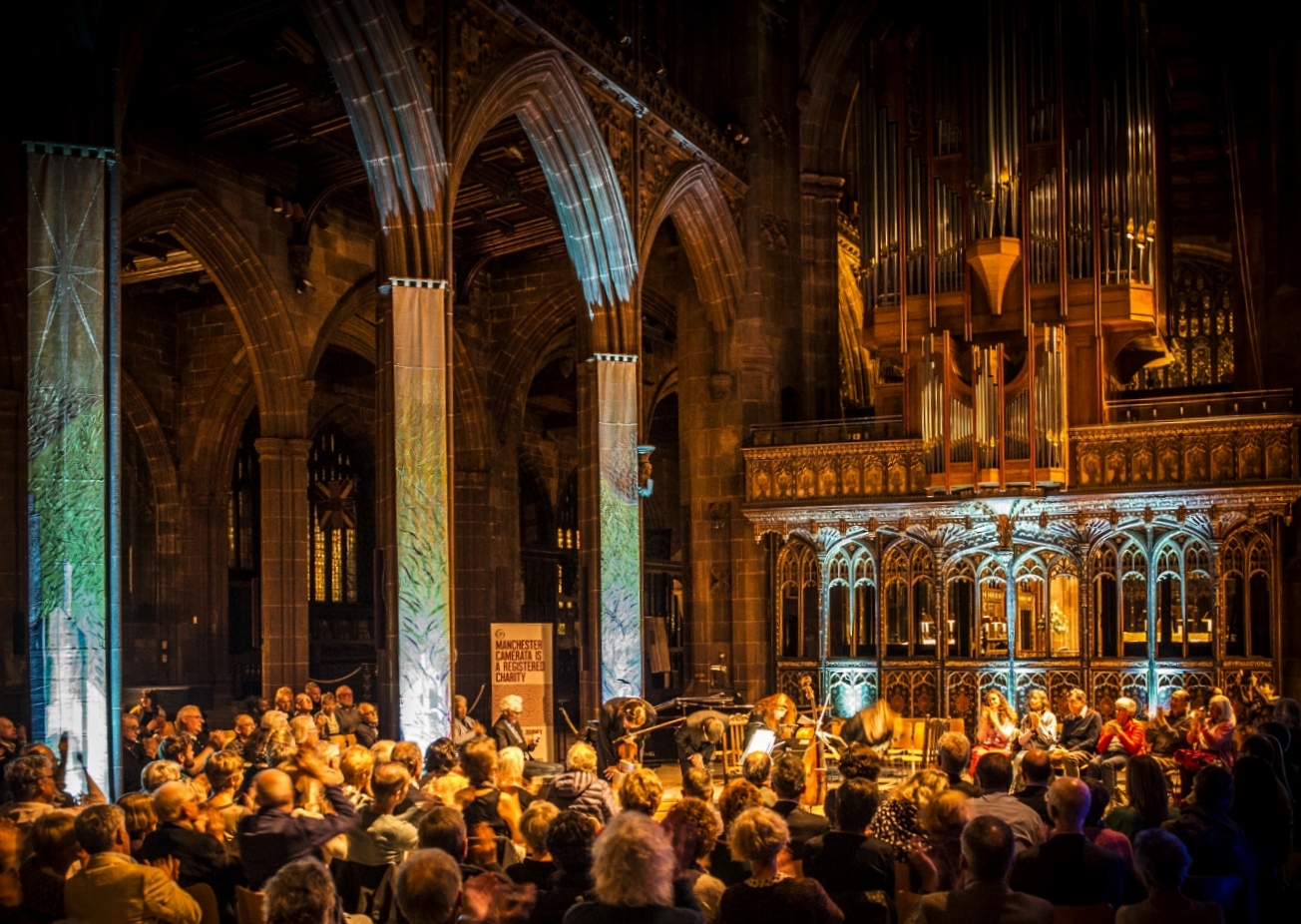 The transcription-for-piano versions present more problems: no longer do we hear the singing tone of violin solo with string accompaniment, though the percussiveness of the instrument offers its own opportunities. Iyad Sughayer found it a little difficult to escape from a four-square reading of "Father forgive them…", despite the sobbing appoggiature, suspensions and sequences, and though his account of "Mother, behold your son…" had a charming conversational tone at first there was a little too much drama by the end. The song-without-words theme of "It is finished", though, was warm and satisfying, with the piano's quality of emphasis well used. Haydn clearly understood his Bible, and Sughayer did, too.
One of the interesting aspects of this programme was the contrast of two composers' reflections of the idea of Paradise. In Haydn's second Word ("…today you will be with me in Paradise," spoken by Jesus to the repentant thief) there's a repeated theme with pizzicato bass and broken-chord accompaniment that almost matches Fauré's vision of the hereafter – gorgeously played. In Messiaen's meditation, the final movement is one of near-stasis, as the soul seems to float ever higher (its title in this work is not the only clue to its meaning, as in the earlier organ piece from which it is taken it represents "l'éternité bienheureuse", in contrast to earthly life).
Adi Brett, Hannah Roberts and Iyad Sughayer were joined by clarinettist Fiona Cross for the unique sound canvas of the Messiaen, and though each contributed with enormous skill to the re-creation of its textures, the latter's playing was among the most striking aspects of it. "Abîme des oiseaux", the third movement, was not just a set of bird call imitations, but something mysterious and unearthly – I fancy that is exactly what Messiaen saw in the music of birds.
The second, "Vocalise, pour l'ange qui annonce la fin du temps", with its lovely cantilena for muted strings with the piano, was likewise delicate and ethereal. Adi Brett and Hannah Roberts' approach to the sound quality of this work's instrumentation, from the opening "Liturgie de cristal" onwards, was subtle and wonderfully sweet, and Iyad Sughayer was at one with his colleagues in it.
The first long meditative solo, "Louange à l'éternité de Jésus", is a cello solo, and here Hannah Roberts gave it full-on cellist's soulfulness, building to a great climax with support from the piano – quite rightly. It made an apt prelude to the "Danse de la fureur, pour les sept trompettes", which was presented with real virtuosity, while "Fouillis d'arcs-en-ciel, pour l'ange qui annonce la fin du temps" showed sustained impetus, rhythmic power and concentration. And then the ecstatic last movement, for violin and piano: sweet as a lark in the air with clear and limpid background chords until the final fade-out. Time did indeed stand still.
The song-without-words theme of 'It is finished' was warm and satisfying, with the piano's quality of emphasis well used
rating
Share this article