Turandot, Opera North |

reviews, news & interviews
Turandot, Opera North
Turandot, Opera North
Deafening, thrilling account of a flawed masterpiece
I've seen the future, and it's semi-staged. The gains here are far more significant than the losses. And where Opera North's minimalist Leeds Town Hall Ring let Peter Mumford's video projections fill in the gaps, this new production of Turandot is costumed, lit and directed, lacking only a backdrop. The chorus are squeezed stage right, tightly crammed into the choir seats. The cast gamely do their thing in the narrow space betwixt strings and stage.
For such a macabre, dark work, there's an awful lot of grinning going on – notably from Opera North's on-form orchestra, gleefully let off the leash in this most startlingly modern of Puccini operas. Tintinnabulists will swoon at the sight of 13 tuned gongs, and how often do we get to actually see a real cimbasso perched next to the trombones? Conductor Sir Richard Armstrong revels in the opera's brassier excesses. It's excessively, joyously loud in places, but I didn't see anyone complaining.
Listen blind, and it's hard to believe that this score was written in 1924. Puccini's stark, declamatory choral writing and outré harmonies sound as fresh as paint, and, until the problematic close, there's not a wasted note. I've rarely heard anything as musically exciting as this production's first few minutes: a series of savage chords depicting the falling of an executioner's axe followed by the Mandarin's angular declamation, sternly dispatched by a nattily-dressed Dean Robinson. All terrific, and then the chorus enter, their combined force powerful enough to dislodge a toupée in the rear stalls.
Annabel Arden's staging revels in the physical constraints, the plotting and characterisation much clearer as a result. Alastair Miles's Timur is a shabby, cowed wretch, his blindness implied with a mere smidgeon of face paint. Sunyoung Seo's downcast, plainly dressed Liù stands out among the supporting cast, able to reduce her voice to a whisper while losing none of its colour. Rafael Rojas as Calaf is an impetuous, headstrong joy, his high register unchallenged by Puccini's louder tuttis. Set and costume designer Joanna Parker's sole prop is a giant wobbly throne which begins to teeter precariously. Underneath which we catch a fleeting glimpse of Orla Boylan's Turandot (pictured right) early on, a terrifying sight in metallic grey and black feathers. Her voice is suitably commanding and steely, only gradually revealing its warmth in the last act. And dressing Gavan Ring, Joseph Shovelton and Nicholas Watts's Ping, Pang and Pong (below, left) as white faced circus clowns reminds us of their commedia dell'arte roots, the trio making brilliant use of suitcases, surgical instruments and a human skeleton.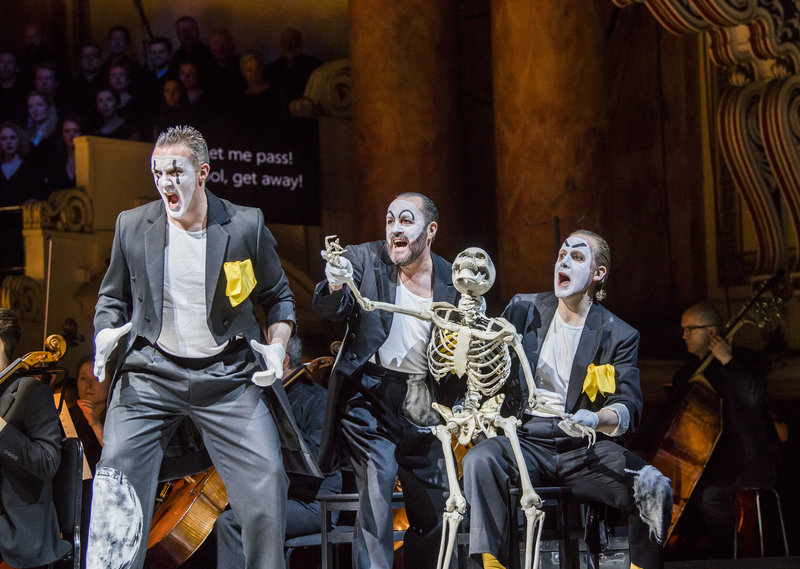 Bonaventura Bottone's Altoun exudes scary authority. Armstrong and Arden ratchet up the tension as the evening progresses, and it's difficult to suppress a cheer as Calaf solves Turandot's three riddles. Rojas's sweet-toned Nessun dorma is utter perfection, aided by immaculate chorus work, and what a surprise it is to hear this iconic aria in context: Puccini's refusal to linger a real slap in the face. It's the final scene which doesn't quite work. Turandot and Calaf's love duet, completed after Puccini's death by Franco Alfano, feels like too easy a resolution and can't help sounding a bit, er, 19th century after what's gone before. Adventurous listeners should seek out Berio's much more radical 2001 attempt. Until that completion enters the repertoire, Opera North's production will do, in spades. You can't imagine Turandot being performed with greater gusto.
Overleaf - watch Opera North's flashmob Nessun Dorma