Symphonic Dances, Royal Ballet review - a truly interesting creation |

reviews, news & interviews
Symphonic Dances, Royal Ballet review - a truly interesting creation
Symphonic Dances, Royal Ballet review - a truly interesting creation
New Scarlett creation shines in a musical mixed bill
Tristan Dyer and Nicol Edmonds in Liam Scarlett's 'Symphonic Dances' for the Royal Ballet
Liam Scarlett must be worked off his feet. Just at the Royal Ballet, he made a full-length work, Frankenstein, last year and is currently working on a new Swan Lake; and now last night he has premiered a new abstract work, Symphonic Dances at the Royal Opera House.
A one-acter, but at 45 minutes a substantial one, set to the work of the same name by
Rachmaninov
, this premiere was an important moment for Scarlett, whose last two new works for the company,
Frankenstein
and
Age of Anxiety
, received at best mixed reviews.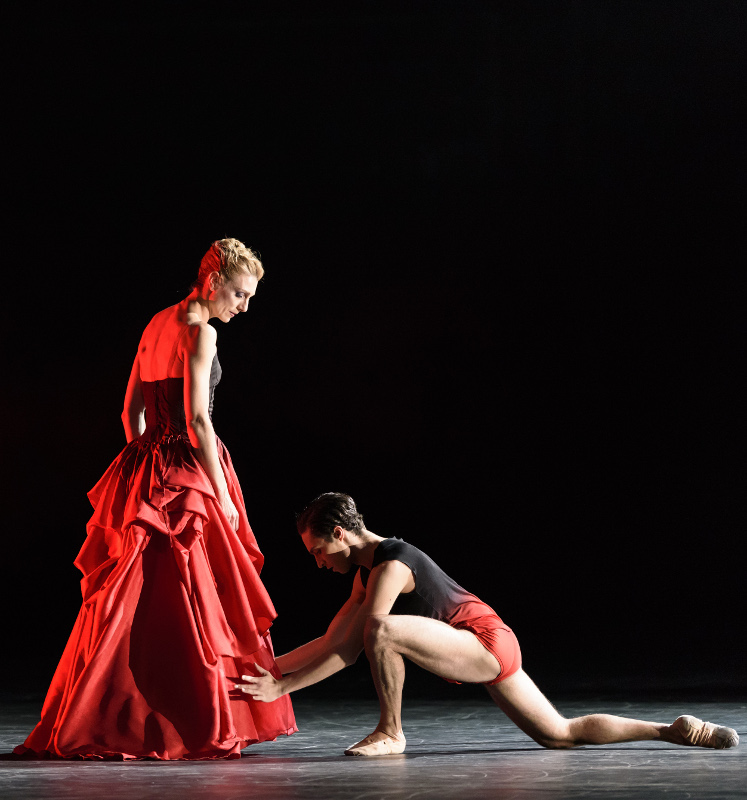 Symphonic Dances is not a masterpiece, but it's the best Scarlett I've seen since 2014's Hummingbird for San Francisco Ballet. It feels as if the young choreographer is letting loose and making dance in a way that interests him and this sense of heartfelt creativity carries the piece even through its weaker moments. Scarlett puts regal, angular Zenaida Yanowsky at the centre of the work and she shines like a diamond: hard as nails, finely faceted, and completely mesmerising.
She appears first in an enormous, billowing skirt, and later in a bum-skimming asymmetric jacket: both stunning garments in their own right, but also part of the choreography, which plays not only with the garments themselves (waving the skirt's hem is a recurrent motif) but also with the gender roles they imply. In brilliant, memorable early pas de deux (pictured right), James Hay, shorter and seemingly slighter than Yanowsky, courts her like a fey faun might court a goddess: moving lightly around her, cautiously beseeching from the floor or showing off his airy flexibility while she stands rigid and wondering. When they finally close with one another, she partners him like a man for a few steps, then he partners her, and it ends with a striking image of Hay curled on the floor under Yanowsky's skirt, an outcome that seems to take them both by surprise and that certainly breaks the mould for male-female interactions in ballet (hurrah!)

Not all the choreography is of the same standard. I remain unconvinced by Scarlett's handling of more conventional pas de deux, in which he habitually has both partners facing forward (the woman's back to the man's front), an arrangement that makes some moves inelegant, and seems to hamper emotional connection (and, consequently, tension). His choreography for small groups of men is excellent, however, and a repeated entry by Marcelino Sambé and Luca Acri that has them explode across the stage in syncopated, contorted flight is quite extraordinary.

Jon Morrell's costume and set design juxtaposes a rich scarlet (nominative determinism?) with black, and bright but oblique lighting by David Finn adds to the Gothic effect by creating deep shadows and startling highlights, often picking out Yanowsky's pale skin and queenly profile against the receding darkness of a stage which, stripped of wings and backcloth, is truly cavernous. Scarlett has really got to grips with atmosphere of the Rachmaninov score too, reflecting its lush, brassy mood far better than Edwaard Liang's tepid effort for San Francisco Ballet did. The Yanowksy/Hay pas de deux is set to an eerie meditation by interweaving solo flute, oboe and clarinet, while the male corps de ballet play with their voluminous skirts and wiggle their hips coyly to a quizzical conversation between strings and oboe in the second movement Andante con tempo di valse. The company's excellent music director, Koen Kessels, makes his presence felt in the pit: the connection between orchestra and dancers is vibrant.


The rest of the programme is mixed. The opener is The Vertiginous Thrill of Exactitude by William Forsythe, boasting the usual Forsythe rapid pyrotechnics and set to the last movement of Schubert's Symhony No. 9, the 'Great'. The music sounded a million dollars under Kessels's baton last night, pacy and exciting; it was as palpable on the stage as a sixth dancer. Unfortunately it was a little too fast for Beatriz Stix-Brunell and Akana Takada, both of whom were replacements for other dancers and had presumably had too little rehearsal time. It's a vicious piece to dance if you're not up to it; raggedness in performance destroys almost all its effect. Rescue came from Steven McRae, on his usual snappy, precise form, and even more from Marianela Nuñez and Vadim Muntagirov, whose partnership lit up the stage. Individually they ooze their Principal class, executing Forsythe's challenging choreography with musicality and flair and a smile on top (no mean feat), but together they are golden, turning the tiniest of gestures - she places her hand in his - into richly moving drama. Their brief pas de deux captured the gracious spirit with which they both do classical roles: Siegfried and Odette, Albrecht and Giselle, are practically visible through the block-colour 90s costumes.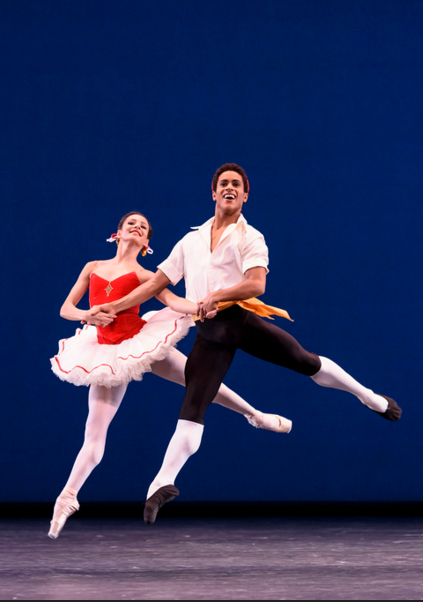 Just ignore the hackneyed gypsy stereotyping and George Balanchine's Tarantella is a charming confection of a gala piece. It was an excellent vehicle for Francesca Hayward and Marcelino Sambé (pictured left) last night, both young and light of heart and foot. Sambé can do all the daft and brilliant jumps and then top them off, seemingly untroubled, with a stream of enormous grands jetés en tournant, while the supremely musical Hayward is both crisp enough in the lower body to do the petit allegro footwork and pliant enough in the upper body to give it some real sass with arms and shoulders. It was a pure treat to see these two brilliant dancers give a such a confident account of their own abilities.

Christopher Wheeldon's Strapless, however, is no kind of treat at all. Even with a brilliant dance-actors like Natalia Osipova playing Amélie Gautreau, the Parisian beauty in the black dress, and the equally able Edward Watson playing John Singer Sargent, painter of her scandalous portrait, it has no dramatic tension or excitement to speak of. The exception is the last scene, in which the ghost of the disgraced Gautreau wanders a modern art gallery and derives some consolation from the high reputation of her portrait after her death: it has a certain, sparely affecting quality. But generally this lumpen, literal telling makes a potentially interesting story into a 40-minute drag of tedium. Osipova's Gautreau is woodenly affected, Watson's Sargent inscrutable, and Federico Bonelli's Dr Pozzi (a lascivious gynaecologist) is a terrible role for a gentlemanly dancer, entailing as it does a sex scene pas de deux which is pretty tasteless and entirely unsexy (even the bits of it borrowed from Manon and Wheeldon's own, gorgeous, After the Rain have no buzz in this context). The Royal Ballet, having commissioned Strapless, had to revive it at least this once, but I sincerely hope it's the last time.

Strapless is the odd one out in this programme; I would happily watch the rest again tomorrow. Scarlett's Symphonic Dances is a truly interesting creation, and shares with Vertiginous Thrill and Tarantella a rich and rewarding musicality, as well as fine dancing.
The Royal Ballet perform The Vertiginous Thrill of Exactitude/Tarantella/Strapless/Symphonic Dances at the Royal Opera House until 31 May. Tickets are still available for several performances.
Hay courts Yanowsky like a fey faun might court a goddess
rating
Explore topics
Share this article