La Rondine, Opera Holland Park |

reviews, news & interviews
La Rondine, Opera Holland Park
La Rondine, Opera Holland Park
Elizabeth Llewellyn soars in Puccini's tuneful waltz-dream
Dreaming of true love: Elizabeth Llewellyn as Magda 'accompanied' by Stephen Aviss's Prunier
When are the big international opera houses going to wake up to the great British talent that is Elizabeth Llewellyn? With her opulent soprano – shaded middle register, full bloom at the top, cutting chest voice – she was born to sing Verdi and Puccini, and her stage presence is undeniable from the moment she steps out.
English National Opera threw her a few roles –
Micaëla
,
Mimì
, Mozart's Countess – but then seemed to pass over her in favour of American sopranos. Now Opera Holland Park has showcased her brilliance in an
opera
made for a London summer night – Puccini's bittersweet Parisian waltz-dream with operetta-ish overtones, which happens to be a good company show into the bargain.
The plot is light as thistledown: courtesan Magda finds true love sharing beers at a dance-hall, hesitates to tell her nice young man about her role in society, leaves him (no real spoiler involved) – Verdi's La traviata revisited in airier mode. OHP has been here before, in a production faithful to the soft Belle Époque decadence of the original setting. Martin Lloyd-Evans almost justifes his update by pulling off the big coup of the evening, with a little help from takis's designs and Martin Howland's lighting: the prim salon with its pretty pastel dresses for the bit-part girls offsetting heroine Magda in bold canary yellow gives way to Bullier's urban, apache raucousness, accommodating our courtesan transformed in leather jacket and jeans (Llewellyn and Matteo Lippi in Act Two pictured below). There's a problem here, though, when Puccini does a Gallic-Italian take on Der Rosenkavalier or Die Fledermaus with a string of waltzes; the chorus is game to do some very non-waltzy moves to it, courtesy of movement director Steve Elias, but it doesn't quite work.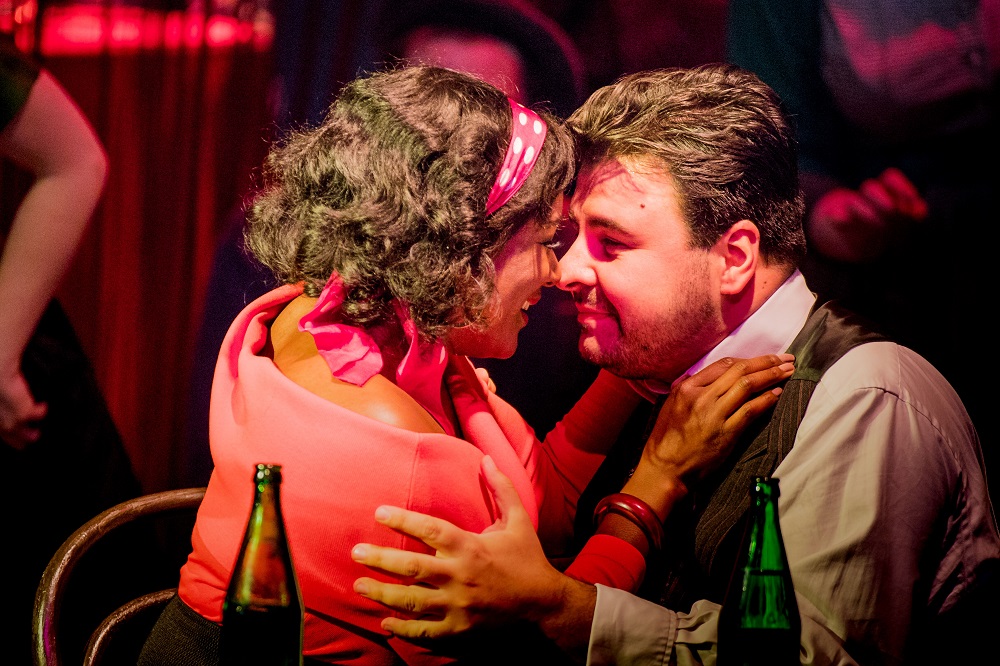 We also believe even less, given the post-war freedoms, in Magda sacrificing herself so readily to the demands of propriety and, Violetta-like, yielding her beloved Ruggero to the conventional demands of his mamma. It's always going to look like a weak cop-out to contemporary audiences ("I've lived between shame and riches, bye now") happening in double-quick time in a third act where Puccini has run low on the original melodies which power the first two – but doubly so in the update.
Never mind: what works here has most of the gem-like orchestral colours and vocal glamour it needs. Matthew Kofi Waldren is excellent at steering the deft mood-changes and easy lilt of the score; no doubt once he knows it better, he'll lift his head to give more cues to the singers above him. The chorus certainly needs a bit more help in the co-ordination of the typically Puccinian swagger of the second act (think Café Momus with added stridency and – later, in the first duet of the act between the new lovers – a delicious take on swooning Lehárishness).
The lighter couple, caddish musician Prunier and maid Lisette (for which read Rosalinde's Adele from Die Fledermaus, a girl who also wants to go on the stage but here gets to fail at it), are decently taken by Stephen Aviss and Tereza Gevorgyan (pictured above with Llewellyn in Act Three). I'd have liked more light-tenor charm, though, from Aviss, who's perhaps too baritonal at times. But in Matteo Lippi we have the genuine Italian article for the cipherish Ruggero: affable of manner, all at one loudish dynamic level, perhaps, but the top notes are never in doubt.
Nor are Llewellyn's, and our hearts are with her from the start. There isn't much depth to be found – this rondine (swallow) is no traviata – but she does convey, and often thrillingly, the idea that "love is always new". And with the possibility of real swallows silhouetted above the awning, and peacock cries in time for the final scene on the French riviera, this most culinary of opera/operettas is a perfect fit for its west London setting.