Grayson Perry: The Most Popular Art Exhibition Ever! Serpentine Gallery |

reviews, news & interviews
Grayson Perry: The Most Popular Art Exhibition Ever! Serpentine Gallery
Grayson Perry: The Most Popular Art Exhibition Ever! Serpentine Gallery
The man in a frock reflects on a divided Britain and makes kitsch okay
'Kenilworth AM1', 2010
The most popular exhibition of a living artist ever held at the Tate was David Hockney's recent retrospective, which attracted 478,082 visitors.
If
Grayson Perry
is to top that, as the title of his
Serpentine Gallery
show optimistically predicts, his exhibition will have to attract a throng of 5,900 visitors a day!
Even though his current Channel 4 series Divided Britain and earlier ones like In the Best Possible Taste and All Man have turned him into a household name, I doubt if Perry's celebrity status gives him that much pulling power. The exhibition title is tongue-in-cheek, of course, but nevertheless it suggests a certain nervousness about what popularity means for him as an artist now that he is the nice man in a frock who explains art to the masses. It feels as if the Essex boy, who once took the risk of slipping out after dark dressed as a woman to see if he could pass as one, is feeling the need to take stock now that he is a Royal Academician and member of the establishment – now that he seems more avuncular than rebellious.
"I have long been interested in the decreasing value of the rebellious stance," he writes in the catalogue. "Part of the historic recipe of modern art has been revolution, the overthrow of the old order. But what if the ethos of that rebellion is now mainstream? Punks are now pensioners, tattoos are as dangerous as reading Harry Potter, a Damien Hirst show is a nice day out with the kiddies. The mutinous subculture show is now the norm." He might have added "and cross-dressing is the new black."
He made waves in the early noughties as an exotic outsider who employed traditional and deeply unfashionable skills, like throwing pots, to address issues such as gender and identity politics. What next, though? How to negotiate success and acceptance? The first room is devoted to artworks that reveal what it is like to be in the public eye. Reclining Artist 2017 is a giant woodcut of Perry lying on a sofa in the pose of a female nude with male genitals. S/he is surrounded by studio clutter including books, a trolley full of artist's materials and a picture of a motorbike which define him as an artist, an intellectual and a biker.
Made last year, two large pots reflect on different aspects of success. Visitor Figures is inscribed with the names of artists like Frida Kahlo, Yoko Ono, Diego Rivera and Dubuffet, whose exhibitions attracted large crowds, and pop idols such as Madonna and David Bowie. Puff Piece (pictured above right) bears a self-portrait along with epithets such as "a genius", "leading artist" and "national treasure", apparently coined by critics John Berger, Adrian Searle and Andrew Graham-Dixon. What rescues these vessels from irritating narcissism is their great beauty. The deep blue detailing and biscuit-coloured grounds makes them exceptionally desirable, so they achieve their goal of ensconcing Perry with other all-time favourites.
When not obsessing about his artistic status, Perry focuses on his relationship with Everyman. "I am in the communication business," he explains, "and I want to communicate to as wide an audience as possible... maybe naughty artists are no longer weirdo outliers; perhaps they are now cultural operatives reflecting the values and feelings of a majority of the population."
The next room is dedicated to works made in conjunction with his TV series All Man. Inspired by filming youth gangs in Lancashire, The Digmoor Tapestry, 2016 (pictured above) features a map of their territory which, with its numerous cul-de sacs, resembles an impenetrable maze. Rendered in drab beiges and browns, the map is overlaid with obscene graffiti and a lottery ticket offering hope of escape from the many dead-ends. Contrasting the desolation of this urban landscape with the dynamic energy of the young inhabitants, the resulting surface is like a palimpsest whose subtle beauty is astounding given its dreary starting point.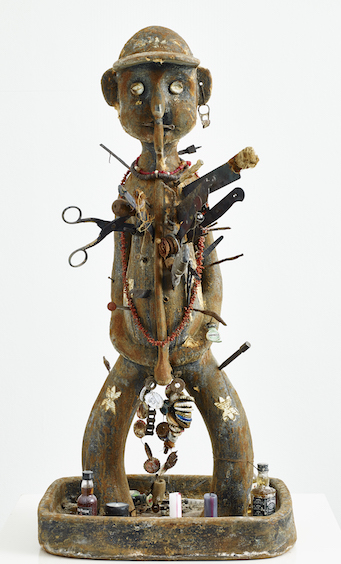 Similarly inspired by his Lancashire encounters, King of Nowhere, 2015 (pictured left) is more problematic. The sculpture mimics a Congolese fetish figure that, typically, would have been hammered with nails to endow it with magical powers. Perry's figurine is stuck with knives, scissors and screw drivers – weapons to which he has fallen victim; this hapless character is a martyr to an outdated notion of masculinity. It reminds me of the pseudo-African carvings made in 2002 by Jake and Dinos Chapman as a reflection on how globalisation destroys indigenous cultures. But The Chapman Family Collection is more sophisticated as social commentary than Perry's clunky appropriation.
For Divided Britain Perry interviewed euro-sceptics and remainers before creating two pots that reflect the disparate views which polarise pre-Brexit Britain; rather than being diametrically opposed, they are remarkably similar. The tapestry Red Carpet, 2017 (pictured below with Our Mother, 2009) is a much richer and more succinct encapsulation of the current political and social divide. A distorted map of Britain places far more emphasis on the south east and the Westminster bubble (labelled "Them") than the rest of the country (labelled "Us" and "The real world"). Commonly expressed grievances such as "cheap imports", "tax evasion" and "buy to let" are dotted around, while overhead the military fly planes, drones and helicopters in defence of our realm. Visually sumptuous, the tapestry is funny, clever and ironic.
The final room is devoted to boys' toys, but with girlie kitsch replacing machismo (main picture). Perry's custom-built, pink and blue motorbike has "patience" and "humility" painted on the fuel tank. Perched on the back is a shrine to his teddy bear Alan Measles, who also appears over the front wheel riding a charger. His Freedom Bicycle, 2017 is coloured pink, yellow and turquoise and sports a goddess figurehead: it has no cross-bar to allow him to get on it in a dress.
There's a faux-naif shrine to his marriage and, filling the end wall, the kind of Alpine scene you find on biscuit tins, a photo of King Ludwig's Castle Neuschwanstein. It's difficult to make kitsch delightful rather than nauseating, but Perry's idiosyncrasy is such that he pulls it off. Perhaps because he offers alternative versions of masculinity at a time when they are sorely needed, he comes across as serious rather than flippant or camp. He says he wants people to leave his exhibitions feeling uplifted – this is the room that makes you smile.
'Reclining Artist' from 2017 is a giant woodcut of Perry lying on a sofa in the pose of a female nude with male genitals
rating
Share this article