Reissue CDs Weekly: Lynn Castle |

reviews, news & interviews
Reissue CDs Weekly: Lynn Castle
Reissue CDs Weekly: Lynn Castle
Previously unheard Sixties recordings by goth-tinged singer-songwriter reveal a one-off talent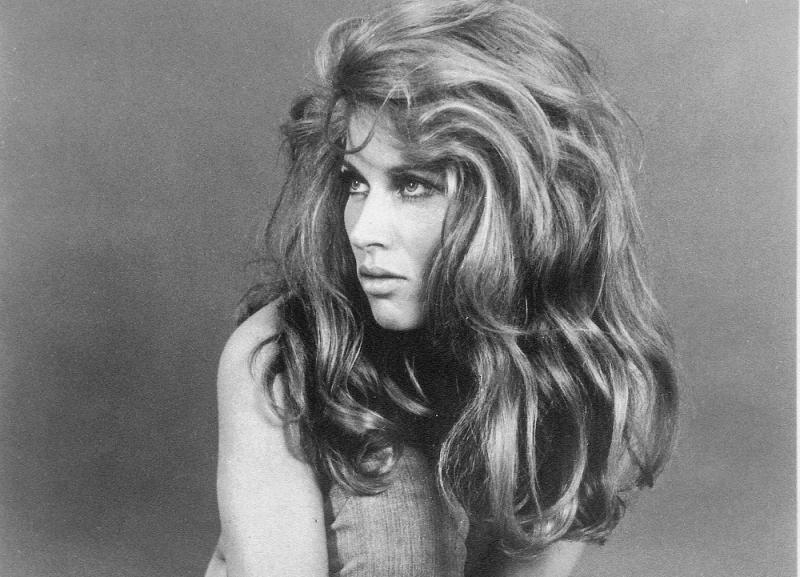 Never mind the hair, it's Lynn Castle's songs which count
In a 1967 headline, The Washington Post pegged Lynn Castle as a "Shapely Blonde in Blue Jeans, Popular Barber in Hollywood". She had attracted attention as the hairdresser of choice for The Byrds, The Monkees, Del Shannon, Sonny & Cher and Stephen Stills. Known as "The Lady Barber", she also cut the hair of music business movers and shakers Lee Hazlewood and Monkees' songwriters Boyce and Hart.
The Washington Post had no interest in her other life as a songwriter. Her song "Teeny Tiny Gnome" (originally titled "Kicking Stones") was recorded by The Monkees but wasn't issued until 1987. In 1967, Hazlewood issued her self-penned "The Lady Barber" single on his own LHI label. That seven-inch was, until now, her entire discography.
Rose Colored Corner reissues both sides of her LHI single and sets them alongside ten never-before-heard solo demos taped in 1966 with legendary producer/arranger Jack Nitzsche. The package poses what-ifs: what would have happened if these songs had been released; how would they have been received; how did she fit in with what was going on around her. The idiosyncratic character of what's heard makes them questions well-worth asking. Rose Colored Corner posits Lynn Castle as an exceptional but lost talent with a unique approach to music.
"The Lady Barber" and its B-side "Rose Colored Corner" (also recorded earlier with Nitzsche) are recognisably Hazlewood productions and, while groovy, verge on the novelty. Fuzz and reverb guitar dominate. Each track is more than garage rock but still not smooth. Castle's voice – the key element – is deep, strident and a little like that of France's Sylvie Vartan. Beyond hints of Buffy Sainte-Marie and Dave Van Ronk, nothing else comes to mind as a contemporary American parallel.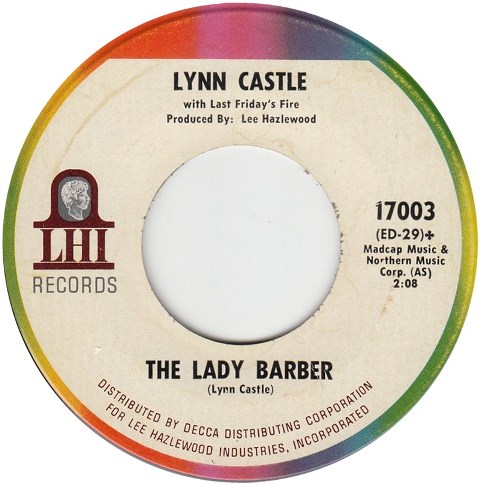 The solo demo of "Rose Coloured Corner" made with Nitzsche the previous year is fully formed and delivered in an even more forthright fashion. Here, with her acoustic guitar, there is a smidge of Barry McGuire's hard edge and the Donovan of "Universal Soldier" but, again, Castle stands apart from her contemporaries. Each of the ten 1966 songs showcases doomy atmsopheres and a direct voice delivering lyrics about "kaleidoscopic patterns", "exploding crystal bubbles", settling down after "playing the games" and of "a lonesome lookout gazing at the lonely out there." Overall, it's as if Leonard Cohen could have looked to her as a precursor. Inevitably, Castle would have been pigeonholed as folk but this material is closer to the questing singer-songwriter styles which surfaced a couple of years later.
At this point, in 1966, Castle (born 1939) had two children and was a single mother. Cutting hair was, as the liner notes put it, a way to pay the bills. She had been embedded in the Los Angeles music scene for almost a decade: she knew Phil Spector and his publisher Lester Sill in the late Fifties. Her first guitar was bought by Lee Hazlewood.
Frustratingly, in the booklet's text, she has little to offer about the nature of her songwriting and possible influences. However she does say "I thought my voice was weird. I was embarrassed and too shy to show anybody what I did." Although Nitzsche and Hazlewood recognised her talent, Castle's greatest media exposure came from a brief appearance in the Sonny & Cher film Good Times and a spot on television's What's My Line. Then, her moment passed.
If the 1966 tracks had led to proper recording sessions, it is impossible to say what would have happened. But a fair guess can be made. At this remove, she sounds like a natural fit for the Elektra Records catalogue, alongside artists like David Blue and Tim Buckley. The gothic edge in her songwriting is more New York than Los Angeles – she was born in the former and moved to Los Angeles as a child.
On the west coast, if an album with suitably baroque arrangements had been issued she would have been an anomaly with little commercial potential. Cult appeal would have beckoned. And, as music history always affirms, it's the anomalies which stand out. Check this out. Not only is it great, it's belated recognition for a one-off talent.
Next week: Box set dedicated to musical impressionists Shelleyan Orphan

If a Lynn Castle album had been issued, it would have been an anomaly with little commercial potential
Share this article