David Sedaris: Theft By Finding review - comic literary talent of historic value |

reviews, news & interviews
David Sedaris: Theft By Finding review - comic literary talent of historic value
David Sedaris: Theft By Finding review - comic literary talent of historic value
Humorist shares the first draft of his autobiographical experiences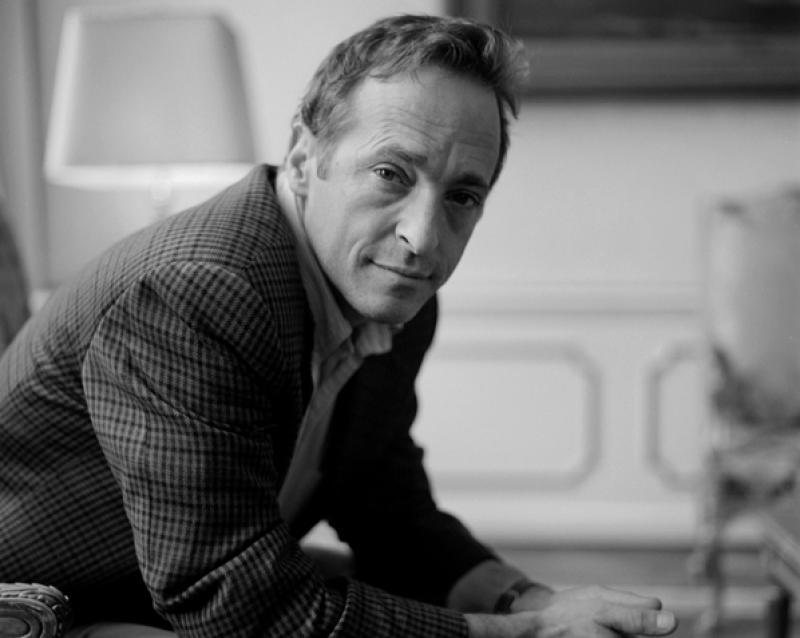 David Sedaris: empathetic imagination
In a voice of distinctive, high-pitched nasal whimsy, comic essayist and memoirist David Sedaris finds humour with the precision of a mosquito after blood. British readers will likely have first encountered him through his Radio 4 series Introducing David Sedaris, and may know the voice, and the author's ability to extract comedy from the everyday.
This collection of diaries gives us the first draft of his experiences, before they are crafted into the exquisitely timed and phrased pieces that made his name.
Sedaris is most often encountered today in the rarefied pages of The New Yorker; it would be easy to forget that his young adulthood was anything but. For the first 15 years of this collection, he's drifting through the southern and midwestern states, engaged in an often humiliating series of casual labouring jobs. Some of these early entries are almost Steinbeckian - with added sex and drugs.
A homosexual's notion of bite-sized penis is no doubt dramatically different than that of, say, an Orthodox rabbi
It took Sedaris 20 years to find the literary form that worked for him, but he has lived what was essentially an artist's life ever since leaving his childhood home. Apart from a couple of years as a college lecturer in Chicago, he's never had a regular job. Unhindered by career or relationship, he worked sporadically, living for the sheer vividness of experience - with plenty of sensual stimulants.
I had expected the diaries to be a volume for established fans: an opportunity to experience the raw material before it's re-drafted, like inspecting an unfinished Rodin, or a Turner sketch. In fact, they work in their own right as raw testament about both the kindness and bigotry of working-class America. This book is also much funnier than such casual jottings have any right to be. Long before Sedaris has perfected his comic style, there are some great one-liners, which jump out of the page like a scorpion from the arid, empty landscapes Sedaris hitches his way through.
The sheer randomness of his experiences, and his openness to whoever and whatever he encountered, is remarkable. Recipes for mostaccioli and cheese and tender accounts of the attention he pays to elderly neighbours and staff at his favourite IHOP diner (he's a great listener) nestle alongside snortingly callous jokes about Princess Diana and endless accounts of casual racist and homophobic abuse. (Even after he moved to New York in the early Nineties, he is regularly called a faggot.) There are lists of crazy remarks he's heard from a racist driver he's hitching with; records of weird bumper stickers, of funny names he hears, strange shops, and all manner of curiosities.
He isn't afraid to reveal unflattering details, some of them intensely personal, such as the pain (and spillages) involved in using a catheter following kidney stone surgery. Drugs, sex, mental illness, as well as the smaller daily embarrassments of catty remarks towards someone irritating, all of which other diarists might have been tempted to excise, are set forth here in what feels like complete honesty. Until his literary career took off in the mid-Nineties, he was perpetually short of money, and there are frequent tallies of his debts, and notes of :who has bailed him out.
Later on, once his professional writing career is thriving, there are moments of sublime comedy in his most polished style. The best of these arise, as always with Sedaris, from a entirely mundane situation. At one point - November 1998, to be precise - he was loaned "a cookbook called Imperial Dishes of China". This contained recommendations for every last piece of each animal's anatomy, set out in what Sedaris calls "a collection of beautifully titled short stories". One of these gave instructions to "remove the penis and carve it into bite-sized pieces"; another to "scald the vagina and remove any remaining hairs". Sedaris continues: "As literature, Imperial Dishes was outstanding, but as an actual working cookbook, I think it left a few too many holes. A homosexual's notion of bite-sized penis is no doubt dramatically different than that of, say, an Orthodox rabbi's…"
It's a vast - 500+ pages - collection, and only covers the period to 2002. The subtitle, "Volume One", initially read like a threat, but it doesn't feel too long. There are quiet days, and riotous days, but the quiet ones almost always have human interest that illuminates Sedaris' ability to empathise. He's avoided almost entirely the temptation to comment retrospectively; we see his life as it appeared to him at the time. The transition from jobbing handyman to celebrity author is barely touched upon, nor is the beginning of his relationship with long-term partner Hugh, beyond brief, poignant observations about an initial crush.
Sedaris is a phenomenon
The mantle of humorist comes with a full wardrobe of props, all of them unflattering. It's the elasticated comfort trousers of literary genres. For me, it evokes the piles of Readers Digests, with their twee and laboured humour sections, that used to sit piled up in my grandmother's smallest room. Go to a creative writing degree course, and you won't find humorists, fictional or non-fictional but variations, generally, on the school of Raymond Carver. (Even though short-form comic writing - think Private Eye or The Daily Mash - is more popular than ever today.)
Sedaris is a phenomenon, his success testament to the old-fashioned literary virtues of graft and real-world experience. What makes this book rather wonderful is the opportunity it gives us, close-up, to see how a brilliant, empathetic imagination grows into a comic literary talent of historic value.
Theft By Finding, by David Sedaris (Little, Brown, £20)
This book is much funnier than such casual jottings have any right to be
rating
Share this article