Sudan: The Last of the Rhinos, BBC Two review - requiem for disappearing wildlife
Sudan: The Last of the Rhinos, BBC Two review - requiem for disappearing wildlife
Scientists fight a rearguard action against animal extinction
Sudan with his keeper Zach Mutai in Kenya
"The northern white rhinos are just a symbol of what we do to the natural world," as one of the contributors to this haunting documentary put it.
"We witness them disappearing in front of our eyes." The
programme
ended with names of endangered animals jostling for space on the screen, from hawksbill turtles and the South China tiger to whales, orangutans, the red panda and the snow leopard.
This story of the 43-year-old rhino Sudan, named after the homeland from which he was whisked away as a baby to be installed in Dvůr Králové zoo in Czechoslovakia (as it then was), was a terrific documentary for a number of reasons. Obviously it was a film about wildlife and the terrible depredations animals have suffered from hunters, poachers, wars and social upheaval, but director Rowan Deacon also wanted to tell the stories of a lot of committed people trying to do their best against ever-mounting odds. Sudan – now housed under permanent guard in the Ol Pejeta conservancy in Kenya, with females Najin and Fatu – is the last living male northern white rhino on earth, and he's getting old and tired. All the combined efforts of vets, naturalists, conservationists and zoologists to protect these animals in the wild having failed, it's now down to a squad of scientists to save the species by working out how to carry out IVF treatment on rhinos, while there are still a couple of northern white females living (Sudan and friends in Czechoslovakia, pictured below).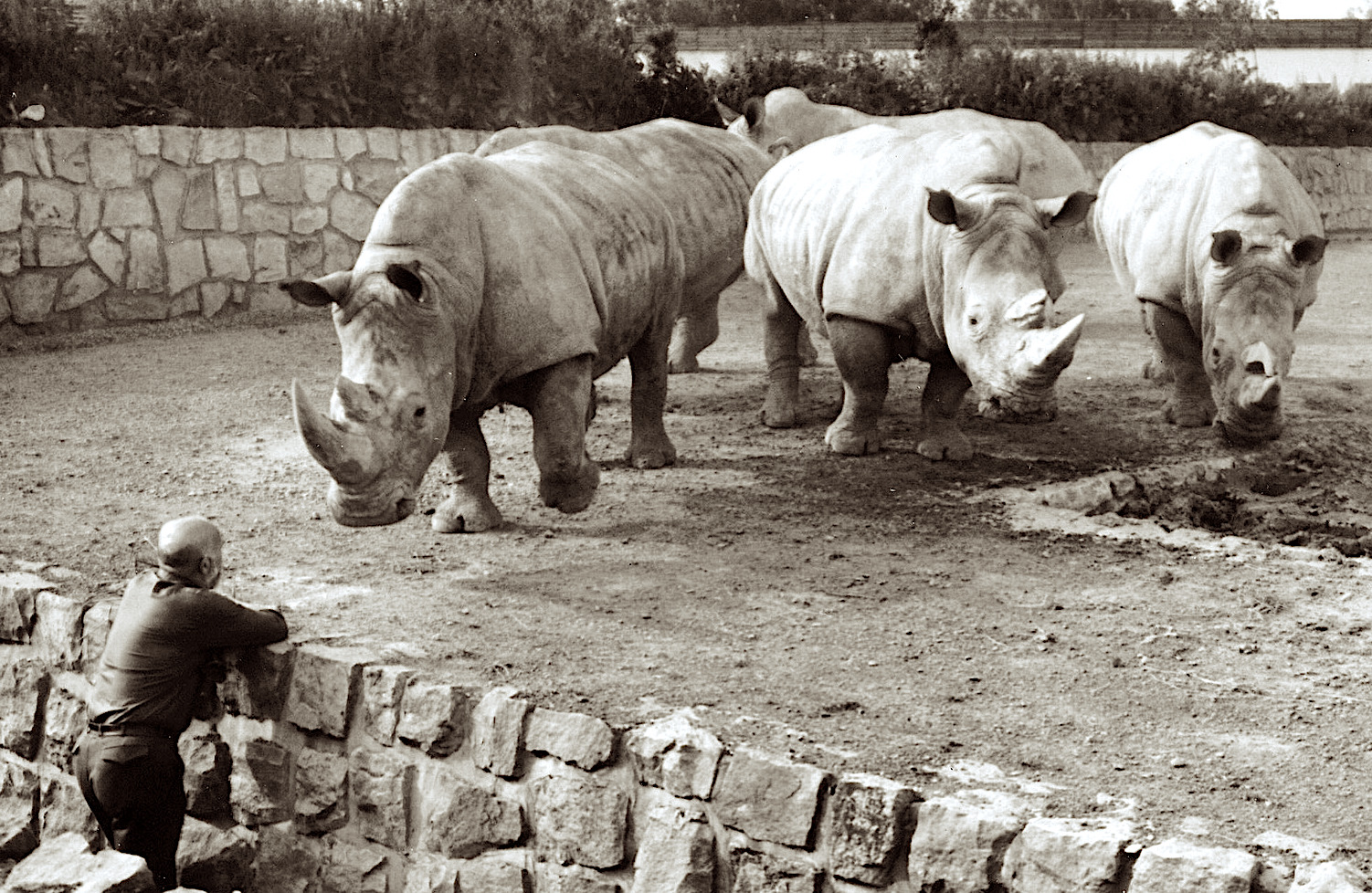 "In this case, no failure is allowed," declared Professor Thomas Hildebrandt, from the Leibniz research institute in Berlin, but as yet the efforts of his team have been demoralisingly fruitless. The operation is complicated and fraught with unknowns (for instance, the female eggs have to be collected by inserting a long probe 1.5m into the rhino's rectum). So far, they've only made trial runs using the somewhat less endangered southern white rhino, but no bouncing baby rhinos have yet emerged. The closing credits left us dangling from an evolutionary cliff edge by our fingernails.
Another theme was changing attitudes to wildlife and conservation, though maybe not quite in the way you'd expect. Sudan, along with five other rhinos, was rounded up by employees of Richard Chipperfield's safari park operation to fulfil an order from the Czechoslovak zoo. One of the catchers, Peter Litchfield, admitted he'd felt qualms about plucking the animals out of their natural environment, but while there's now a general view that even good zoos are bad, they did at least save these rhinos from certain death at the hands of poachers, who killed all the ones which remained. Joe Vagner, who ran Dvůr Králové, seems to have had a sincere interest in animal welfare, which was shared by his staff. For far too many species, zoos and their breeding programmes represent their last hope.
Forty years ago, the penny hadn't quite dropped that all the world's wildlife was on course for systematic annihilation, though Dr Kes Hillman-Smith, a British zoologist who spent over 20 years in the wild studying rhinos, was seen predicting disaster on the BBC's Nationwide. Another Chipperfield employee recalled the huge herds of elephants and other animals they'd see on their collecting trips. Now, the "natural habitats" of yore have frequently become bandit country prowled by heavily-armed gangs of paramilitary poachers, as mafia-style syndicates hunt rhino horn and ivory for the affluent Asian markets. The answer would be draconian legal penalties and a well-funded standing army with plenty of air support, but who's going to pay for it?
There was a sad, lingering sequence of Sudan, slumped in the corner of his enclosure and looking as if he'd decided enough might finally be enough. Zach, his devoted keeper, patted the old boy despondently. "I'll feel lonely," he confessed.