theartsdesk at Budapest Wagner Days: Bayreuth on the Danube |

reviews, news & interviews
theartsdesk at Budapest Wagner Days: Bayreuth on the Danube
theartsdesk at Budapest Wagner Days: Bayreuth on the Danube
Conductor Ádám Fischer masterminds a mighty 'Ring', 'Rienzi' and 'Parsifal'
The actor-Loge and his fire for Brünnhilde's rock in the Müpa Ring
While Merkel's Germany has won back world leadership, Wagner's festival shrine at Bayreuth lost its post-war pre-eminence years ago. There hasn't been a strong Ring there since Kupfer's, which I was lucky enough to see in 1991, and things will only improve with the departure of overweening Katharina Wagner and Christian Thielemann (fine conductor, disastrous people-person).
Over the last decade the palm has passed to stripped-back concert stagings vindicating focus on music and character: the
Proms
spectacular of 2013, the culmination of Opera North's long-term project in full cycles last year and – both visually and soundwise – best of all,
Ádám
Fischer's masterminding of ten glorious
Ring
years in Europe's best acoustics.
Strongest enticements were the guaranteed beauty of sound in the spectacular 1656-seater Béla Bartók National Concert Hall of Budapest's already legendary Müpa complex, which I got to know better last year, and casts featuring the world's best Wagnerians. Less expected was the high-art quality of video projections by Berlin-based Momme Hinrichs and Torge Möller of fettFilm. As their programme biography clarified, they reject "decoration" in their endeavour to "meld multiple artistic layers together". And, in conjunction with revival director Etelka Polgár's spare but telling work with the evening-dressed singers – the choreography by Theresa Rotemburg and Gábor Vida was occasionally more intrusive – they succeed. (Pictured below: the Hungarian brass prepare for one of the Ring and Parsifal fanfares heralding the start of each act).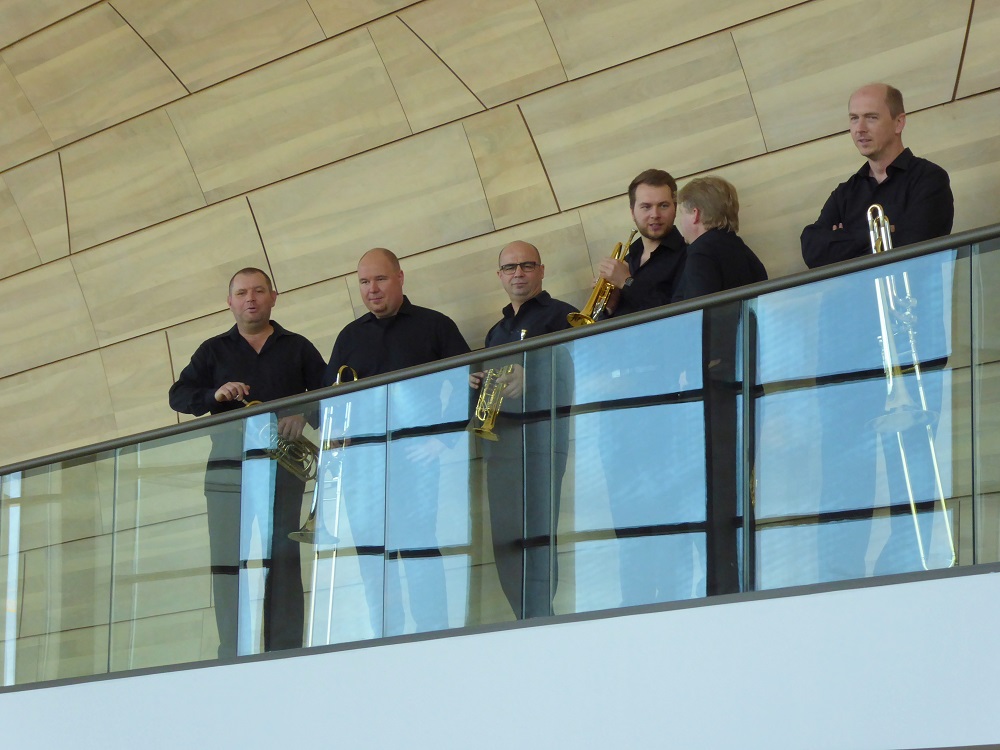 Fischer's superb Hungarian Radio Symphony Orchestra inhabited a pit specially designed when the hall was constructed; composer Péter Eötvös, whose Halleluja - Oratorium Balbulum had a huge success here last November, told me he thought the orchestral sound is even better than on the platform, and we both admired the incredible richness achieved by only five double-basses. Solo instruments or groups convey as present a timbral character as the best of the voices when there's enough space around them. Brünnhilde's clarinet, the cello group sighing the love-at-first-adult-sight of twins Siegmund and Sieglinde, the tuba conjuring dragon Fafner in his lair: these were character-studies which would never sound better anywhere else.
The older and more self-effacing of the Fischer brothers, less well-known outside Hungary than Iván who tours more with his Budapest Festival Orchestra, could dare under these special circumstances to encourage the tenderest pianissimos from his orchestra between the adrenalin charges and also to encourage his singers to be as quiet as they could at times, drawing the listener in rather than forcing the sound outwards. After Götterdämmerung, he was convinced that the part of the Immolation Scene sung so softly and confidentially by the phenomenon of infinite and tireless variety that is Iréne Theorin – celebrating her birthday at the end of her first three Brünnhildes on consecutive nights – had worked well enough for him to try and do it again in Vienna. (Pictured below: Theorin with Daniel Brenna in the Prologue of Götterdämmerung)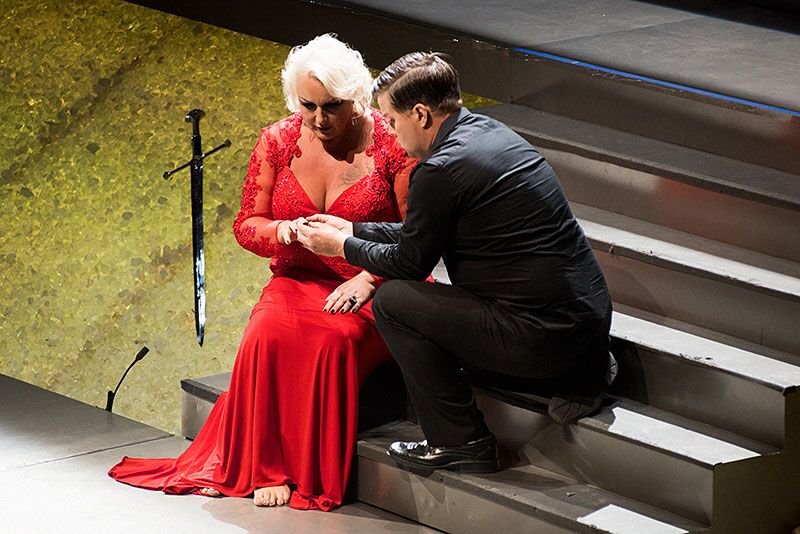 Quite a few of the other singers made the biggest possible impression in their roles. Anja Kempe, with an impressively reinforced lower register, a warm and personable middle and this time – not always the case – a completely secure top, was even more ideal a Sieglinde than she'd been at the Proms. She had a much more lyric and youthful-sounding Siegmund than usual, the excellent Christopher Ventris, and her nuancing of the text in long, intelligent phrasing was matched by Atala Schöck's Fricka – perfect in Rheingold, a little taxed by the higher lines in Die Walküre.
Other Hungarians who shone included Péter Kálmán (pictured below with the Rhinemaidens of Eszter Wierdl, Gabriella Fodor and Zsófia Kálnay), going for awesomely vicious broke as a superlative Alberich, and Polina Pasztircsák, a luminously intelligent young soprano who switched effortlessly from Third Norn to a fully-realised Gutrune; she's reputedly the best of Desdemonas at the Hungarian State Opera. The other total stand-out was the Mime of Gerhard Siegel, a singer who knows every devious nook and cranny of the crafty Nibelung brother's character. Thanks to his and Kálmán's keeping tabs on Fischer's sharp pacing, their brief spat in Siegfried Act Two was one of the surprise highlights of the cycle.
Christian Franz's Loge was short on the essential intelligence. He went on to sing the Siegfried of the third opera; energetic in the forging scene, with brilliant visuals and heft from the orchestra, but acting limited to swaying, and by the time of the final duet the toughest tenor sing in the business left our hero barking. Fortunately this Siegfried woke up for the Dawn Duet of Götterdämmerung in the young and handsome personage of American Daniel Brenna, more lyric than heroic, which caused a few problems, but ultimately very moving in his death scene.
As Wotan, James Rutherford grew in authority from Rheingold to Walküre; his gift is to bring a Lieder-singer's intelligence to the role, and the final confrontation with Theorin's Brünnhilde ticked all the emotional boxes. The Wanderer Wotan of nearly two decades later was Albert Dohmen, rich of tone but less than charismatic. That you could never say of Faroese bass Rúni Brattaberg's Hagen (pictured below with Pasztircsák's Gutrune). What the voice lacks at the very top is the price you pay for profundo cavernousness; the inky-black horror of the Watch sequence chilled the blood like no other I've experienced live. The power of Oliver Zwarg's vain Gunter, excellent, could only be overwhelmed by a half-brother as massive in intent as this.
Siegfried's arrival in the Gibichung Hall was one of many enhanced by the surprise graphics in the video work: sassy business folk silhouetted against a white background, their movement limited to the odd change of place or size, colossally so when Gutrune's face swells and her two eyes fill the screen – no artificial potion needed for Siegfried bewitched here. Hinrichs and Möller give us fire on some occasions – you could almost feel the heat off the screens when Siegfried first braves the flames – but not always when anticipated. The holocaust of a war-destroyed city appears early, sweeping over a pretty mountain scene in Act Two of Die Walküre when Wotan realises his quest to manipulate a free man is thwarted and longs for "the end". There was one sly dig at the present Hungarian regime's building mania with a crane like the ones outside Müpa's windows and, in the Entry to Valhalla, a brief panning shot of the hall and the Danube. No further direct commentary on Orbán's era was necessary; Wagner speaks, as ever.
It's left to the ever-present actor-Loge to manipulate the rest, presenting a red screen curtain to conceal Siegfried's Fafner-as-Dragon which morphs and spins off into outer space as the young hero faces his biggest quest. Young screen Rhinemaidens in blonde wigs loom large in a muddy water-tank at the start; their replacements are old women in Götterdämmerung Act 3. The big apocalypse has all the fire and water you could wish, flames spreading up to the supertitle panel (Hungarian and German texts only) once Brünnhilde has sung her last, but again not predictably ordered.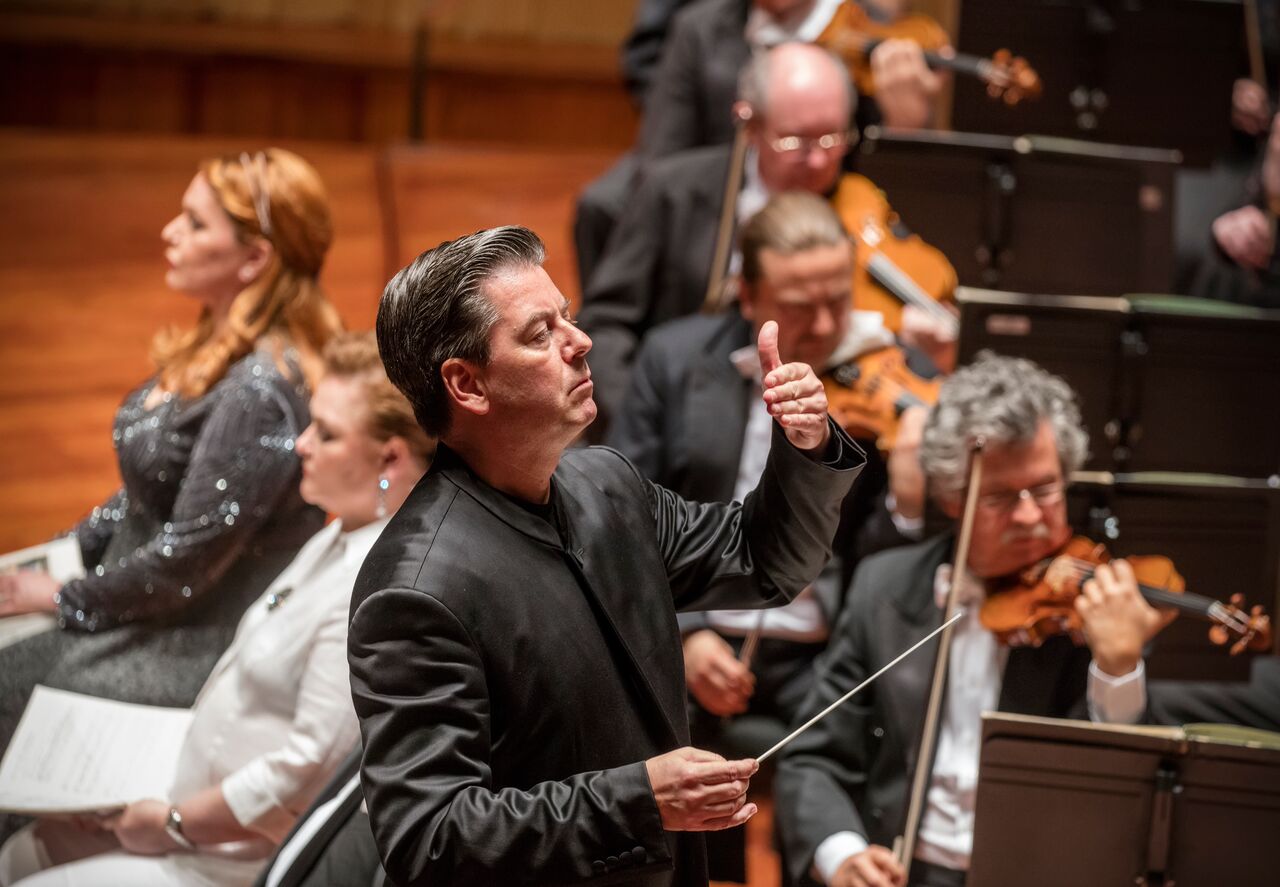 The world which ended on Sunday had to be made anew by promising Tribune Rienzi on Monday afternoon, only to go up in flames as hopes were betrayed again in the much more rudimentary form of Wagner's third opera. Fischer handed over the baton to Sebastian Weigle, full of theatrical instinct and knowing when to pack his punches, as suggested by the CDs of his Frankfurt Wagner and Strauss, and the orchestra this time was the Hungarian National Philharmonic, on the stage for a straightforward concert luxuriously cast (Weigle pictured above with Emily Magee and Michelle Breedt; the ensemble pictured below. Both images by János Posztós for Müpa Budapest). Even given the best options, some heavy cutting and the most brilliant soprano line imaginable in some very high-lying choruses from the Hungarian National Choir, the first two acts are an undramatic bore; there's only so much "Heil, Rienzi-ing" you can take.
Things were very different after the interval. The trousers role of Adriano finally got the music he/she deserves; mezzo Michelle Breedt, an exciting performer even in this concert version, went for it at full pelt. So, in Act 5, did Emily Magee, a lovely lyric-dramatic singer heading towards heftier stuff on this evidence. And there, too, the killing role of Rienzi gets the big aria we've been waiting for ever since we heard the big tune in the Overture; Robert Dean Smith unfurled it in long, intelligent phrases, very classy work. The thrillingly tacky conclusion was somehow welcome at a time when we all needed to let our overheated brains take a bit of a rest.
A full day off was necessary before the endgame of Parsifal on Wednesday. Inevitably you hear so much of Götterdämmerung in it after this kind of experience; it didn't feel quite as strange or new as usual. Fischer and the orchestra were on flawless form, but the outer acts were weakened by a vocally reliable but frankly dull guide to the ritual in the Gurnemanz of Albert Pesendorfer and an overparted Amfortas (Estonian Lauri Vasar).
The second act was the big event here, thanks not only as predicted to the lustrous Kundry of the great Violeta Urmana, who delivered her central monologue "Ich sah das Kind" with a whole rainbow of tones and colours, but also to the commitment of Peter Seiffert, whom rumour had suggested past his best in a recent London Tannhäuser; not so here (the two pictured above). Whether these two could be persuaded to do more than their own thing by a designer-director more interested in Personenregie, the interaction so crucial in the one-to-ones, than the double-act of Alexandra Szemerédy and Magdolna Parditka remains an unanswered question. Their drama in black, white and red was handsome to behold but too schematic and, unlike the work of our Ring video artists, always predictable. Once again, though, the sound in Müpa was the thing; and Fischer proved that he's a conductor who refuses to bend the drama to his own will, never too fast or too slow, sensitive to every mood, both visceral and reflective: the perfect Wagnerian master, in short.