The Last Word film review - Shirley MacLaine's spit and vinegar remain intact |

reviews, news & interviews
The Last Word film review - Shirley MacLaine's spit and vinegar remain intact
The Last Word film review - Shirley MacLaine's spit and vinegar remain intact
Veteran pro in prime form lends seasoning to treacly fare
Kinks lover: Shirley MacLaine in 'The Last Word'
If you're going to cobble together an entirely pro forma film, it's not a bad idea to give Shirley MacLaine pride of place. At 83, this redoubtable pro is no more capable of falsehood now than she ever was. It means that, although individual moments of The Last Word may find you rolling your eyes, its central performance rivets attention from first to last.
MacLaine plays Harriet Lauler, a snarly, walled-off divorcee of means who potters around her immaculate California pile of a home glugging wine and snapping at anyone unfortunate enough to cross her path (the household staff, for starters, whose chores she tends to perform for them). So when intimations of mortality strike in the form of what looks to have been a botched suicide, this cantankerous old trout does what you might do, too, if you had been a major benefactor over time of the local newspaper.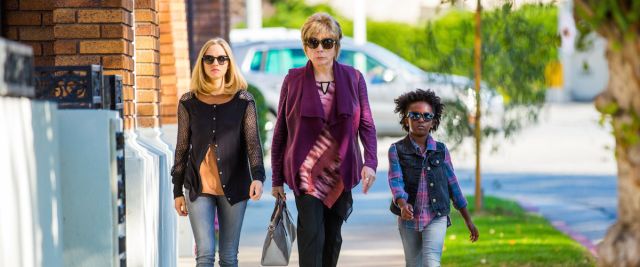 Harriet marches into the office of the editor (Tom Everett Scott) and demands an obituary that will honour her (admittedly scarred) life. That unenviable task falls to the inexplicably scowly Anne (Amanda Seyfried, outclassed at every turn by her co-star), who soon discovers that no one in Harriet's capacious circle has much good to say about her. Will Harriet be allowed to go to her grave, her status as an unassailable bitch intact? No prizes for guessing the emotional about-face that fuels the outcome, but all credit to MacLaine for sustaining the bite in material that could otherwise descend into treacle.
Mark Pellington, the director, seems to understand instinctively the value of MacLaine even in repose: The Last Word is nowhere better than in an extended and wordless opening sequence that tracks the actress's face via photographs through the decades, coming to rest on MacLaine's Harriet as she is now, bruised but not yet broken by experience. How did she get here from there? Stuart Ross Fink's script sends Harriet on a therapeutic collision course with her past that includes familial reckonings, or maybe not, with her brittle if successful daughter (Anne Heche, in a knockout cameo) and an ex-husband (Philip Baker Hall) whom Harriet hasn't seen for 22 years.
Those encounters might be enough for many a film, but not here. In an apparent desire to be hip, we also find that Harriet knows her music – she's a particular devotee of The Kinks, it would seem. Before long she bustles her way into fronting a radio programme. And not to be outdone, Harriet decides that the "wild card" necessary for an intriguing obit will in her case consist of taking under her wing a troubled black girl, nine-year-old Brenda (Ann'Jewel Lee), who soon joins the itinerant entourage. That Brenda knows her way around an F-bomb or two is, needless to say, catnip to the ears of our take-no-prisoners heroine, a one-time advertising exec who long ago learned to play hardball.

Quite what Brenda's mum thinks of all this clearly doesn't matter. Nor are we offered any insight into the perpetually downturned nature of Seyfried's lippy journo, who gets the most perfunctory love interest imaginable in radio station honcho Robin (the appealing Thomas Sadoski). And by the time MacLaine is engineering an all-but-crime in the final reel, it's long become clear that The Last Word is struggling to stay afloat, notwithstanding a leading lady who refuses, often gloriously, to go down with the ship.
The director Mark Pellington seems to understand instinctively the value of MacLaine even in repose
rating
Explore topics
Share this article