Prom 24 review: Crebassa, Philharmonia, Salonen – thrilling performance of Adams masterpiece |

reviews, news & interviews
Prom 24 review: Crebassa, Philharmonia, Salonen – thrilling performance of Adams masterpiece
Prom 24 review: Crebassa, Philharmonia, Salonen – thrilling performance of Adams masterpiece
Conductor and performers raise the roof but deserve a bigger audience
Esa-Pekka Salonen, Principal Conductor of the Philharmonia Orchestra
The title of John Adams's Naive and Sentimental Music is a bit of a tease. Read literally it promises – or threatens – unsophisticated mawkishness, though that is the last thing it delivers. But maybe it was this title, alongside relatively unfamiliar 20th century repertoire, that kept the audience away.
For whatever reason this was the worst attended main
Prom
I have been to for a long time – and what a shame, as it was also one of the very best.
The Philharmonia Orchestra under Esa-Pekka Salonen began with a musical palate-cleanser, the rarely heard Stravinsky arrangement of Bach's Canonic Variations on "Vom Himmel Hoch". Stravinsky goes beyond the normal ambit of the arranger in transforming Bach's organ variations, re-arranging the order of the movement, transposing some, adding choir and even superimposing his own melodic lines and harmony notes.
The result, like Pulcinella over 30 years earlier, is delicious, if more sober and respectful towards its source. The soundworld is pure Agon, the ballet Stravinsky was composing at the same time. Salonen rightly kept the textures transparent and the tempos on the fast side, without compromising the detail of the polyphony. Both the brass section and principal flute Samuel Coles shone, as they did all night.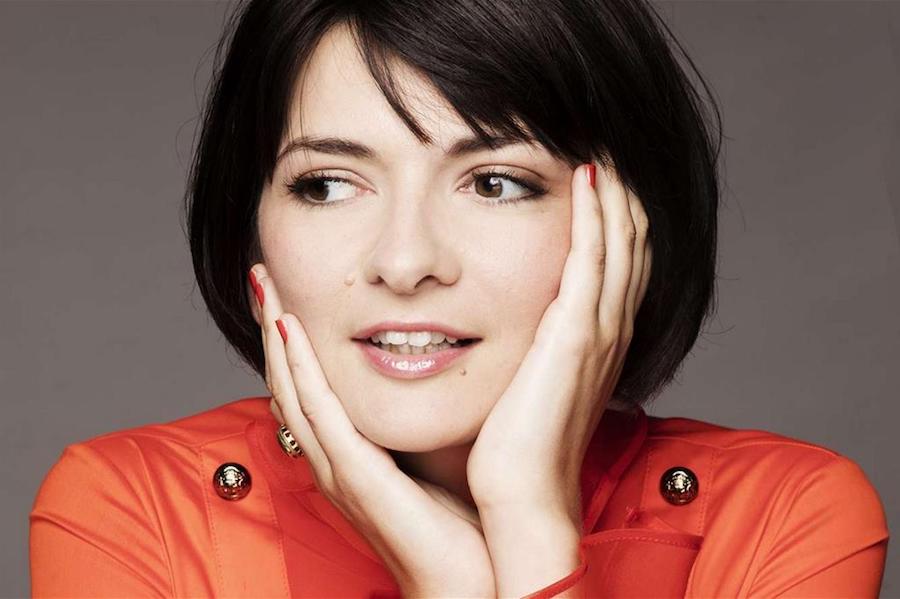 Ravel's Shéhérazade is a set of three songs with orchestra, sung here by French mezzo-soprano Marianne Crebassa (pictured above). Although unrelated to his earlier planned opera on the Arabian Nights, the operatic impulse remains evident. From the opening words – "O Asia, magic land of nursery tales" – we are far removed from Bach's sombre Protestant Germany.
Being Ravel, of course, the orchestration is rich and sensuous, conjuring up an exotic, imaginary, Arabia. But there were also some wonderful colours in Marianne Crebassa's vividly characterised singing. She was extrovert and engaging but not meretricious, and responded sensitively to the orchestra behind her, especially in the second song, "The Enchanted Flute" – another starring moment for the ubiquitous Samuel Coles.
John Adams's Naive and Sentimental Music was commissioned by Esa-Pekka Salonen for the Los Angeles Philharmonic in 1999, and it is clearly an important piece for him. It is a 50-minute work in three substantial movements, inspired, according to the composer, by the spacious spans and long crescendos of Bruckner's Fourth Symphony. Adams shows masterful control of his large-scale structures, and uses his instrumental resources brilliantly in this effective concerto for orchestra.
The title comes from Friedrich Schiller's 1795 essay Über naive und sentimentalishe Dichtung, which contrasts poetry that exists on its own terms with that which engages with the world and other works of art. This perhaps reflects Adams's own progression from minimalist abstraction to operas that are firmly located within the modern world.
Certainly, Naive and Sentimental Music is a world away from his minimalist roots in Shaker Loops and Harmonium. Rather than the repetitive processes of Reich and Glass, Adams uses symphonic argument in a way that Sibelius or Mahler would have understood, and the first two movements emerge out of ever-evolving melody, with scarcely any repetition. Pacing is everything in this piece, and Adams and Salonen between them got things spot on, building inexorably from gentle beginnings to pounding climaxes.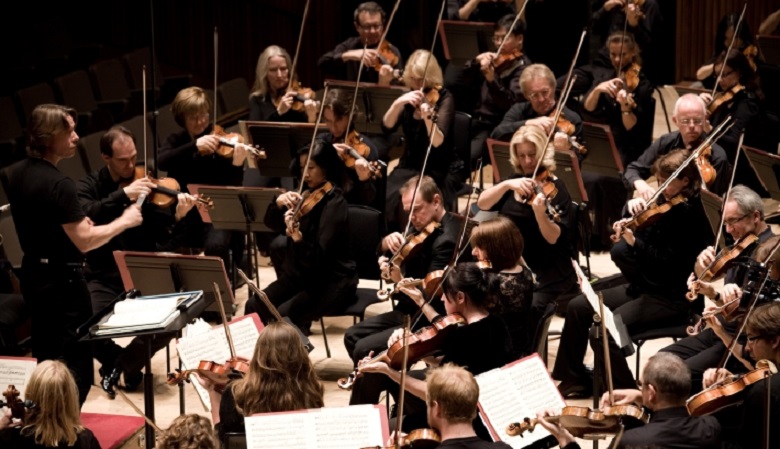 The end of the first movement, which started with solo flute (again) and pulsing harp, was driven forward by Salonen into a heady orchestral melee, owing something to the "Danse sacrale" from the Rite of Spring. It was exhilarating, a kaleidoscope of clangorous percussion and flaring brass, proudly maximalist music, and breathtaking in the hall.
Salonen was as persuasive in the icy calm of the second movement, with its gentle electric guitar and eerie bowed percussion, as in the frenzy of the first. He is a superb conductor, willing to take centre stage but never imposing himself over and above the music. The Philharmonia (pictured above) responded with scintillating playing, whether letting rip or floating in hushed whisper.
Where the first two movements are conceived melodically, the final one has almost no tunes, depending instead on rhythmic cells which emerge, grow, take over, and are then superseded in their turn. The last movement has nods to minimalism, such as in the chattering bass clarinet evoking Reich's Music for 18 Musicians, but as it flies headlong to its ending this showpiece is no one but John Adams. This terrific performance deserved its standing ovation, but it's a pity there weren't more people there to join it.
Adams shows masterful control of his large-scale structures, and uses his instrumental resources brilliantly
rating
Share this article