Prom 29 review: BBCSO, Bychkov - Musorgsky's Khovanshchina sears in concert |

reviews, news & interviews
Prom 29 review: BBCSO, Bychkov - Musorgsky's Khovanshchina sears in concert
Prom 29 review: BBCSO, Bychkov - Musorgsky's Khovanshchina sears in concert
Superlative conducting and cast vindicate a drama of political chaos as a total work of art
Vsevolod Grivnov's Prince Golitsyn rebuked by Ain Anger's Dosifey
"Ura!" as soldiers cry in Russian epic opera's last fling, Prokofiev's War and Peace: supertitles have arrived at the Proms, after much special pleading here and elsewhere. They're needed more than ever in Musorgsky's typically quirky survey of rival interest-groups at the beginning of young Tsar Peter I's reign, though I like to think that newcomers to Khovanshchina ("The Khovansky Business") would have got the message about each formidable personage and scene without them, so vivid was this realisation of the way Musorgsky characterises roistering princes, humble scribes and calm Old Believers.
Semyon Bychkov revealed the inexorable flow and the frequent shocks of a score commonly held as "ragged" and "fragmentary" (Proms programme), the incredible beauty rather than harshness of what here was mostly Shostakovich's timbre-perfect orchestration - Musorgsky left the opera unfinished and mostly unscored at his death - and the way the orchestra underpins every gesture from what was here a first-rate team of leading singers from eight nations.
With very discreet intervention from director Paul Curran to place the characters, and lights coming into their own for the final great blaze (pictured above) - why not, too, for the opening "Dawn on the Moscow River"? - this still remained the clearest of concert performances, rather than what have come to be called "concert stagings": the polar opposite to Graham Vick's Khovanskygate in a big Birmingham tent, possibly the most extraordinary operatic event I've ever experienced, pleading the chaos of the opera as a worldwide phenomenon very pertinent to today's demagoguery, not just a Russian tragedy. That this Prom worked at the same level of intensity but in an entirely different way ranks it as another major achievement.
The gorgeous flexibility Bychkov got from the BBC Symphony Orchestra in the radiant Prelude showed that his was not going to be a relentlessly black-earth interpretation (if only he could have applied this kind of suppleness to Mozart's Cosi fan tutte at the Royal Opera). It seemed that his understanding of the superb Russian text by Musorgsky himself meant that the drama had to move at the natural pace of human speech, so there was no room for lingering. Cast-wise, the quality began as it would continue, with the Scribe of Norbert Ernst more heroic than character-tenor in timbre, ringing out in the Albert Hall, and George Gagnidze a formidable characteriser from the start as Shaklovity, the boyar who will assure eventual control for the young regent.
Audience jaws dropped less for Croatian Ante Jerkunica's virile Ivan Khovansky (pictured above on the right with Gagnidze) - hopes had been for the massive authority of an older bass, while this one was lean and not too strong at the top of the register - than for Estonian Ain Anger's Dosifey, leader of the Old Believers. Many will remember their amazement when that colossal and beautiful tone first hit us in the Proms Tannhäuser. How it fills the space, and how a single resonant note can make you quiver with emotion. A bass in a thousand, absolutely.
Every inch the other star, and rich in her vocal colouring of a beguiling, slightly enigmatic character, was Elena Maximova as Marfa (pictured below), under Dosifey's guidance but also, perplexingly, a seer with pagan roots and a sensualist, one-time lover of Ivan's son Andrey (Christopher Ventris, as youthful-sounding in helden-lyric tenor territory as he'd been singing Siegmund in the Budapest Ring, and usefully contrasted with the sharper edge of the evening's other leading tenor, Vsevolod Grivnov, as cultured Prince Golitsyn). The pair's awed anticipation of the end was surely the most moving stretch of the evening, and that's saying something. It's a shame Bychkov didn't favour the more spiritual apocalypse of Ravel and Stravinsky for Diaghilev; this one felt too abrupt, but full marks to the conductor for making other smaller changes to the Shostakovich version.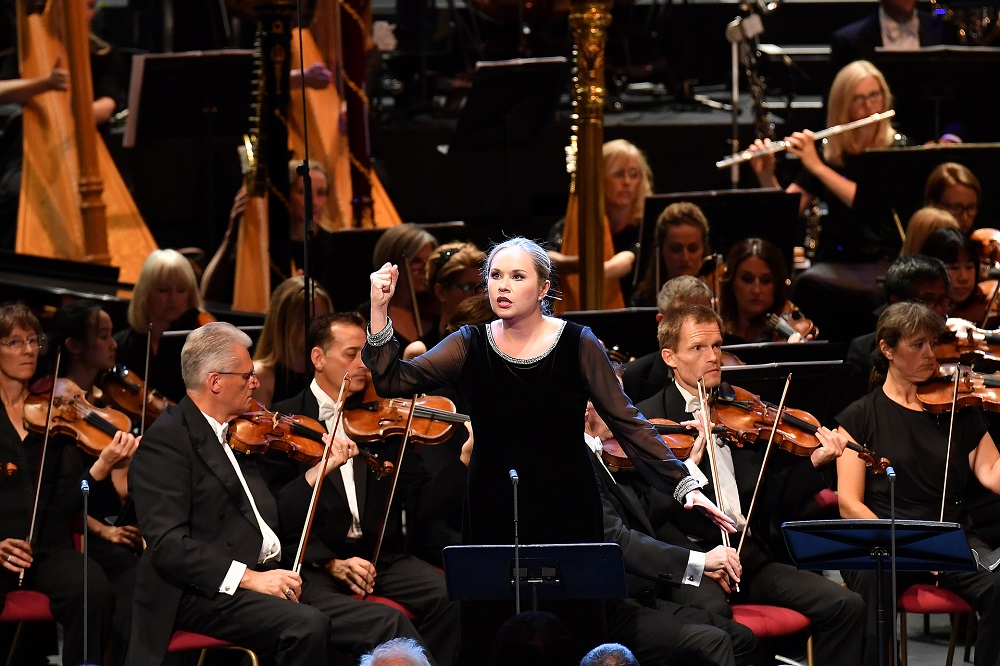 If Maximova had a tendency to press forward in her dramatic urgency, Bychkov was there to follow her, and otherwise he kept a magisterial grip on the drama, always attentive to every colour. With cor anglais player Alison Teale riveting in sorrowful humility and slinky oriental mode, violas and cellos humanising their characters, horns colouring one of Dosifey's noblest exits to startling effect and a general sheen which could only be compared to Abbado's Vienna recording of the work, the BBCSO sounded as world-class here as it did last year for the late Jiří Bělohlávek's account of Janáček's The Makropulos Affair.
The essential Slavic quality to religious chants and mass assertions of fearfulness and sorrow came from the Slovak Philharmonic Chorus, working alongside a full-strength BBC Singers. At first their responses as a single character teasing and threatening violence to the Scribe could have done with a bit more vivid drama, but Bychkov did the extra work with the orchestra in the scene where Ivan Khovansky's unruly guard, the Streltsy, are brought to book, a tableau which ends in one of many spellbinding quiet choruses. The ultimate achievement rests with a great conductor and master-dramatist, persuading me as no other interpreter has done in the live performances I've seen that the musical values of the work are as unremittingly high as the dramatic contrasts.
Subscribe to theartsdesk.com
Thank you for continuing to read our work on theartsdesk.com. For unlimited access to every article in its entirety, including our archive of more than 10,000 pieces, we're asking for £3.95 per month or £30 per year. We feel it's a very good deal, and hope you do too.
To take an annual subscription now simply click here.
And if you're looking for that extra gift for a friend or family member, why not treat them to a theartsdesk.com gift subscription?