King Lear, Shakespeare's Globe - Nancy Meckler's Globe debut is unusually subdued |

reviews, news & interviews
King Lear, Shakespeare's Globe - Nancy Meckler's Globe debut is unusually subdued
King Lear, Shakespeare's Globe - Nancy Meckler's Globe debut is unusually subdued
Kevin R McNally stars in a tragedy so quiet it proves almost inaudible at times
'See better, Lear': Kevin R McNally's Lear confronts the blinded Gloucester (Burt Caesar)
Every play is a Brexit play. This much we have learnt in the year since the referendum. But in Nancy Meckler's hands the Globe's new King Lear becomes the Brexit play – an unpicking of intergenerational responsibility and difference, of philosophies of power and governance, tackling above all that sticky question of what the old really owe the young.
But the dramatic dice are loaded. The audience enters to a Globe covered in tarpaulins and chipboard, "KEEP OUT" scrawled across the boarded-up gallery. A cast of squatters surges onto the stage, all anoraks, unwashed hair and beanies, tearing down coverings and kicking in doors to claim a space for their motley theatricals. It's a topical fit for a Shakespeare play that explores homelessness, statelessness even, in all its variations, from a sense of not belonging to the most abject desperation and isolation. So why does Meckler, having established her dramatic frame, proceed to ignore it so entirely? (Pictured below: Kevin R McNally and Anjana Vasan)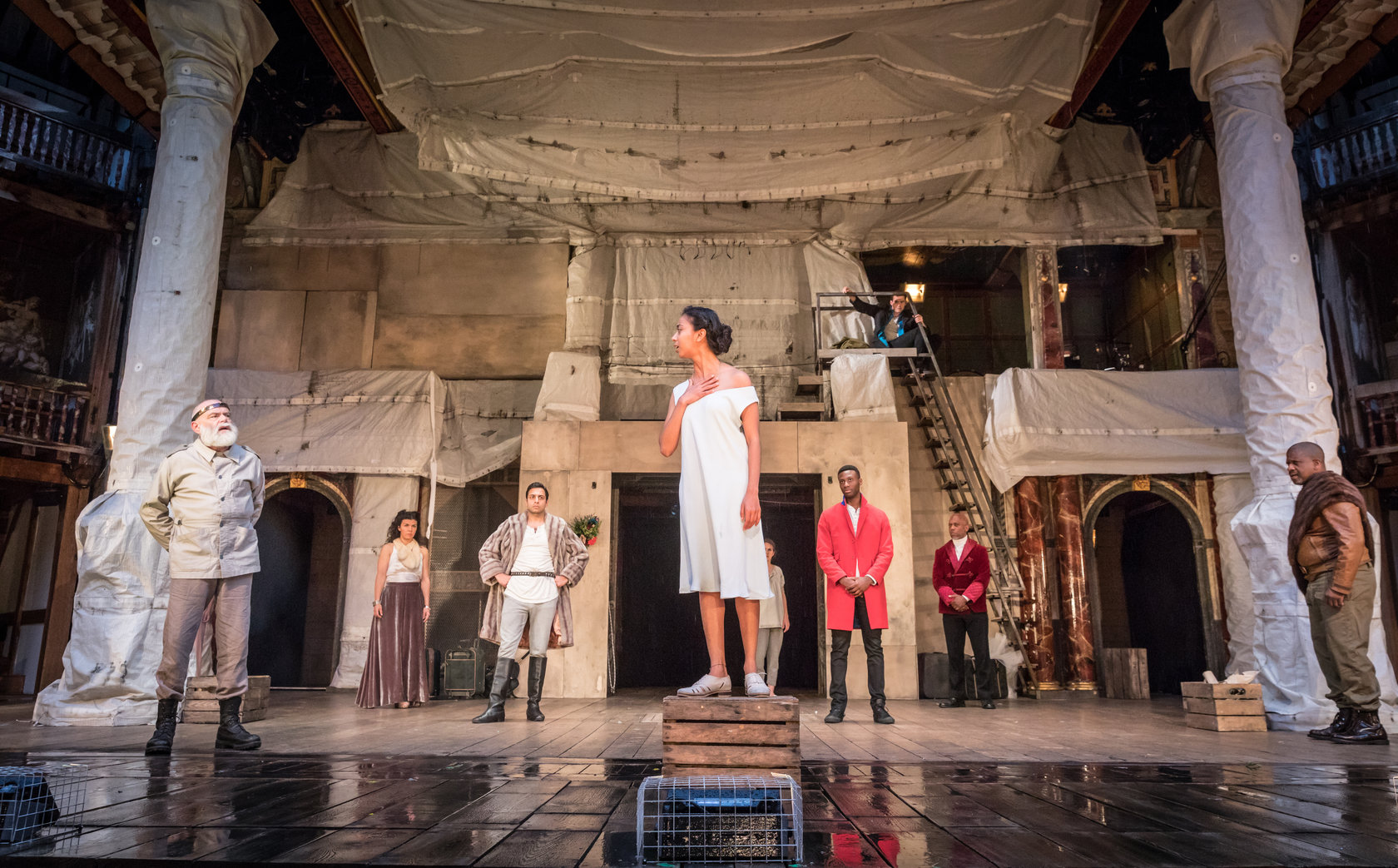 Because what follows after the opening dumbshow is a startlingly conventional production, quiet almost to the point of dramatic inaudibility. Meckler brings some of her signature Shared Experience physicality with her. Battle scenes become stylised, percussive affairs, violence suggested in carefully choreographed and soundtracked dance episodes and drums give the action a propulsive drive the text itself never quite finds. But somehow, even allowing for a composite text combining different versions of the play, it doesn't quite add up to a coherent reading.
The dramatic pace is set by Kevin R McNally's Lear whose softness is particularly striking in the Globe, where tragedies tend to be painted in primary colours if they hope to carry the venue's crowd of tourists along with them. His "Blow wind" is almost a throwaway gesture, all but lost in the energetic business of the storm, and the impact of his mercurial shifts of temper is lost when operating within so confined and contained a range.
Laughter (both sought and spontaneous) persisted throughout on opening night, taking the edge off scenes that really ought to be shocking, even on a sunny summer evening. Titus Andronicus, just a couple of seasons ago, had no trouble twisting the knife (or thrusting it into unmentionable places), so to witness so comfortable a blinding of Gloucester seemed strange, not to say wilful.
A female Kent from Saskia Reeves (calling our attention to the absent mother figure of the play) is an unexpected pleasure – briskly nurturing, caught between loyalty to secular authority and the church, where her final speech takes her. Joshua James's Edgar goes from likeable imbecile to the convulsive chatter of Poor Tom with thrilling ease, playing off the understated villainy of Ralph Davis's Edmund, and Sirine Saba's Regan treads an interesting line between good intentions and misguided actions. But there's a void where the relationship between McNally's Lear and Anjana Vasan's stern Cordelia should be. Rarely has that final tableau – a dead daughter cradled in her father's lap – seemed less likely to break your heart.
Meckler's Lear is the battle of Gen Y and the Baby Boomers – the one crying irresponsibility and dependence, the other raging at a stolen inheritance. It's topical, certainly, but for all its neat equivalences it never quite moves from political commentary to human action.
11 GREAT LEARS

Greg Hicks, RSC. Hicks occupies the part with brisk and inventive intensity.
Derek Jacobi, Donmar Warehouse. A thrilling chamber version, though even at 72 Jacobi still seems too spry
Glenda Jackson, Old Vic. Jackson returns to the stage as an authoritative Lear, gender irrelevant
Jüri Järvet, Grigori Kozintsev's Russian film version. Truly apocalyptic masterpiece, stunningly performed
Tatsuya Nakadai, Kurosawa's Ran. Lear-inspired epic of the futility of war
Jonathan Pryce, Almeida Theatre. Pryce heads a disturbingly dysfunctional family in a compelling production of Shakespeare's tragedy
Simon Russell Beale, National Theatre. Russell Beale's Lear budges up to make room for Mendes's vision
Barrie Rutter, Northern Broadsides. Jonathan Miller's vivid production puts Lear in a Yorkshire accent
Antony Sher, RSC. Sher runs the full delivery gamut in Gregory Doran's distinguished production
John Shrapnel, Tobacco Factory. A traditional Lear triumphs in the heat of Bristol's alchemical vessel
Aleh Sidorchik, Shakespeare's Globe. Belarus Free Theatre stages Lear as post-Soviet Oedipal X-Factor extravaganza