Green Man Festival review - rustic Welsh epic is wet but joyful |

reviews, news & interviews
Green Man Festival review - rustic Welsh epic is wet but joyful
Green Man Festival review - rustic Welsh epic is wet but joyful
Until the rain inevitably arrives on Sunday, a rip-roaring success story
Wednesday, 23 August 2017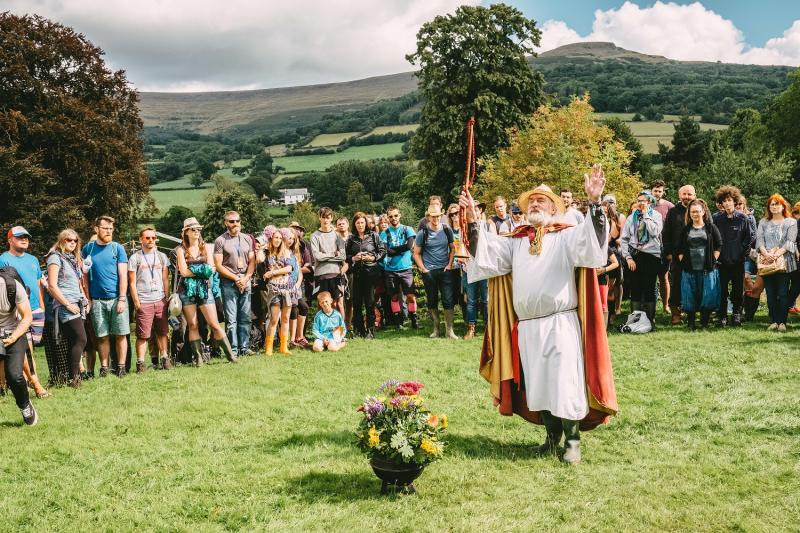 Even druidic influence couldn't keep the weather gods at bay
After the gruelling five-hour coach journey to Powys, Wales, we strolled over a bridge into Glanusk Park, through two security guards, and into Green Man with only so much as a sing-song "Bore da". Satisfied, we picked a spot and set up camp in the intense heat.
Young Welsh scholars waved their A-level results in the air and cracked open that first bottle of cider, quaint middle-class families eagerly discussing the multitude of vegan opportunities.
On Thursday nothing played on the main Mountain Stage, an impressively large set-up in the dead-centre of Green Man, and the camping fields were still relatively sparse, and, despite rampant rumours, it hadn't rained yet. Initial walks around the site revealed an unexpectedly great scale, with a diverse range of things to see and do in abundance; a guy going at a drumkit with effortless panache, an art installation in and outside a forest...
What struck me, more than the £8 pricetag on burgers or the rickety Ferris wheel, was the amount the festival made room for its natural setting. One didn't quite forget at any moment that Green Man was taking place in a national park, and its cornucopia of lush greenery never really left my sight.
All of the evening was leading up to an expectation-laden gig: Canadian alt-jazzers BadBadNotGood. They were, in my eyes and most of our camp's, the highlight of the weekend. They ascended the stage to a blistering chorus of adoration. The band were hardly dressed for the occasion, unceremoniously clad in jeans, hoodies, and t-shirts.
They began with the drummer and de-facto frontman, Alexander Sowinski, dryly commenting, "We're very happy to be here... in Wales" and played a couple of teasingly chilled tracks, making the audience move fluidly but watchfully. Their third song, undoubtedly their most famous, towered over the rest of their set.
"Triangle" had an irreplaceable intro of just a few keyboard notes overlaid with bass, that lingered for a handful of seconds before leaping into it full throttle. They were downright weird at points, bassist Chester Hansen acrobatically leaping and dancing around with glow-sticks. "This isn't the band," said someone, "this is the band making fun of the band." But the music was tremendous.
FRIDAY
We woke up to a late dewy morning and realised a community of tents had materialised around us. The Brecon Beacons rolled under a patchwork sky. I drifted towards the Chai Wallah's stage where Boudica Boogaloo, a three-piece band of dungaree-clad women, were singing swinging country songs. Annalise Lamb on fiddle played shredding solos and the whole band radiated sunny charisma. It was a shame the venue was so empty.
Irvine Welsh (pictured right) was already talking in the Babbling Tongues tent when I arrived. He read an afternoon story of ultraviolence and bloodthirsty revenge from his new book The Blade Artist, in which a rechristened Begbie appears to have been rehabilitated but is in fact more dangerous than ever.
"That's a parable of our times," he said. "Psychopaths are in the offices now, not on the streets." The audience clapped in agreement, perhaps with their own bosses in mind. "And fiction must be dramatic" he added, "I don't wanna hear about accountants leaving their wives."
British Sea Power took to the Mountain Stage early in the evening. After half an hour we were bored out of our minds by a wet woolly sound which was strikingly forgettable. Their lyrics, praised as "surreal", felt try-hard and unnatural. At the Far Out stage, Hinds, a baby-sweet band of Spanish schoolgirls, were screeching and stamping like brats. It was wonderful. Their sound was sharp and sometimes pungent but the sultry four-piece were captivating. The front woman, Carlotta Cosials, smiled sweetly. "It's not very well rehearsed, it doesn't even have a name yet," she said. The audience was smitten.
All-American band Lift To Experience, next up on the Mountain Stage in front of a Texan flag, produced a clean well-rehearsed sound and sang mostly about home. A folk festival crowd in Wales struggled to connect to a bland ode to the USA. As darkness fell we headed to Green Man Rising, a smaller and more intimate stage with shelter. The Dead Pretties were producing an anarchistic sound reminiscent of The Jesus And Mary Chain, raw, unfettered and angsty. Not, however, completely free from teenage pretence. Frontman Jacob Slater wrapped the wire of the mic round his neck like a noose and sang, "Romeo is bleeding, Romeo is bleeding."
"You're always on the road, baby, even if you're at home," sang Gerrit Welmers (pictured above left), vocalist of Future Islands, a band always full of corny lines about life delivered with such charming sincerity it's impossible to sneer. The crowd responded to his energetic stage presence, reminiscent of Jack Black in School Of Rock, only with more introspective lyrics.
SATURDAY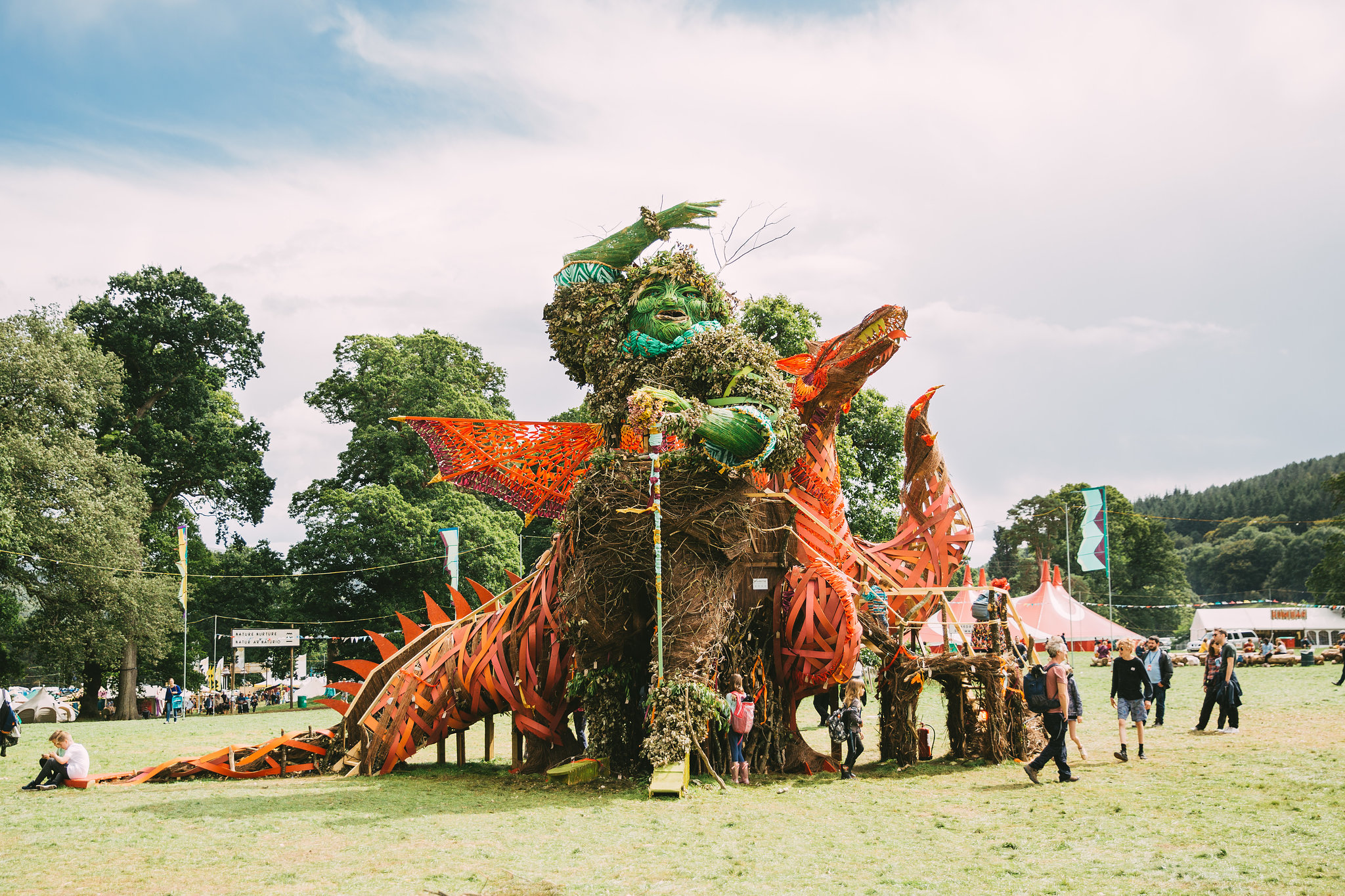 Saturday afternoon kicked off with Aldous Harding at Walled Garden, a lovely stage with a relaxed outdoor vibe. I sat down and took off my shoes to watch her. Hers was an eerie, Nick Cave-esque, dark-folk show at odds with the sunshine. Strange surreal lyrics were delivered with a silky, mellow voice. Later we made our way to the Mountain Stage to see indie band The Wave Pictures. They began with their best-known track, a quirky, upbeat number called "Stay Here and Take Care of the Chickens". Their stage presence, with most of the band in the chequered shirts, was underwhelming.
This Is The Kit were excellent despite the nerves of their lead singer. Their stirring soft-folk was a snug fit for Green Man. Moses Boyd Exodus took the Far Out stage by storm in the early afternoon. Their look is a slack hip-hop, caps and hoodies, but their music is slick grime-influenced jazz, with passionate soaring solos, even the drummer. A superb performance.
Allah-Las, striding onto the Far Out stage in Sixties get-ups, were another highlight. There's a big distance between their old material, a serene mix of neo-Sixties surf and garage rock, and their less grabby newer songs. A shame. Later The Abstract Orchestra in the Chai Wallah's tent was more of a party-oriented affair. They were fantastic, doing a number of Madvillainy covers. A DJ set from Jon Hopkins was slightly jarring after all the live music. Bland, if slightly mesmeric.
SUNDAY
The headline act on Sunday was an unforgiving downpour. It was difficult to enjoy bands in this weather and I especially pitied the artists whose audience fled to shelter elsewhere as they performed. Thankfully the rain let up eventually and we cautiously made our way down to the Walled Garden to see Timber Timbre's well-crafted, subtle jazz.
Then for the most anticipated act at Green Man: PJ Harvey (pictured below). We arrived early and elbowed our way to the front centre. A marching band entered and it took a second to realise that PJ herself was one of them, playing a saxophone, the gold brass complementing her purple outfit. Her set held the audience spellbound with abstract movements and gestures, her entire band forming a theatrical unit in a bewitching fairytale. Beautiful, especially the call and response with her male backing singers.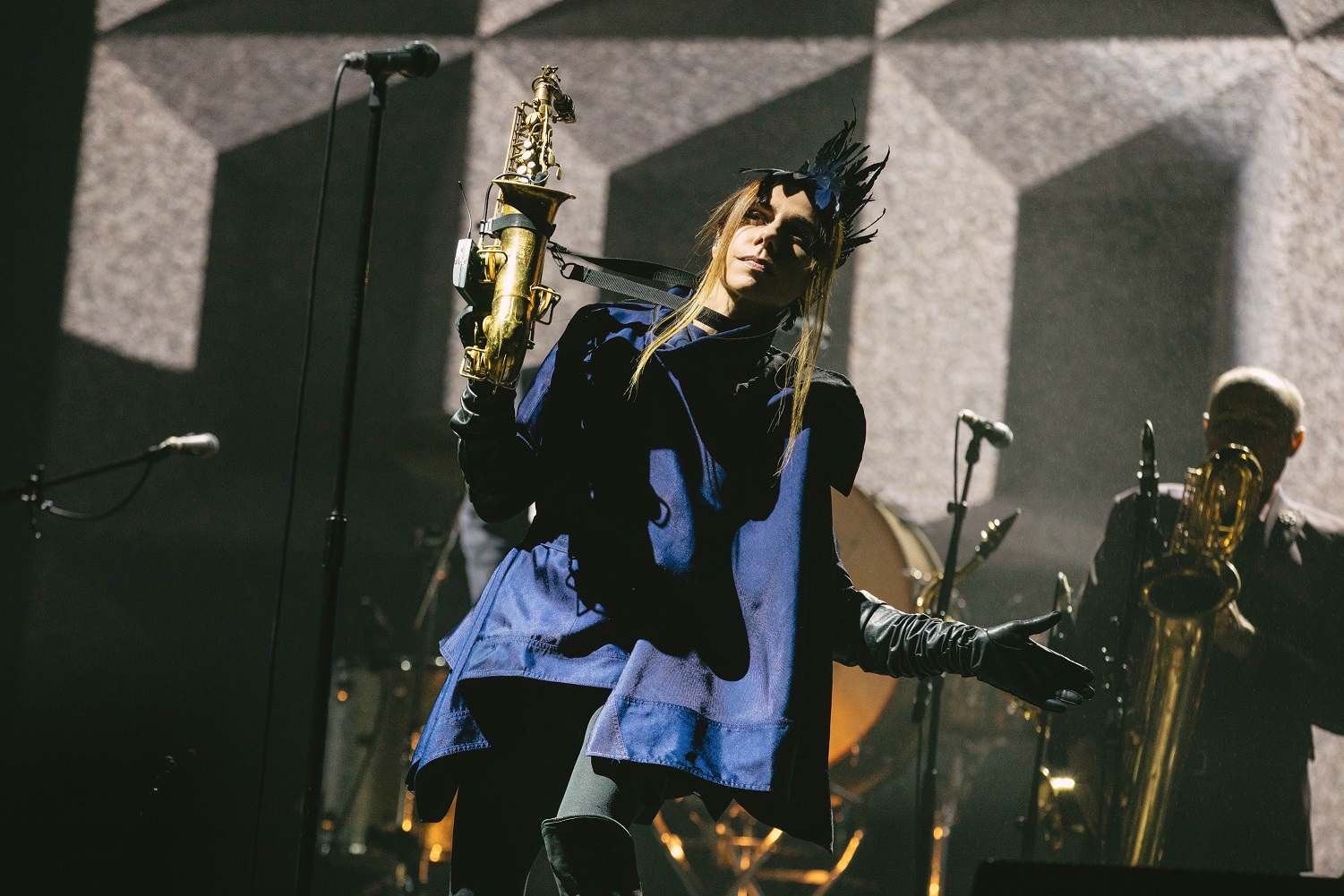 Sadly there was to be no encore. Instead we were distracted by people in black capes coming round from behind us carrying torches of fire. Intrigued, the Mountain Stage audience moved like moths towards the light and found ourselves surrounding the wooden Green Man sculpture which by now was covered in the handwritten wishes of the festival community: "I wish I could have a guinea pig"; "I wish she loved me back".
A firework display exploded up into the clear night as the Green Man submitted to flames, thousands of wishes billowed up in clouds of smoke, and it was a good source of warmth too. This was an appropriately dramatic coda.