DVD/Blu-ray: My Beautiful Laundrette |

reviews, news & interviews
DVD/Blu-ray: My Beautiful Laundrette
DVD/Blu-ray: My Beautiful Laundrette
Stephen Frears' unexpected 1985 hit is as fresh and relevant as ever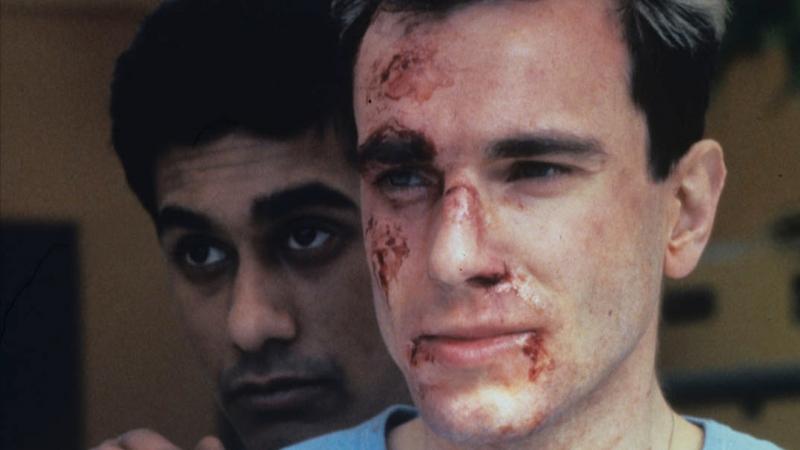 Sticking together: Gordon Warnecke, Daniel Day Lewis
This rerelease of Stephen Frears' My Beautiful Laundrette comes as part of the wider BFI programme marking the 50th anniversary of the passing of the Sexual Offences Act 1967, and its presence in that strand, as one of the foremost works of its time to engage with gay issues, is a given.
But watching it again today brings home just how much broader the film's concerns are, how
writer
Hanif Kureishi approached the issue of British identity, his insight coming via the perspective of the country's Pakistani immigrant community. "Could anyone in their right mind call this silly little island off Europe their home?" Hearing that line again, as the island concerned is in the process of proving itself a great deal sillier in taking itself even further off Europe, seems somehow salutary. As are the film's depictions of violent hostility towards the outsider.
There's a nice irony in the fact that My Beautiful Laundrette proved itself that (arguably) quintessential British phenomenon, the plucky but modest contender that somehow triumphs against the odds. Famously, it was intended for television, produced by the nascent Channel 4, before the success of its 1985 Edinburgh Film Festival screenings provided critical impulse that would deliver a far more ambitious release. Its international success – that elusive example of a distinctively local story resounding with audiences around the world – in turn gave rise to Film Four, which would prove so influential a force in British cinema over the next two decades or so.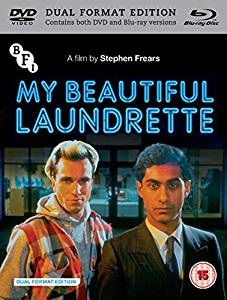 One of the extras here is a 1986 ICA Q&A (in audio), in which Frears and Kureishi – it was the latter's screenwriting debut – ponder the differences between working for television and cinema, concluding really that it came down mainly to filming on 16 rather than 35 mm. And My Beautiful Laundrette really doesn't look dated today, in no small part thanks to the cinematography of Oliver Stapleton. But its sheer freshness, its sense of vibrant life, is best defined by Gordon Warnecke, who plays Omar, in a 2015 BFI interview when he speaks of how those involved were "all young guns", bursting with an energy that would make the film a watershed in British filmmaking. That sweet-faced youthful enthusiasm is so much Warnecke's achievement, set as it is against Daniel Day Lewis as the far more taciturn Johnny.
Two other extras are of special interest. The first is Gurinder Chadha's 1989 30-minute documentary I'm British But…, in which the future director of Bend It Like Beckham (which would achieve the same kind of crossover success as My Beautiful Laundrette) interviews young British Asians about their sense of (bi)cultural identity. Most conclude that their generation considers itself as belonging to the country of their residence – some define themselves distinctly as from Scotland or Wales, rather than Britain as a more abstract entity – rather than to that of their parents' birth. It's a treat for Bhaṅgṛā fans, with lyrics from the Punjabi that perfectly capture some of the sentiments of My Beautiful Laundrette, speaking of "this strange and loveless island", a place hard to live in "even with your pockets full". That last phrase could be the mantra of Saeed Jaffrey as the ebulliently capitalist Uncle Nasser, and the antipode of Roshan Seth as his defeated, dipso brother, Hussein. What an insightful, powerful pairing they are (and how prescient Nasser's description of Pakistan as a country "sodomised by religion").
The other extra is Typically British: A Personal History of British Cinema by Stephen Frears, a 77-minute documentary from 1994 in which the director explores his personal vision of British film history, as well as some of the works that most influenced him. It's set around two fascinating conversations (over tea, of course). One is with two figures from the older generation, the director Alexander Mackendrick and the writer-critic Gavin Lambert, who both settled in Hollywood, with whom Frears remembers the films of the Thirties and Forties, particularly the "Golden Age" of 1944-49. The other is with Frears' contemporaries Michael Apted and Alan Parker, whose careers have moved between home and America, discussing the contrast between directors working with their familiar world – there's special acclaim from all for Ken Loach – and those attempting films "for export". All concerned display insight and attitude in equal measure.