The Seagull, Lyric Hammersmith review – is Lesley Sharp's Irina a sex addict? |

reviews, news & interviews
The Seagull, Lyric Hammersmith review – is Lesley Sharp's Irina a sex addict?
The Seagull, Lyric Hammersmith review – is Lesley Sharp's Irina a sex addict?
Chekhov's classic bird updates entertainingly, even if lopsidedly, as a play for today
Saturday, 14 October 2017
'I could play a 15-year-old girl, don't you think?' Lesley Sharp as Irina, Paul Higgins as Hugo, Cherrelle Skeete as Marcia
The awful mother, the celebrity-obsessed teenager, the mediocre old writer who wants some young sex in his life – there are motifs in Chekhov's The Seagull that fly merrily from one century to another, and Simon Stephens and
sk">Sean Holmes' new modern-dress update for the Lyric, starring Lesley Sharp, is fresh and accomplished, even if the classic bird's flight is rather lopsided. The comic wing turns out to flap more strongly than its tragic one, but it's good the Lyric's notably young audience can think of a 120-year-old play as a play for today.
The vision borrows something from reality TV shows. Director Holmes cuts urban characters adrift, naive Nina in her jeans shorts, over-yummied mummy Irina in her LK Bennett spikes, Marcia and Konstantin dressed like streetmarket goths, marooned in an unfocused countryside location (design by Hyemi Shin), casually signalled by a backcloth of birchwoods, blank walls, cheap plastic patio chairs. Lounging at the lakeside, the visitors gaze out at us in the auditorium as if we were the lake and the rising moon. And we might as well be an ocean, since they can't get away until the carthorse is freed from ploughing and can carry them to the station. Where are Uber and mobiles when you need them?
Eventually the damage to the original does catch up
This radical timewarping leaves a fair bit of damage to Chekhov's themes in its wake. Writer Stephens modernises the dialogues workably with naturalistic fucks and shits, which elide into the higher-flying speeches with one or two wincing gear-changes to express the mindset of characters whose self-absorption and indolence were of their time. Since much of the play is a mirror in which Chekhov studies himself, his surrogates, the two writers Boris and Konstantin, do sound pretentious in the update.
The other casualty is the mother-son plot. Heartless actress Irina, who sees in her son an awful reminder of her advancing age, can't be a pitiable as well as comic figure today without more explanation than we're given. Is she a sex addict? Um, let's ask Chekhov.
Still, one can just about overlook such great big problems, because The Seagull has another life as a touching comedy about unrequited love, almost A Midsummer Night's Dream.
Irina needs (and graphically screws) Boris, who desires Nina, who is venerated by Konstantin, who is fancied by Marcia, who reluctantly marries Simeon who adores her but she doesn't return it. And Marcia's mother Pauline, who's bored by her crashingly unfunny farmer husband Leo, is panting to get off with the doctor, Hugo, who despite his good looks doesn't want sex with anybody. Where's Puck when you need him? There's lots of good body language and the Shakespearean disorientation is assisted by Pete Malkin's arch music work with Vivaldi (I loved the little musical announcements for Irina's entrances) and nice shadow-puppet scene changes lit by Anna Watson.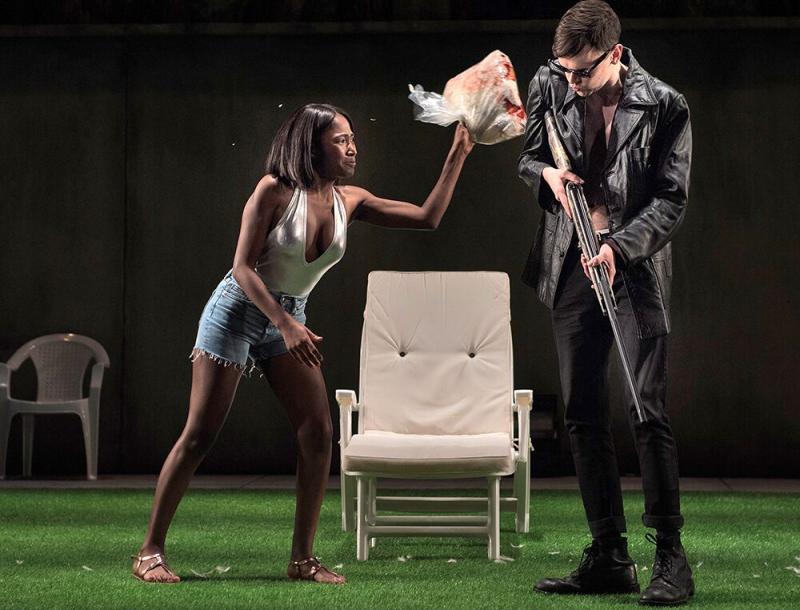 A major gain is that Chekhov's hierarchy is emotionally rebalanced towards side characters, such as Michele Austin's excellent Pauline and Cherrelle Skeete as her self-medicating, angry young daughter, Marcia, the most genuine, intelligent character of them all. (I wonder what Skeete would do with Nina's role.)
The leading characters have a trickier job. Adelayo Adedayo (pictured above with Brian Vernel as Konstantin) with her soubrette presence has to work hard for modern emotional resonances in Nina, and on first night didn't scale the difficult heights needed to reconcile the anomalies in what should be an aching last scene.
For eventually the damage to the original does catch up. I found it increasingly hard to keep sympathy for the central pair, mother Irina and son Konstantin, Lesley Sharp and Brian Vernel, both acting as if via Tannoy in a storm.
Sharp makes a stage-hogging Irina, breathtakingly TOWIE on her first entrance, mutton dressed as WAG, swinging her shiny ponytail and shimmying alluringly in her backless onesie. Her voice honks through the hubbub with hints of Kenneth Williams, and when she isn't being beastly to her son, she disintegrates into childishness, hunkering under the table with him inappropriately, or plopping onto the doctor's lap, seeking kisses, and practically raping Boris. Virtuosic, but not really plausible. And Vernel invests Konstantin (why?) with an intrusive Scots accent and insistent delivery that becomes monotonous rather than haunting. So the tragedy is rather thrown away.
Much more interesting is the fresh playing of the autobiographical role, "man of letters" Boris, by Nicholas Gleaves. A reticent figure in a hat, belting his jeans selfconsciously, he is Mr Cellophane at first, which makes his outburst to the celebrity-obsessed Nina about the agony of being a writer who's certain of his own mediocrity all the more touching. It's a little hard to believe that this man would behave so indecently to Nina later. Which is, of course, sadly relevant today.
Lesley Sharp gives us a stagehogging Irina, breathtakingly TOWIE with her swinging ponytail and shimmying in her onesie
rating
Explore topics
Share this article