Michael Clark Company, Barbican Theatre review - bad boy of dance comes good |

reviews, news & interviews
Michael Clark Company, Barbican Theatre review - bad boy of dance comes good
Michael Clark Company, Barbican Theatre review - bad boy of dance comes good
Not what was promised, but ballet's prodigal son delivers
Saturday, 21 October 2017
Iceberg cool: the immaculate dancers of the Michael Clark Company
If there were an arts award for loyalty, the Barbican Theatre would surely win it for having kept faith with Michael Clark. It's no secret that the bad-boy image that has clung to Clark since his punk extravaganzas in the 1980s had consequences in his personal and creative life, forcing frequent "early retirements".
But the Barbican, along with the Dance Umbrella festival that helped produce his work, kept on believing, and this time last year that belief was rewarded in a knockout triptych of
new work
sparked in part by the passing of
David Bowie
. "Fabulous, but too short!" was the general verdict. Hence the promise for this current run at the Barbican of an extended version.
Well, those with next-week tickets for to a simple rock 'n' roll … song. may be luckier, but on opening night that longer version wasn't ready. What we got was the same concise 50 minutes of dance, perhaps with refinements. But did it matter? The standing ovation at the end said no: Michael, we love you, and this is just fine.
The short evening opens with a tribute to Erik Satie in what we'll call Act I (influenced by Britart, Clark gives bonkers titles to his pieces that just get in the way). What has always distinguished Clark's best work – regardless of the decibel load or rude gags – is its startling ballet purism, a fierce concentrate that might be worth labelling nu-classicism if anyone else looked likely to take it up. Hips are in savage turnout, arms cradle the air in aristocratic port-de-bras, bare feet are pointed to extremes – who knew that five toes could field so many knuckles?
The discipline is as bracing as a mouthwash
To the plodding block piano chords of Prélude – Fête donnée par des chevaliers normandes en l'honneur d'une jeune demoiselle (Satie was another one fond of silly titles) Clark sets his dancers out on a formal grid. Sleek black and white costumes (Stevie Stewart) and the men's short back and sides underline the stripped-back aesthetic. Eight bodies move in immaculate unison, becoming a single entity of angles, hinges and planes. Frederick Ashton's Monotones (likewise set to Satie) are an obvious reference. But so is the work of Merce Cunningham with its semaphore arms, studied aeroplane balances and occasional skitterings across the steady pulse. The discipline overall is as bracing as a mouthwash. A serene and airy solo performed by Daniel Corthorn, a dead-ringer for Clark in his dancing prime, is a thing of absolute beauty.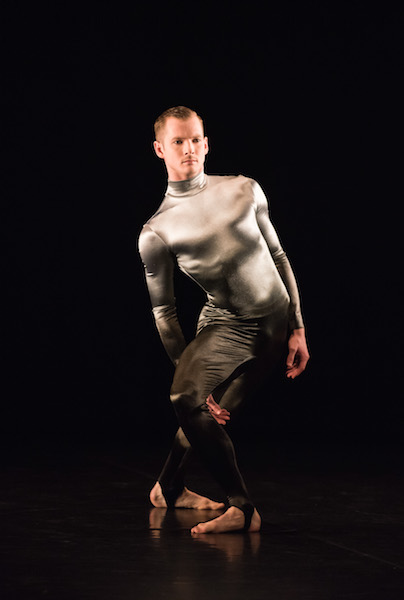 The choreographer's raunchy side comes through in Act II, set to the slutty punk rock of Patti Smith and against colourful Op Art video projections by long-time collaborator Charles Atlas. Again there is a technical rigour to every move, but the joy comes from the aesthetic clash with the loucheness of the music, formal twiddle-toed jumps registering as Mozartian trills over the thumping beat. There is, too, more than a hint of homoeroticism in some of the partnerings on stage, which passes without causing a ripple – a reminder of how the ground has shifted since Clark and his then-lover Steven Petronio shocked audiences with their defiantly gay antics in the early 1990s.
The tribute to Bowie comes last, beginning with an elegiac setting of his swansong Blackstar, and ending in a whoop of off-the-wall energy to Aladdin Sane, all Seventies shoulder shakes, hip grinds and head rolls, the stage picture a riot of irridescent tangerine. It's an invitation to all those who lived through the Seventies without quite appreciating the vibe to play catch up. And yes, it's an evening that flies by all too fast, a bit like life itself. Is it feasible to give full marks to a show that isn't what was promised? Perhaps not. But you go home with a five-star glow all the same.
What has always marked Clark's best work is its startling purism
rating
Explore topics
Share this article