Romantics Anonymous, Shakespeare's Globe review - box of delights |

reviews, news & interviews
Romantics Anonymous, Shakespeare's Globe review - box of delights
Romantics Anonymous, Shakespeare's Globe review - box of delights
Emma Rice exits with a sweet-toothed musical in the Sam Wanamaker Playhouse
Thursday, 02 November 2017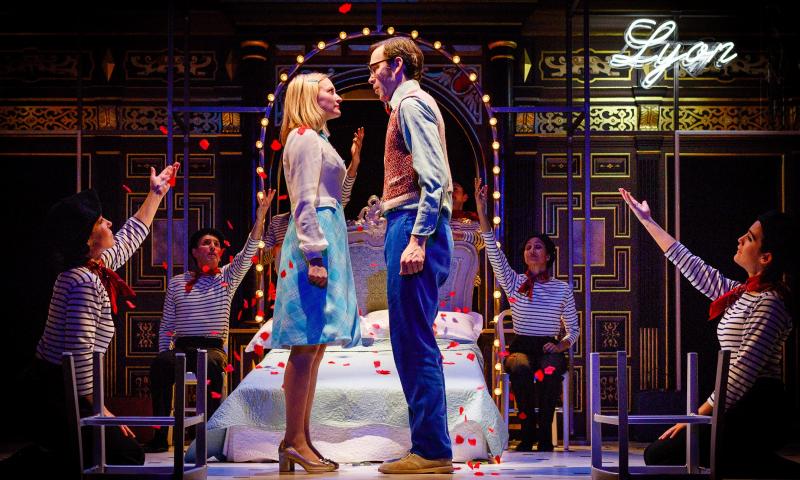 Tongue-tied lovers Angélique (Carly Bawden) and Jean-René (Dominic Marsh) confront the inevitable in Emma Rice's new musical
It's all a bit Dairy Milk. That was, to wrap it in purple foil, the critical reaction to Les émotifs anonymes when it was released in 2011. Not in the UK, though, where Jean-Pierre Améris's romantic comedy never made it to cinemas.
Lack of local familiarity has given creative licence to Emma Rice, who with her departing production as artistic director has presented audiences at
Shakespeare's Globe
not with a
Hamlet
or a
Henry
but the theatrical equivalent of a chocolate soufflé.
The tale of two pathologically anxious introverts does not present the most likely basis for a musical. Jean-René runs a small and failing chocolate company. Along comes Angélique, an out-of-work chocolatier as shy as she is pretty. We all know where they're headed. The fun had better lie in how they get there.
The success of Romantics Anonymous lies in the carefree way it faces unlikely challenges and then (mostly) overcomes them. Musicals make good films, but the other way around? Look at Amélie, which lasted three months on Broadway. How to craft a convincing show with two central characters who can barely look at, let alone sing to each other? How to stage a car-chase? How to have fun with the awkward silence?
It's Rice's own directorial flair that answers the questions posed by her book. She's helped by restlessly inventive lyrics from Christopher Dimond, and a knowing riot of cliché in Lez Brotherston's design that gets the audience onside from the first entry of mateloted maidens handing out sweet treats. And, glory be, a live band, a gallery quartet tipping the nod to the Globe's own history, led from the piano by Jim Henson (not that one) in seriously inventive orchestrations by Simon Hale that pay discreet homage to the unimprovable heritage of Michel Legrand while steering clear of the inevitable accordion until late on.
Vocally speaking, Carly Bawden stands out as Angélique, with a big-hearted mezzo that's eager for a larger space to fill. She's well matched by the focused geekiness of Dominic Marsh's Jean-René and strongly supported by a busy, cross-dressing ensemble of seven of which Gareth Snook is the other singer of real presence, unfurling a wonderfully open baritone as Madame Marini, Jean-René's last customer.
It's a relief when they ease off the 'Allo 'Allo accents early in the piece, but the replacement is an outlandish distraction strategy. Rice and her team have hit upon the problem (a French musical; in English; please no Franglais; still set in Paris: Help!) and determined to style it out with a Welsh chef (Marc Antolin, pictured above as a French chef instead), a Mancunian accountant (Natasha Jayatileke), an Aussie motivational coach (Lauren Samuels) and a Scouse tart (Joanna Riding, all terrific). The period setting of the film is necessarily confined (to the early 1990s) but Rice has gone mixy-matchy again with an old-fashioned telephone and some on-the-button references to mansplaining, dabbing and the regrettable current fetish for sprinkling bits of gold on otherwise respectable chocolate.
A long first act gets off to a bright start before limping through a gloomy set-up on the crutches of some third-person narration and repeated gags that run out of steam. It's at such moments that Michael Kooman's music falls short, lacking rhythmic impetus or a sufficiently distinctive melodic profile. The kiss and other turning points pass with a throwaway chord and one more Gallic chime, as pleasant and inconsequential as Yann Tiersen's original score for Amélie.
Just a bar or two's hint of Piaf and the chansonnier heritage at the beginning of the second act is enough to make clear that ('Quelle surprise') everyone concerned is much more comfortable telling a love story that requires displaying affection and not just withholding it. From here on, with a string of well-grooved numbers - "Too good for words" – "Don't think about love" – "Don't let her go" – the show builds to an acrobatic climax. Don't go looking for more than a quick treat, and you won't be disappointed.