Brief Encounter, Empire Cinema review – poignant, hilarious revival |

reviews, news & interviews
Brief Encounter, Empire Cinema review – poignant, hilarious revival
Brief Encounter, Empire Cinema review – poignant, hilarious revival
Emma Rice's lauded stage version of the film returns with charm and inventiveness intact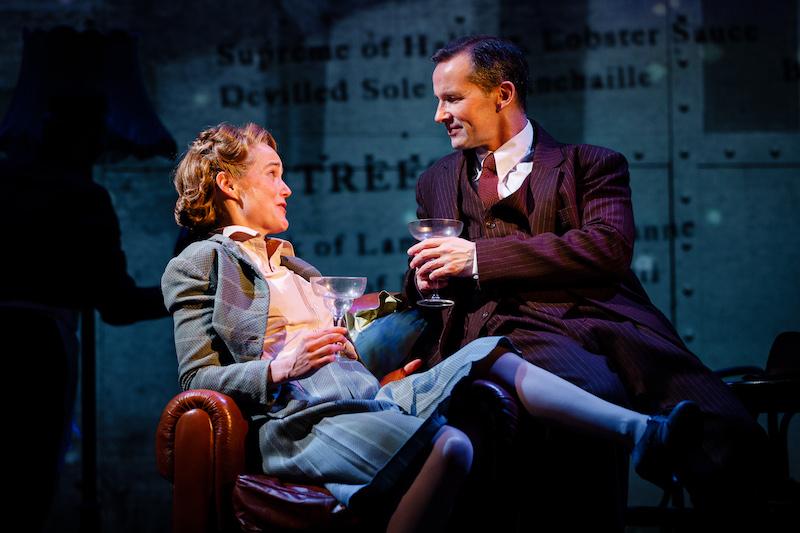 Would-be lovers Laura (Isabel Pollen) and Alec (Jim Sturgeon) share illicit champagne
It would be so easy to make fun of the 1945 Noel Coward/ David Lean film in which, famously, nothing happens between two guilt-ridden married lovers. That oh-so-British middle class restraint, those flet, perfectly enunciated vowels, the overwhelming romantic rush of Rachmaninov's Piano Concerto No 2 – isn't it all a bit OTT, just crying out for a French-and-Saunders-style send-up?
Thank goodness,
Emma Rice
has resisted the temptation in her stage adaptation. She has brought her customary larkiness to the party, but treated the agonised love affair at the centre of the story with respect and affection. It is ten years since the production was first seen at this quintessentially apt venue. Rice's career, notably her relatively short period as artistic director of the Globe, has been a very public rollercoaster. It must be comforting to return, this time under the aegis of the Old Vic, to this much-loved – and fundamentally unchanged – piece, which has travelled the globe in the interim.
Rice knows, of course, that the lack of physical action does not mean that nothing happens; these two nice, otherwise ordinary, people experience a love all the more profound because it is forbidden and neither will ever be the same again. Coward, who adapted his own play, Still Life, for the screen (and many of whose lines occur in the dialogue here) was no doubt expressing something of his own frustration at being unable, as a gay man in post-war England, to follow his desires openly.
Rice avoids the opposite temptation to satire – tedious reverence for a classic – by surrounding the couple with a circus of comic characters, based on less developed prototypes in the film, several of whom have no trouble at all in expressing their carnal desires. All these are denizens of the station, here suggested by a gantry, piles of coal and with brass bells rung to indicate the imminent departure of a train. All this with music of the period, songs by Coward, clever choreography and some snippets of specially shot black-and-white footage which Laura or Alec occasionally appears to enter from the stage. The result is a satisfying mixture of the original and something entirely new, a joyfully theatrical homage to cinema.
Isabel Pollen and Jim Sturgeon as the lovers scrupulously avoid any hints at nudge-nudge knowingness; their ecstasy and pain are perfectly convincing, even when passion is expressed by a crashing wave on the screen behind them. Everyone else moves swiftly and effectively in and out of two or three parts, including torch-wielding, close-harmony-singing ushers in buttoned uniforms. There must be a mini quick-change industry going on in the wings.
Dean Nolan as the workaday husband Fred does not attempt Cyril Raymond's subtlety in the final scene. Where Raymond hints at unexpected depths of sympathy and understanding, Nolan simply sounds a little cross with "Thank you for coming back to me". Nolan is also, however, the disapproving friend whose flat Alec nearly turns into a love nest, and the surprisingly acrobatic and very funny suitor to the station tea bar manager Myrtle. As "posh"-twanged (but up for it) Myrtle and her rosy-cheeked, giggling assistant Beryl, Lucy Thackeray and Beverly Rudd have a ball, singing, dancing and morphing into the snooty acquaintances who catch Laura and Alec sharing champagne. Whereas Celia Johnson's Laura suffers paroxysms of guilt and social embarrassment, the scene here is more about Hermione and Mary Norton - each with a tiny, apparently supercilious, dog on a leash - raising gales of laughter. It is a worthwhile exchange.
As Beryl's beau Stanley, Jos Slovick (below with Beverly Rudd as Beryl) has a sweet singing voice. Then he becomes a roughneck soldier, demanding out-of-hours brandy in the only scene which is tougher than its film equivalent. The war was over when the film was released, but it is set in 1938 and Rice, who directs with brio, allows a threatening note to enter here. Love changes people, but so does war.
Laura's anguish in weighing her irresistible feelings for the charming doctor who removes grit from her eye against duty to a reliable husband, marriage vows, children and respectability, is expressed exquisitely in the film by Johnson. The suffering in her eyes as, in voice-over, she mentally concocts a confessional letter to her husband – a letter she will never write – is unforgettable. This being a Kneehigh production, theatrical means are celebrated instead, with Laura's feelings expressed in music and screen projections, especially of the sea, and she and Alec at one point literally swinging from chandeliers.
While it is a pleasure to hear so many Coward songs beautifully sung, Rachmaninov isn't forgotten. A piano is present throughout, standing in for the counter, and then, at last, opened by Laura to play with all the pent-up passion of love denied.
Brief Encounter at Empire Cinema, Haymarket until 2 September