Twelfth Night, Shakespeare's Globe review - Emma Rice goes out with a bang |

reviews, news & interviews
Twelfth Night, Shakespeare's Globe review - Emma Rice goes out with a bang
Twelfth Night, Shakespeare's Globe review - Emma Rice goes out with a bang
Shakespeare's cross-dressing comedy gets the high-seas treatment, but loses the poetry
The Love Boat: Emma Rice's 1970s updating is Shakespeare on a pleasure cruise
The Globe's artistic director Emma Rice has made no secret of her desire to go out with a bang, in this, the final season of her brutally truncated tenure at the company.
With this
Twelfth Night
she stages a departure with bells (and whistles, and disco-balls, electric guitars, congas, Sister Sledge, and yes, a whole rig of lighting) on – a neon-bright, two-fingered salute to the board that forced her out.
The trouble is that, for all its zany energy, its charm and its humour (and there is plenty of each), the show also ends up giving two fingers to Shakespeare, which rather makes the board's case for them. Just because a play can take everything you can throw at it, or still remains standing, Jenga-like, despite all you take away from it, doesn't mean that you should do either. Or both.
With fair chunks of additional dialogue from Carl Grose, and more song and dance routines than a cabaret night, Shakespeare's text survives only in bleeding chunks, re-ordered and updated, gender-bent or re-assigned, set to music or simply cut altogether. What poetry remains (and it's not much) feels choppy and unsettled, buffeted by the cross-rhythms of interpolated updatings and retextings, and only rarely allowed to relax into a scene played at full length.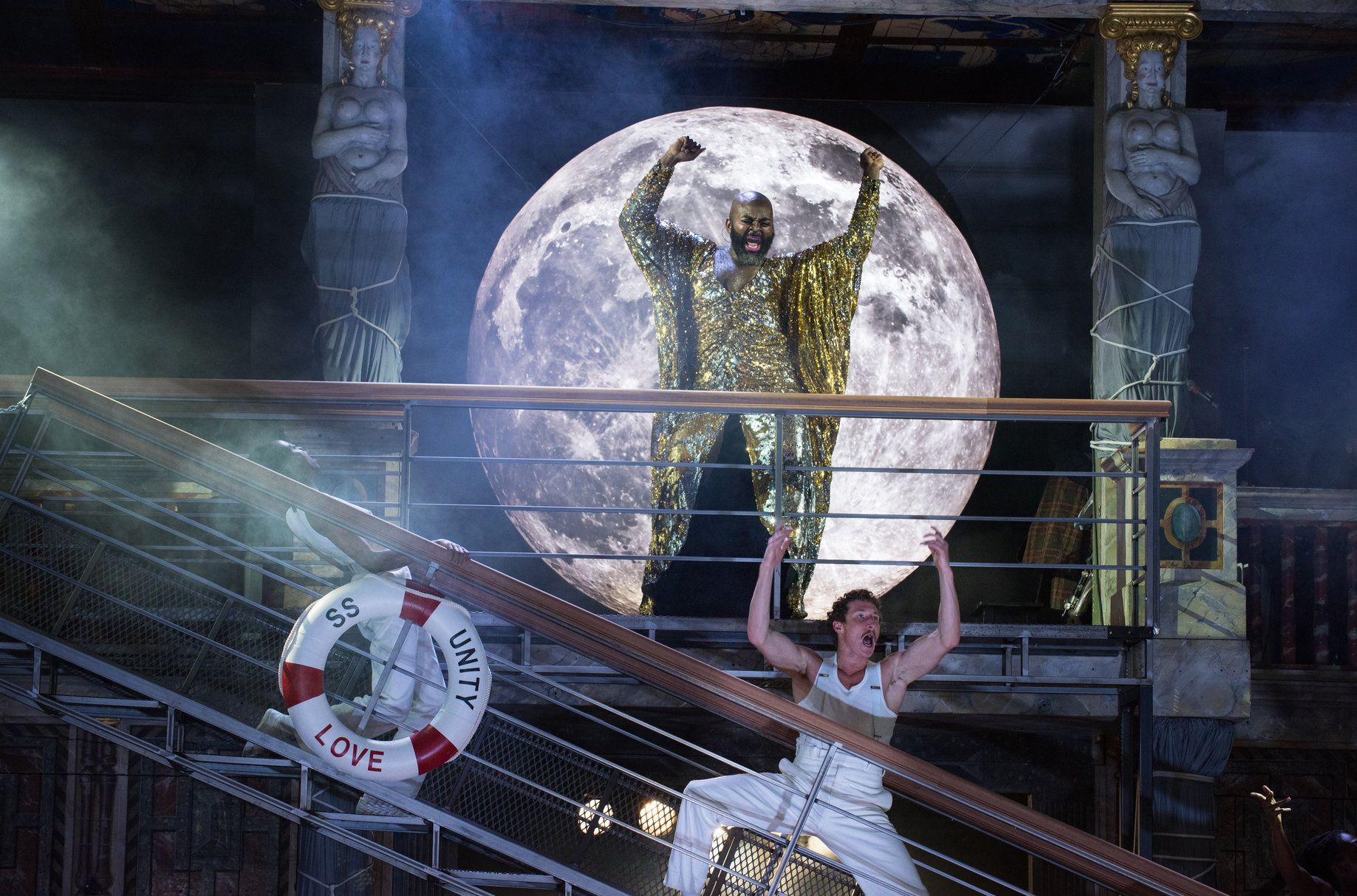 Rice's imagination is a colourful place, but her invention can become rather relentless as she flings everything and then some at the play to see what sticks. Her Illyria comes kitted out with kilts and brightly-coloured golfing jumpers, athletic Scottish reeling and plenty of accents, while Viola and Sebastian's ship (the SS Unity, a Love Boat-style cruise affair) is floating 1970s disco-palace. "If music be the food of love, play on…" And on, and on.
But there's a wonderfully organic humour to the show, driven by some fine ensemble performances. A certain female Malvolio down the river may have been getting all the headlines this year, but Katy Owen's tightly-wound, moustachioed neurotic comes close to stealing the show. Equipped with a games mistress-style whistle, a nice tartan dressing gown and a spiky bagful of over-enunciated consonants, she turns the excesses of Tony Jayawardena's Sir Toby and Marc Antolin's lisping Sir Andrew into a foil for her own buttoned-up comedy rather than the other way around.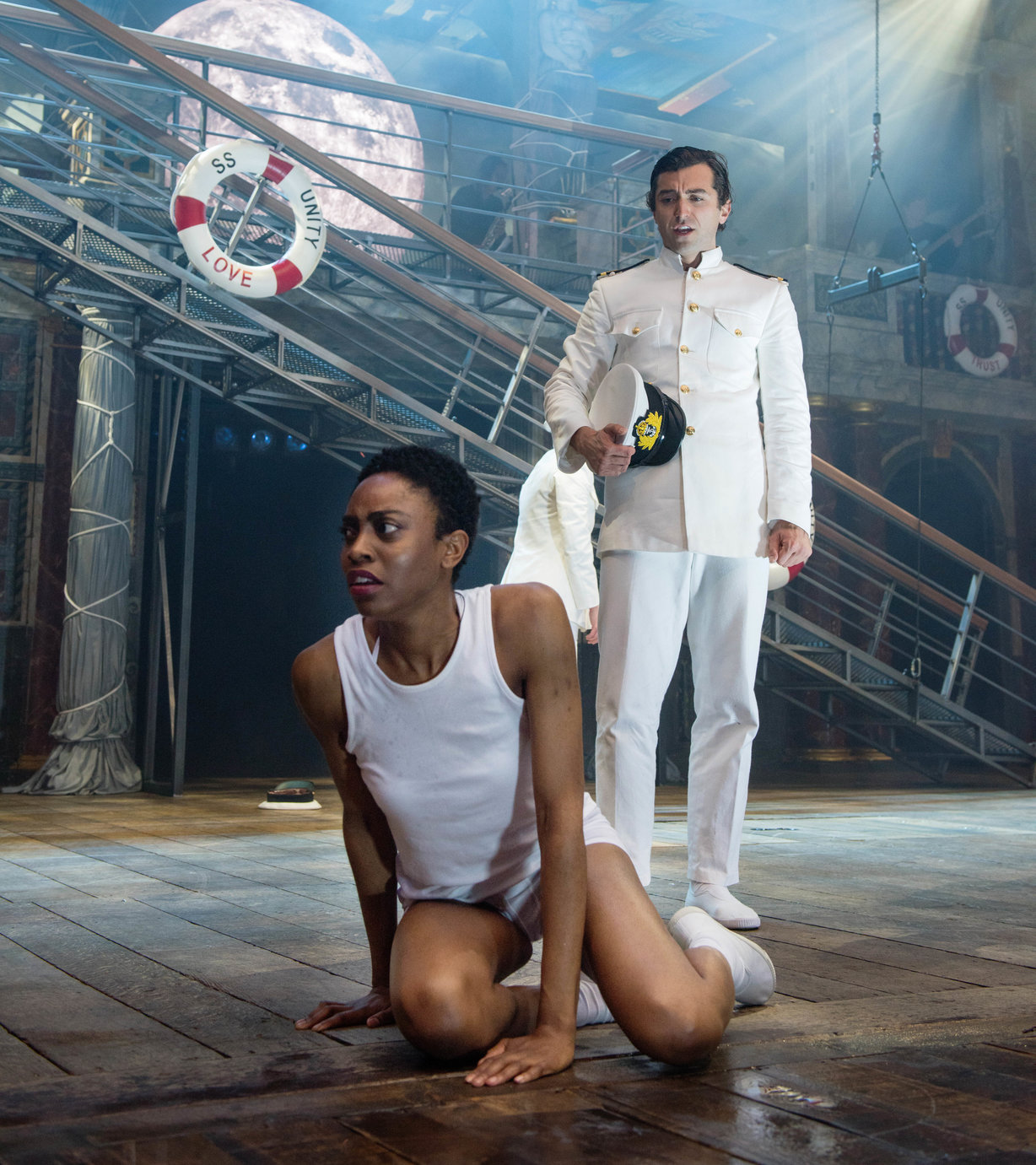 With Feste (drag cabaret act Le Gateau Chocolat, pictured above, doing what he usually does) mercifully cut to sung scraps, and even Orsino (played as a crotch-thrusting ageing rocker by Joshua Lacey) barely surviving the edit, the play's centre of dramatic gravity shifts. Carly Bawden's minxy Maria eases into the spotlight, filling the gap where Anita-Joy Uwajeh's personable but rather anonymous Viola (pictured right) should really have been. Annette McLaughlin has plenty of fun with the physical clowning of an Olivia whose mourning is mere theatrical convenience, playing nicely off John Pfumojena's Sebastian, and bringing the only hint of sex to an otherwise emphatically PG retelling.
While her Midsummer Night's Dream last summer made little use of the Globe's particular set-up, Rice's Twelfth Night embraces it enthusiastically. Antonio's boat "floats" in across the groundlings, Sir Toby causes predictable excitement by teeing-off into the crowd, and the garden scene plays its physical clowning beautifully to the crowd. But there's a sense throughout of Rice using Shakespeare's play as a dramatic scaffolding to clamber over in order to reach her own destination. Once atop it, she systemtically dismantles all around her, until she's left marooned on a tiny, brightly-coloured island. The result is joyful and funny, energetic and emphatically watchable, but comes at the cost not only of poetry but also of the play's darkness – a darkness Simon Godwin's equally zany production at the NT found so precisely.