theartsdesk at the Viennale: shunning the 'illusion machine' |

reviews, news & interviews
theartsdesk at the Viennale: shunning the 'illusion machine'
theartsdesk at the Viennale: shunning the 'illusion machine'
The Vienna film festival overcame tragedy to present a typically provocative programme
Tuesday, 07 November 2017
Staring into the abyss: Harry Dean Stanton in 'Lucky'
The Viennale is one of the best film festivals in the world and an indispensable part of Vienna's cultural life. Yet this year's edition was launched amid trying times.
For one thing, whatever sanity-altering toxin is affecting voters the world over recently burst over the Austrian skies to leave that country with a likely coalition between right and far-right parties, not just bonded by anti-Islamic and anti-migration sentiment, but leaving anyone with an interest in cultural funding fearing the worst.
More than that, the sudden death in July of the Viennale's charismatic, fiercely independent and much-loved artistic director, Hans Hurch, was still being felt by everyone involved with this most personable of movie gatherings. With its iconic chief of 20 years now gone, and the shadow of extremism hanging over the nation, a similarly gloomy mood could so easily have marred the festival.
And yet the opposite happened. With Hurch's old friend Franz Schwartz coming out of retirement to steer this year's programme home, the Viennale did all the things one expects from the event – entice, challenge and intoxicate its audiences. Hurch, who programmed some two thirds of the films before his heart attack, was very much around, in spirit and in conversation. And so the Viennale provided a bubble of creativity, good humour and open-mindedness just when the country needed it.
Schwartz had been retired for eight years when the Viennale board asked him to step in, complete the programme and spearhead the event
In the rarefied world of the film festival circuit, Hurch was something of a one-off, a man of singular vision and personality, who programmed the festival single-handedly and had an uncommon rapport with his public audience. Vienna does not have a competition. It does not have a red carpet and a procession of stars hogging the headlines. It doesn't preference one film over another. Unlike so many festivals, screenings are not preceded by a plethora of plugs for sponsors – an omission which made Hurch once quip to Sight & Sound magazine that "I always sleep with a gun under my pillow."
Something of a local hero himself, for founding its respected arts cinema Stadtkino and accompanying distribution company, Schwartz had been retired for eight years when the Viennale board asked him to step in, complete the programme and spearhead the event.
"Hans had very eclectic taste," says Schwartz of his friend. "From John Ford to Jean-Marie Straub and Godard, La La Land to 12 Days by [documentary maker] Depardon. But he selected the films according to his idea of cinema. Hans always said that we have to avoid the 'illusion machine'. He didn't want to be manipulated by the forced emotion of a film. He would say, 'I want to decide for myself.'
"He was like an artist in the way he put together the programme. It is a very creative job, and Hans vouched for the festival with his very existence. He could explain all his decisions by telling stories, or quoting something. It was always fun for the audience to be with him."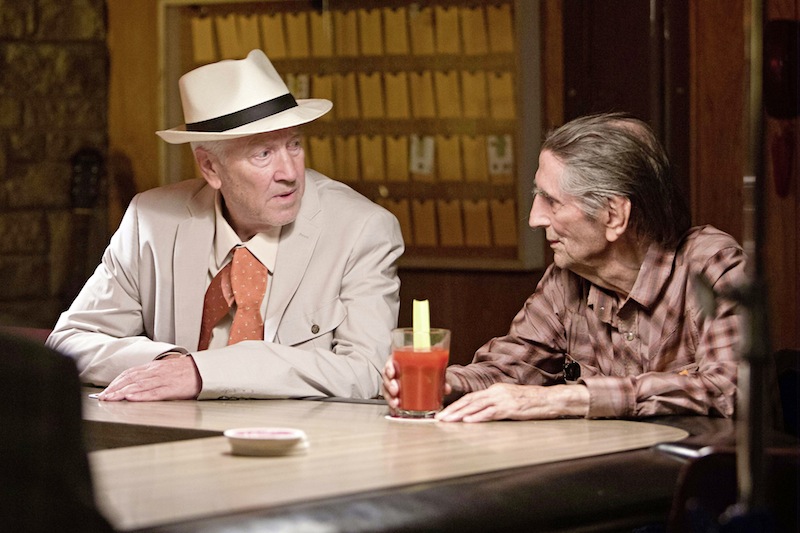 Ironically, the festival's opening film, which Hurch programmed himself, deals with death. Lucky stars the late Harry Dean Stanton as a man coming to terms with his mortality. The eponymous 90-year-old lives in a desert town with a strict routine – milk, cigarettes, exercise and apparently no food – that keeps his rag-and-bone body going. As his doctor tells him, "There's nothing wrong with you but age." But an unexplained fall suddenly sends the old atheist into a metaphysical tailspin.
It's the first film to be directed by character actor John Carroll Lynch, best known as the most likely suspect in David Fincher's true-life serial-killer thriller Zodiac. It's beautifully shot, with some of the desert scenes evoking Stanton's most iconic role in Wim Wenders' Paris Texas, and enthused with a surreal humour, especially when director and sometime actor David Lynch (pictured above, with Stanton) is on screen. Stanton gives a typically idiosyncratic but authentic performance, the highlight of which is a gorgeous, plaintive song accompanied by a Mariachi band. The actor himself died, aged 91, before he could see the film.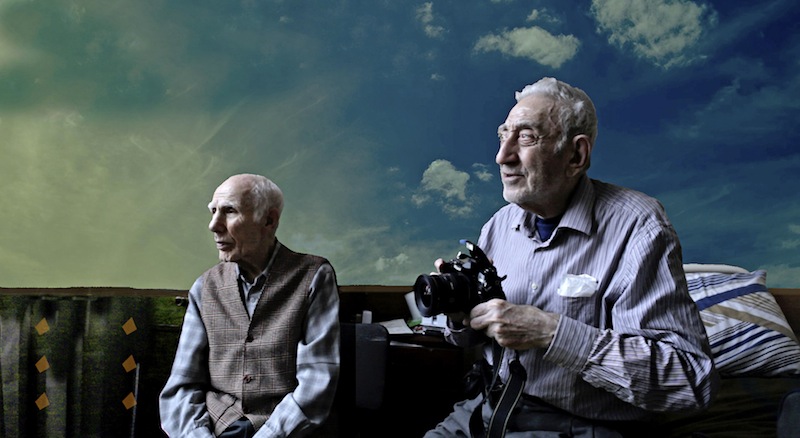 An interesting companion piece to Lucky came in the shape of the documentary Distant Constellation (pictured above), by the first-time Turkish director Shevaun Mizrahi. Shooting in a retirement home in Istanbul over a number of years, Mizrahi follows a trio of residents, through whom she contrasts the different ways in which ageing people maintain and live with their memories.
There's the old womaniser, worn down by bronchitis but his mind sharp, albeit fixated on his sordid exploits, including those with Parisian call girls, who at one point cheekily asks the director to marry him. An extremely old Armenian woman recites her tragic recollections of the Armenian genocide, terrible memories that have defined her existence. Then there's the chap who is no longer lucid, his speech erratic, the only anchor for his mind being the camera that he always holds, and which contains the character-defining memory of his life as a photographer.
At the same time, Mizrahi contrasts the life inside the home with the so-called progress outside its walls, in the form of an eternal construction site that seems to be demolishing Istanbul's past without ever successfully replacing it. It's a beautiful, poignant film.
The Viennale is never short of films engaged with social issues, and this year the fate of working people was to the fore. The Portuguese feature A fabrica de nada concerns the closure of a lift factory in Lisbon and attempt by its abandoned employees to first save their jobs, then manage the factory themselves. This long (three-hour) film works best in its initial, social realist mode, before suffering a common Portuguese flaw of over-indulgence – switching narrative modes and losing its focus. When the factory workers burst into song and dance, I had my head in my hands.
The Brazilian feature Arabia is shorter and sharper, as it recounts the story of an itinerant worker and his eight years on the road in a succession of thankless jobs – on a fruit farm, building roads, in a textile factory and an ironworks, the last in a town destroyed by the factory's environmental fall-out, where even a young boy declares that "it's easier to believe in the devil than god." The result is a worthy addition to a strong tradition of Brazilian films that deal with the country's internal migration, of an underclass driven around the country in an effort to survive.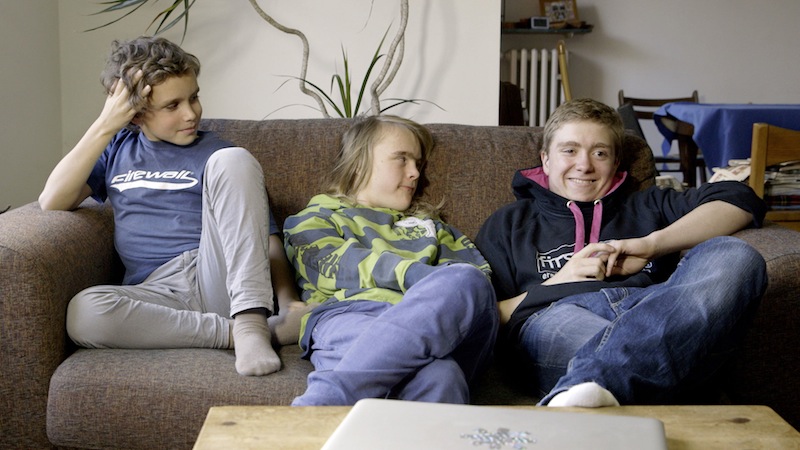 Two excellent documentaries from Europe also dealt with social themes. In School, School - The Time after Berg Fidel (pictured above) Hella Wenders looks at the German education system, in particular the practice of streaming children at the end of primary school, in such a rigid way that their futures – not least their chance of going to university – is virtually decided for them.
Wenders (niece of Wim) follows four teenagers, from different backgrounds, all of whom attended the primary, Berg Fidel, featured in her previous film (hence the title of this one), now in different schools, variously streamed and suffering the consequences. The director has a light, unobtrusive presence, and when speaking to her the kids are very open about their hopes and fears.
It will always feel strange to watch a person attempt a case for their own mental health
In his groundbreaking book History of Madness, Michel Foucault says that, "The path from man to true man passes through the mad man." That insightful, inclusive notion is quoted in 12 Days, a revelatory and disturbing glance at a hidden aspect of the treatment of mental health in France, by the great photographer and documentary maker Raymond Depardon.
Every year thousands of people in France are involuntarily detained under psychiatric care. The hospital has 12 days in which to bring each before a judge, who will decide whether the patient must stay, or is free to leave. Depardon was granted access to these "hearings", shooting the extremely unusual interviews between judge and patient.
It will always feel strange to watch a person attempt a case for their own mental health, before laymen and women who seem far too ready to accept what the doctors have already recommended. Depardon films in close-up, dispassionately; it's not an angry film, and doesn't have to be, because the stories speak volumes, not just of mental illness but of the societal pressures that affect so many people.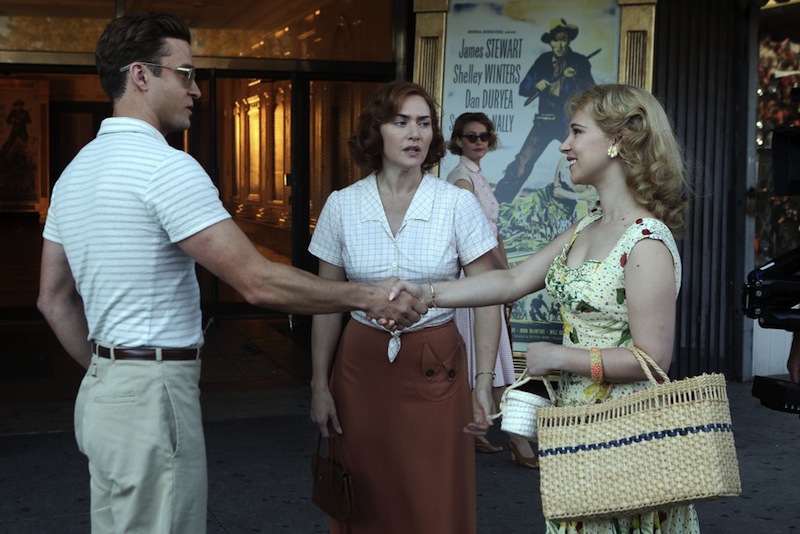 It may be wary of the Hollywood studios, but there's always a home at the Viennale for US independents. The best-known of the American directors this year was a certain Woody Allen.
Wonder Wheel is a modest romantic drama set in Coney Island in the 1950s, starring Kate Winslet (pictured above, with Justin Timberlake and Juno Temple) as Ginny, a waitress whose husband, Humpty (Jim Belushi), operates the fairground carousel. A woman permanently rattled by her boring life, Ginny's only distraction is her affair with the much younger Mickey (Timberlake), a local lifeguard with literary pretensions. But this is threatened by the arrival of Humpty's alluring daughter Carolina (Temple), on the run from her gangster husband and taking an instant shine to Mickey.
This couldn't be rated as much more than so-so late Allen. It's narrow in scope and feels very stagy, which is particularly odd given that it's not adapted from a play. In its favour is a humid, slow-burn tension, as Ginny's jealousy tips into tragedy, and a superb turn by Winslet.
Another New York story is set in modern-day Brooklyn. Golden Exits follows a group of well-to-do types whose already miserable lives are disrupted further by the arrival of a beautiful young Australian (Emily Browning), around whom married men apparently can't help but lose their heads. Whereas Allen would make a comedy of this, Alex Ross Perry (Listen Up Philip, Queen of Earth) opts for muted drama, featuring characters none of whom is particularly sympathetic. It's a risky approach. But there's something about these people bogged down by disappointment, trust issues and inertia that is oddly fascinating. And it's immaculately played, especially by the women – Browning, Chloe Sevigny and Mary-Louise Parker. Beastie Boy Adam Horowitz and Jason Schwartzman are the husbands trying not to stray.
Closer to home, local boy made good Christoph Waltz (pictured left, with Franz Schwartz) was the subject of a tribute, the chief interest of which was not his two Oscar-winning turns for Tarantino or other Hollywood fare, but the early Austrian performances that mysteriously failed to make him a star but in which his talent is evident. And an Austrian film with its world premiere in Vienna became one of the festival's most head-scratching curios.
With a title that isn't even a word, but the symbol ★, this was a daring experiment that reminded me of Douglas Gordon's art installation 24 Hour Psycho. Director Johann Lurf has compiled 90 minutes of clips of the night sky as seen in films throughout the history of cinema – not just science fiction, but any and every film that has taken time out for a whimsical look at the stars. There are clips with dialogue, in many different languages, and clips without, shots of the stars moving away from the camera and towards it, the occasional shooting star or interstellar event, long clips and jump cuts, the tone switching between cheesy, jokey, bombastic, eerie and profound. At times it feels as though we're watching a diminishing return, yet it's impossible to pull away.
A little like the universe itself, ★ looks like it will continually expand, as Lurf intends to add to his film yearly. It would be quite a cute idea for future directors of the Viennale to feature every new version.
As for the temporary director, Franz Schwartz intends to return to retirement – and his boat. "I would not have missed this three and a half months," he says. "Though I would have liked to miss the reason for it."
The Viennale provided a bubble of creativity, good humour and open-mindedness just when the country needed it
Explore topics
Share this article