Huddersfield Contemporary Music Festival review - new generation throws down the gauntlet |

reviews, news & interviews
Huddersfield Contemporary Music Festival review - new generation throws down the gauntlet
Huddersfield Contemporary Music Festival review - new generation throws down the gauntlet
Confidence and challenge from young composers and performers alike
Tuesday, 28 November 2017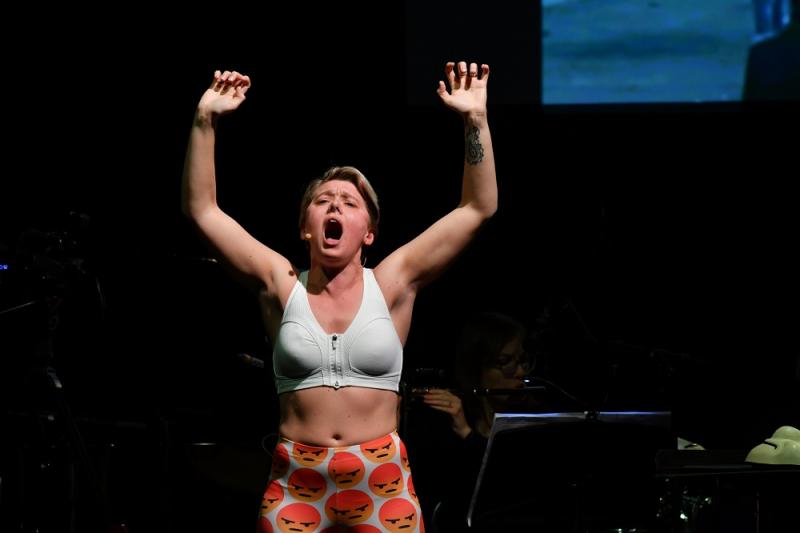 Laura Bowler performs 'FFF'
Reading the line-up for Huddersfield Contemporary Music Festival can be a bit of a //+DiGit<ijjjjjjjjjjjjj.ggiiigggggH1-RMXn4000// experience (and no, I haven't invented those). There are flashing light warnings. Ear defenders are routinely handed out.
The message is clear: prepare for a
sonic assault
course.
So what delight to find oneself swept along the luminous stream of an expertly curated programme, whose narrative began with the minutiae of sound and grew into full-blown music theatre. This was Riot Ensemble, offering a string of premieres directed with authoritative poise by Aaron Holloway-Nahum. Gone are the days, it would seem, when a composer could hide behind fashionable aesthetic and technical dogma; imagination must catch fire on its own terms, talent will out.
They opened with Swiss composer Stephanie Haensler's daan und waan, "now and then", a fragile, phantasmagorical search for the memory of sounds, which had the musicians multi-tasking with miaouwing water-glasses, bird whistles and rustling cellophane. Tones between wind and strings melted into a single timbre released into resonance by the piano's strings. At intervals this remote, crystalline carousel spun into a vivid present with waves of theatrical scales, offering a welcome glint of humour. Katherine Young's octet Where the moss glows was also preoccupied by the search for something lost, this time in a noir underworld: the growl of a fan on electric guitar, click of high-heel footsteps, beat-boxing voices gasping alongside clarinet and bassoon, where breath and keys are all that remain.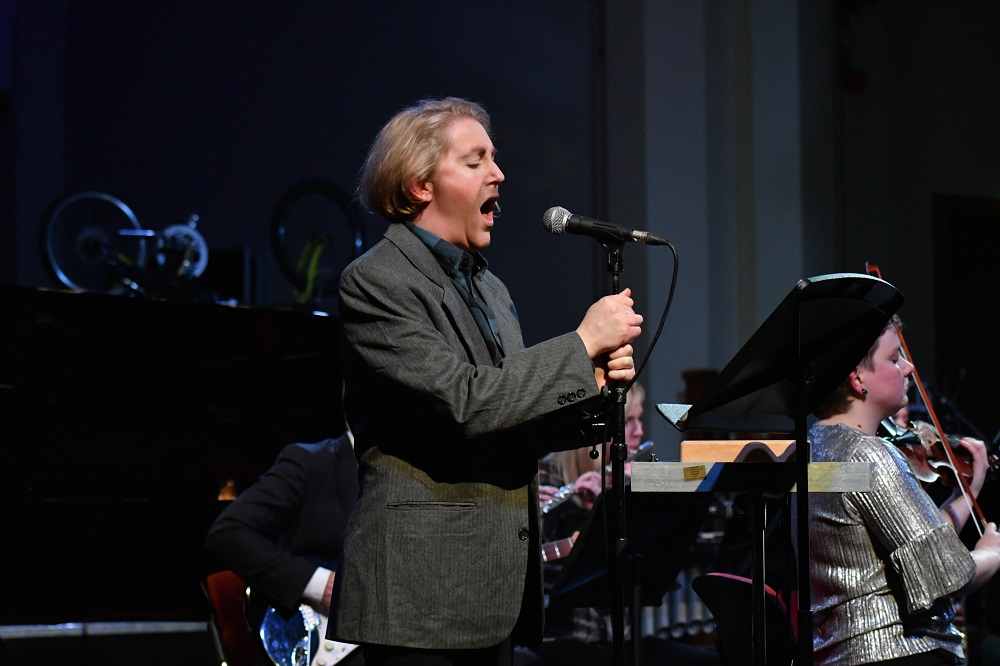 We were left with the barely-perceptible noise of electric fans: a journey of sorts, not consistently realised. Stronger was Nikolet Burzynska's Ombak, inspired by the Balinese idea of pairing instruments tuned slightly differently, which produces an interference "beating". This effect gave jangling intensity to the work's sinuous melismatic lines, glowing tendrils knotting into fierce incandescence. A rigorously constructed work, beautifully achieved by Riot.
If these pieces interrogated the essence and origin of sounds, in Laurence Osborn's remarkable CTRL sound came politically charged. This song-cycle exploring masculinity is sung by a soprano (the magnificent Sarah Dacey) heard through an autotune device, chosen by Osborn for its illusion of invulnerability. Dacey (pictured above) sporting five o'clock shadow, turned the dial between "male", "female" and "alien", according to the narrative, transforming her voice from shrilly synthetic gurgle to flaccid bass.
CTRL tackles male violence and entitlement head on, with a disarming, laconic humour "I was born without a heart" launches in at full-tilt, words often subsumed by the noisy glitter of its music, swooping bass riffs and shrieking flute frosted with the roar of a metal sheet. In part two, "My body", Osborn conjures a sleazy, surreal cabaret: Dacey's deep, distorted intoning of "we do what we want" gathers into a queasy anthem punctuated by all-too human screams from the ensemble. At one point her voice is left naked in a limping lullaby, "rock me", the Leviathan breathing of deep bass waves recalling Britten's Grimes and Midsummer Night's Dream. That's no accusation, but a tribute to writing of powerful resonance and fluency. CTRL suggests a prodigious dramatic talent: indeed, Osborn is currently developing an opera, The Mother, for Mahagonny Opera.
The sonic assault, when it came, in Bates Mill Blending Shed later that evening, was delivered by Austrian ensemble PHACE in a trio of raucous creations skidding from jazz to agitprop. In Bernhard Lang's DW24 - Loops for Al Jourgensen, Michael Krenn was saxophone soloist, conversing with band and a grid of loops. The result was a frenzy of fresh attempts, a kind of aural playback with a big band groove. Jorge Sanchez-Chiong blitzed the audience with a high-octane electronic score to a flickering film USED REDUX: nothing new here, though the gradual intrusion of live musicians into the performance was stealthily done.
But these were mere warm-ups to the main event: Laura Bowler, a triple-threat composer-performer-provocatrice (main picture, and above). She claimed the stage, muscled arms aloft, a disruptor-MC, issuing a stream of cycling invective over a roiling sea of sound. This is, after all, the woman who learnt to box with a professional for her last opera performance. FFF is about control in a values vacuum – "capitalist" and "socialist" were flung out as equal insults with expressionist extremity; a send-up of social media, as Bowler turns lip-smacking air-hostess, caught in the circularity of "likes"; she ends by mocking the very institutions that commissioned it. There's no denying Bowler's defiant charisma: a cross between Cathy Berberian and Pussy Riot. At one point she morphed into a human emoji. No wonder it was hard to recall all the music. She's currently working with Philip Venables on a piece exploring rape culture. Watch this space.
Laura Bowler is the triple threat: composer-performer-provocatrice
rating
Share this article