The Commuter review - trouble on the main line |

reviews, news & interviews
The Commuter review - trouble on the main line
The Commuter review - trouble on the main line
The train proves quite a strain for Liam Neeson's lone crusader
Wednesday, 17 January 2018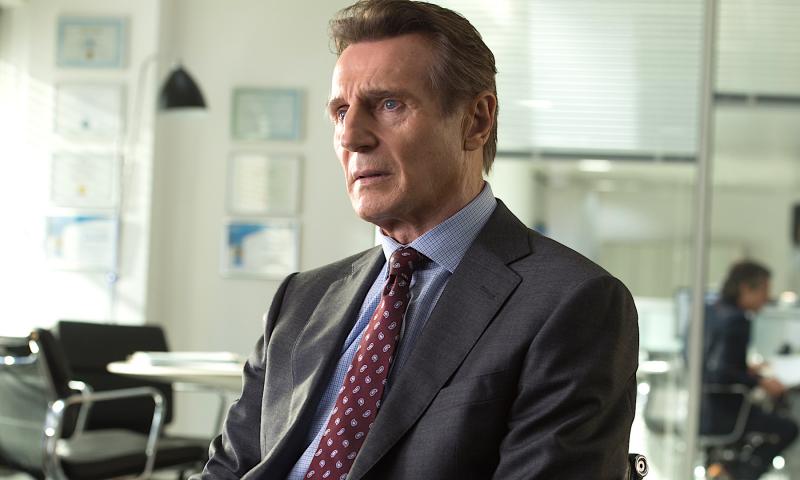 Not expendable: Liam Neeson as Michael McCauley
Nobody is more sensitive about the notion of becoming a geriatric action hero than Liam Neeson ("guys, I'm sixty-fucking-five," as he points out), but he can still punch bad guys and leap off moving trains with the best of 'em.
In this latest
battle
against the odds while the clock ticks down, Neeson is insurance salesman Michael McCauley, who commutes into
Manhattan
every day. Except he won't any more, because he just got sacked.
Before this calamity befalls him, director Jaume Collet-Sera (who also collaborated with Neeson on Run All Night, Unknown and Non-Stop) has some fun with the daily grind of the New York wage slave. There's a comical montage of breakfast scenes in the McCauley household, as Michael and wife Karen (Elizabeth "Downton" McGovern) get the family fed and watered and dad off to his train on the Hudson line, with the protagonists giving fast flashes of happy, sad, funny or angry depending on their mood or the weather. The train journey itself is depicted as a kind of drowsy mosaic of overheard fragments of conversation and a motley cast of characters including bankers, punks and eccentric railway staff, and like as not the air conditioning has broken down.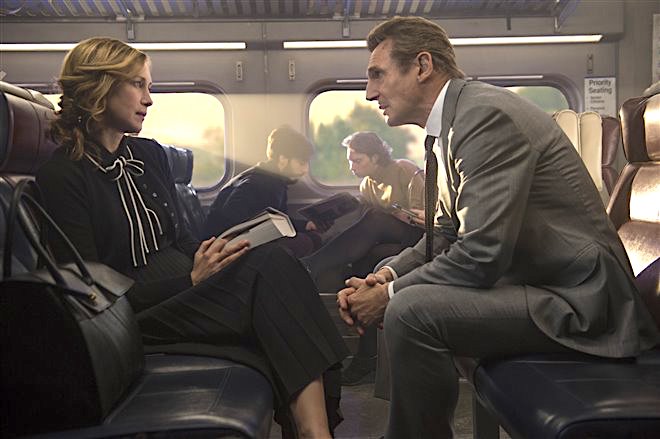 It's when McCauley is still reeling from the news that he's now an ex-employee of UCI Insurance ("sometimes soldiers end up casualties", his boss has told him helpfully) and wondering how to tell his wife that he's approached on the train by a mysterious woman called Joanna (Vera Farmiga, pictured right, wearing enigmatically stripey shoes). "It's my first time on a commuter train," she tells him, which is hardly the most convincing opening line. But she has a proposition for him: there's somebody on the train who "doesn't belong", and if he can identify this individual before the train reaches Cold Spring station, he'll earn himself $100,000. Quite an attractive offer for a man with lots of financial commitments and no job, especially as he's an ex-cop with detection skills.
McCauley agonises for a bit, but when he takes the $25k down payment he finds himself trapped on a one-way ride which means he either completes his mission or his family and lots of innocent people will die. Joanna keeps barking orders at him down the phone, and she and her unseen co-conspirators have a remarkable ability to control space and time. For instance, when the train's in a station she tells McCauley to look out of the window, just in time to see one of his travelling buddies run down by a car – this is what happens when he doesn't play ball, and will doubtless be the fate of his target (who's called Prynne). It seems not even McCauley's old police partner Alex Murphy (Patrick Wilson) can help him.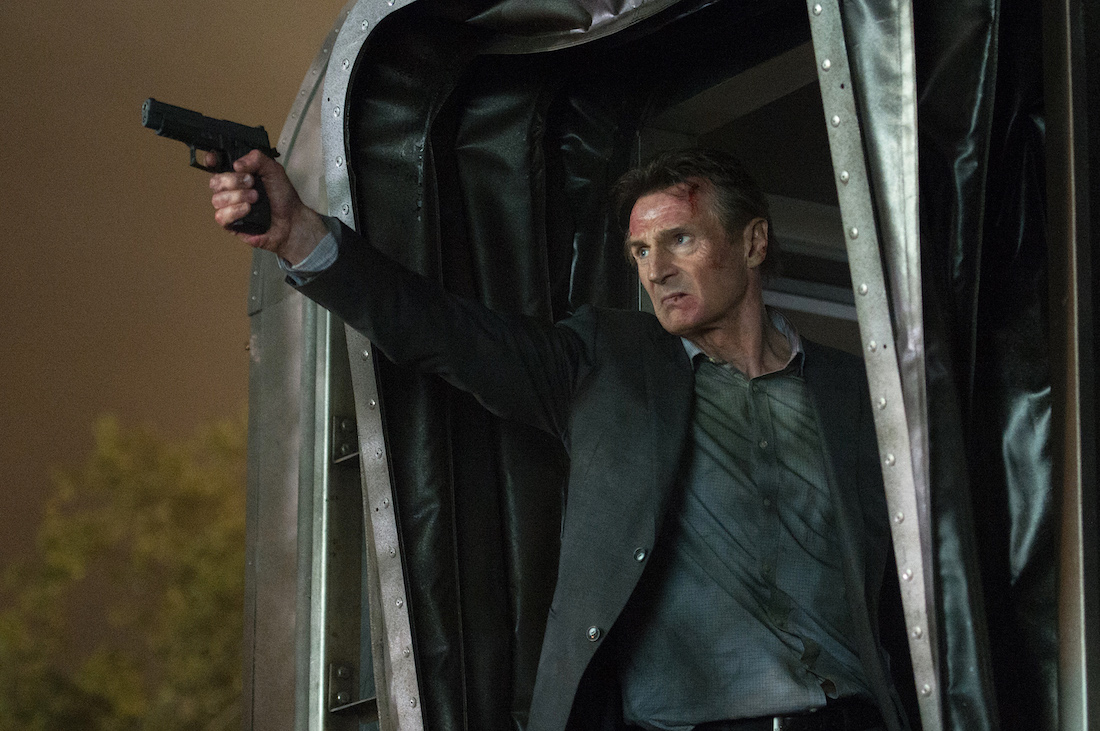 As McCauley frantically tries every trick to find the mystery passenger, the tension cranks up as time runs out, and Collet-Sera skilfully exploits angles and perspectives to turn the train into a queasy mobile labyrinth. In the process The Commuter shamelessly helps itself to bits of other movies like Speed or Source Code (there's even a cheeky steal from Spartacus) and the adrenalin keeps pumping nicely right up to a spectacularly aerobatic rail crash. There's a guest spot for Jonathan Banks, playing a veteran passenger called Walt who's more or less indistinguishable from Banks's Mike Ehrmantraut in Better Call Saul, while Shazad Latif plays Vince, an obnoxious Goldman Sachs banker permanently conducting bombastic phone conversations. McCauley gives Vince a message from the sponsors: "On behalf of the American middle class, fuck you."
It's formulaic and you can probably guess the ending, but it's a pacy, enjoyable thriller capable of laughing at itself. Neeson, who does a fine job here as an essentially decent man trying to do his best under ludicrous pressure, needn't fret about getting called up for the Expendables just yet.