John, National Theatre review - in for the long haul? |

reviews, news & interviews
John, National Theatre review - in for the long haul?
John, National Theatre review - in for the long haul?
Annie Baker magnifies the indignities of embattled partners in emotional wars of attrition
Thursday, 25 January 2018
Anneika Rose as Jenny and Tom Mothersdale as Elias
On their return home from Ohio to New York, young couple Jenny and Elias (Anneika Rose and Tom Mothersdale, main picture) make a detour to Gettysburg for a few days' sightseeing. Elias has been fascinated by the town and its bloody history since he was a young boy; Jenny is ambivalent, and in the throes of an incapacitatingly painful period.
The outline is simple, but this is
Annie Baker's
John
and nothing is quite as it seems. (The same writer's Pulitzer Prize-winning
The Flick
played this
same address
in 2016.)
Their B&B is run by Mertis (Marylouise Burke, pictured below), a pernickety old prune whose chief occupation seems to consist of filling silences with vacuous chatter, and turning off the heating. There's a piano that plays itself, and Christmas tree lights which malfunction with a sense of dramatic timing. Mertis's blunt blind friend, Genevieve (June Watson) occasionally drops by for Viennese swirls and conversation, and the house is filled with dolls. They sit on every ledge, surface and cornice, a silent daunting audience, watching, judging, witnessing.
From the beginning there's a gravelliness between the young couple, an off-centredness to their conversations – stray remarks cause welts. Over breakfast Elias suddenly accuses Jenny of anti-Semitism on account of her dislike of his noisy eating habits. "It's not a Jewish thing," she retorts, "it's you being loud or domineering or gross." Later, her attempt at conciliation goes awry. "I think you're the most beautiful person in the world," she tells him, flirtatiously, and when he fluffs his reply, "Well now I'm self-conscious", she cuts him off tautly: "Don't you think I'm beautiful?" Nothing that's said is not a gambit or a test, and frequent petty skirmishes attempt to assess who is perpetrator and who is victim. Their dynamic is the cruel and well-trodden minefield of a dying relationship which makes painfully clear that these two are never more alone than when they're together. It also begs the question: what are they trying to prove to themselves by trying to make it work?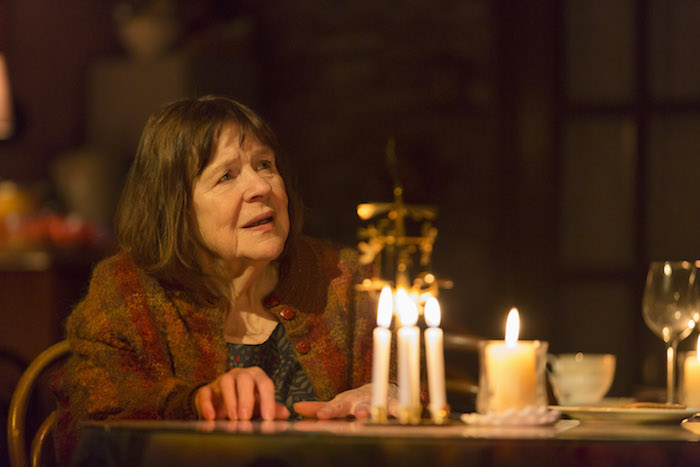 Genevieve has no such qualms. "The thing about being crazy is that it can also be true," she declares over wine. While Jenny admits to constantly worrying what people think of her, Genevieve declares it's all down to choice. She's earned the right to such declarations, as has Mertis. When Elias expresses the wish that someone would just make decisions for him about whether to stay in the relationship or end it, Mertis deadpans, "I felt like that for the last 15 years of my marriage." These two women, unshackled from constraints by their age and general obsolescence to anyone other than one another, speak far more boldly and fearlessly than the timid youngsters who can hardly look straight at the person they supposedly love, let alone themselves.
This uncanny ability to cut through dross and foolishness finds playful dramatic shape. If those dolls are in one sense a figuration of the audience on the stage, then Mertis is the figuration of the director or author on stage – opening and closing the curtains and making dramatic time move by impishly and assiduously pushing forward the clock hands. Genevieve goes a step further, in a gloriously direct monologue to the audience. Yet for all the meta-tricks and packed-in anger of wasted lives, this is not a play that is sharply unhinged. It reels back to keep to recognisable dramatic form. The oddities flavour a world outside of Jenny and Elias's separate solipsistic little bubbles but don't go much further than that. Neither can quite see past their own predicaments – they just can't handle things outside their control, so they mythologise, and the audience is trapped within their small world. Genevieve (pictured below) and Mertis on the other hand can take it: as Mertis says of the house: "It's not haunted. It just has a lot of history… It's been very good to me, it just sometimes takes on a life of its own."
James Macdonald's direction and Baker's writing lend a stately, filmic quality to the action on stage. Film relies much more on silence than theatre – a far more verbal medium – so Baker's writing already inclines towards this approach, and the hyperdetail of the set, designed by Chloe Lamford, deserves to be seen in close-up. But this cinematic quality is also attributable to the way layers of artifice and self-delusion peel off characters. If silences in John are characterised as moments of hesitation – where characters lose their way and puzzle over their direction and what to do – then it's far more interesting to pay attention to the witness staring at the person who is lost. It's a common editing ploy to read one person's predicament in another person's reaction – and through the slow accretion of silences the play becomes a palimpsest about the possibility of compassion, a meditation on how strongly and honestly we can or can't connect across the infinite gulf of selfhood.
Burke (a New York theatre veteran) and Watson's performances are full-throatedly brilliant. Mothersdale's Elias is fully emotionally repellant. Rose appears a little unsure of Jenny, but that might be because Jenny's unsure of herself. Does the play's narrative bear its dramatic weight and the lengthy running time: three-plus hours? Yes, and then some – arguably there are too many ideas structuring the piece, and the reward is not in the finale but the slow burn of interchanges (spoken or silent) that can be at once ironic, honest and weird. As Genevieve says upon taking leave of Jenny: "I hope your love affair with the universe continues."