Reissue CDs Weekly: Jon Savage's 1965 |

reviews, news & interviews
Reissue CDs Weekly: Jon Savage's 1965
Reissue CDs Weekly: Jon Savage's 1965
Thrilling 48-track salute to 'The Year the Sixties Ignited'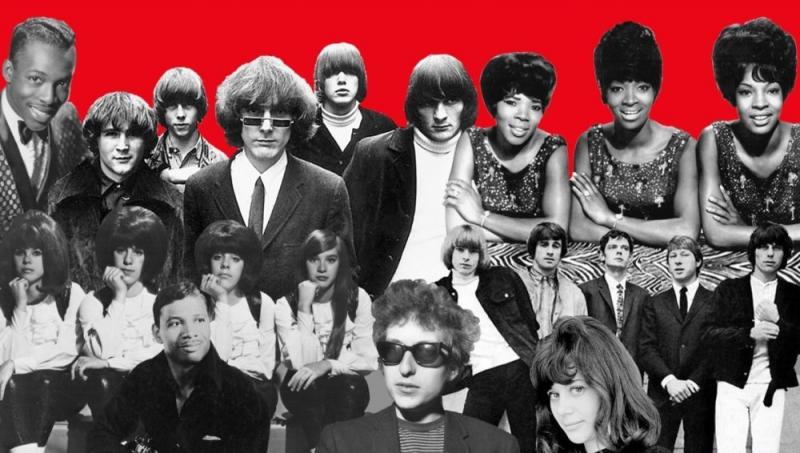 The cream of 1965 assemble for the cover of 'Jon Savage's 1965 – The Year the Sixties Ignited'
For Britain, 1965 began with The Beatles' "I Feel Fine" at the top of the single's chart. In December, the year bowed out with their double A-side "Day Tripper" / "We can Work it Out" in the same position. But 1965 was not just about The Beatles.
According to the writer Jon Savage, "1965 was the year of Dylan, folk-rock and protest, and the year when the post-beat bohemian subculture took over from traditional showbiz as the principal youth culture. Suits and group uniforms were out: denim, suede and long hair in. It was also a vintage Motown year. It wasn't like an Austin Powers film, with a three-CD set of top hits blasting out of an E-Type on Carnaby Street."
"To hear the record you wanted," he continues. "You had to wade through what seemed like oceans of dreck – maudlin ballads by The Bachelors, Jim Reeves and Ken Dodd that seemed to last a lifetime – before you got to The Yardbirds, Dylan, James Brown or The Who. The experience of hearing those great records then was even more powerful in that relief. These two CDs are an enhanced version of what I remember from 1965."
The double CD in question is Jon Savage's 1965 – The Year the Sixties Ignited. Compiled by him as a 48-track spin-off from his book 1966: The Year the Decade Exploded, it follows a previous compilation of the same name and another titled Jon Savage's 1967 – The Year Pop Divided. Each of those was fabulous, as is the new release. This is, though, a US-UK focussed collection and a few continental European pioneers might have been good: maybe The Netherlands' Het or Outsiders, or France's Antoine. Unsurprisingly, The Beatles and the Stones are absent.
Jon Savage's 1965 begins with Unit Four Plus Two's remarkable New York-informed "Concrete and Clay" and ends with The Supremes' "My World is Empty Without You". In between, there are some nifty examples of sequencing: the intense paranoia of Del Shannon's "Stranger in Town" with its "we run from the stranger in town" lyrics is followed by Martha & The Vandellas' explosive "Nowhere to Run"; The Silkie's cover of John Lennon's Dylan-influenced "You've Got to Hide Your Love Away" precedes Dylan's own "From a Buick 6" which, in turn, is followed by Manfred Mann's classy Dylan makeover "If You Gotta go, go Now".
More importantly, the track selection emphasises the shock of the new. What must it have been like hearing the extra-terrestrial originality of James Brown & The Famous Flames' "Papa's Got a Brand New Bag Pt. 1" for the first time? The Chiffons' "Nobody Knows What's Goin' On (In my Mind But me)" was a psychedelic girl-group record made before mind-expansion had properly taken hold. And what was The Kinks 's enigmatic, still unfathomable "See my Friends", if not psychedelic?
Then, there are singles – every track is from a single or EP, heard in mono as it was originally – which remain uncategorisable as they represent one-shot exemplars of what could have been genres: in this context The Dixie Cups' "Iko Iko" sounds more menacing than ever; Sly Stone's sparse "Buttermilk Pt. 1" is not funk but is nothing more than a groove with a few vocal interjections; The Sorrows' "You've Got What I Want", a prime example of pilled-up British white-boy R&B, is so threatening and unhinged it constitutes a virtual and deeply disturbing rape fantasy. Perhaps 1965 was the year lids were wrenched off?
While the rest of the tracks collected are not as shocking in terms of their lyrical intent, others express or react to new modes of conduct and thinking. The Barbarians latch onto controversies about hair and clothes with "Are You a Boy or Are You a Girl" and The Animals' Eric Burdon sings "It's my life and I'll do what I want / It's my mind and I'll think what I want" with a force showing he means it. Similarly aggressive, similarly self-determining, The Who declare "I can go anyway, way I choose / I can live anyhow, win or lose."
With Gene Clark's "I'll Feel a Whole Better", The Byrds dismiss the song's subject with the equivocal shrug "I'll probably feel a whole lot better when you're gone." When being cool was paramount, it was not worth making an effort to find certainty. On "Hey Gyp (Dig the Slowness)", it was obvious to the turned-on where the source of Donovan's enervation lay.
Strangest of all, The Spades "We Sell Soul" catches the 18-year-old, pre-13th Floor Elevators Roky Erickson on a song with no verse or chorus during which he is, as Savage puts it. "testifying." "Are you ready / do you feel it" asks the teenage mystic.
In 1966, once the world had truly begun feeling it, "We Sell Soul" was recast by the Elevators as "Don't Fall Down", an explicit acknowledgment of elevation as a state to maintain. If evidence is needed that 1965 was the year the Sixties ignited, it is provided by this ghostly communication from the liminal space between the corporeal and the non-physical.
Next week: Artifact, the first-ever release of legendary Cleveland band The Choir's lost album

1965 wasn't like an 'Austin Powers' film, with a three-CD set of top hits blasting out of an E-Type on Carnaby Street
Share this article