Clio Barnard: 'We need to talk about sexual abuse' - interview |

reviews, news & interviews
Clio Barnard: 'We need to talk about sexual abuse' - interview
Clio Barnard: 'We need to talk about sexual abuse' - interview
The director of 'Dark River' discusses tackling sexual trauma and why she's drawn to Yorkshire
Tuesday, 20 February 2018
Clio Barnard on the set of 'Dark River', bringing an A-list cast to the Yorkshire Dales
Her
debut feature
The Arbor
was a mesmerising look at the life of playwright Andrea Dunbar, blurring the line between documentary and performance. While filming, she befriended children on the estate who would steal metal for scrap – they would be the inspiration for her acclaimed sophomore release,
The Selfish Giant
.
Her new film Dark River stars Ruth Wilson as Alice, who returns to claim rights to her family farm after the death of her abusive father. Her brother Joe, played by Mark Stanley, struggles to keep the farm in working condition, but refuses to let Alice take control after she ran away 15 years before.
Set in the misty Yorkshire Dales, Dark River is a stark look at the lasting damage left by sexual abuse. Traumatic memories seep through reality, causing Alice and Joe to argue over everything but the real reasons why they're both angry.
theartsdesk spoke with Dark River's writer-director Clio Barnard ahead of the film's national release this Friday, to find out why she chose to tell this story and the difficulties of portraying sexual trauma on film.
OWEN RICHARDS: What was the conception of this story? Where did it start?
CLIO BARNARD: It began with a novel called Trespass by Rose Tremain. There are two sets of adult siblings in the novel, and I was really interested in the characters Aramon and Audrun. They dealt with a traumatic past in very different ways. These characters became Joe and Alice in the film.
Why did you want to tackle such a difficult subject matter?
I was interested in exploring the damage that's done if sexual trauma remains unspoken; sexual abuse within the family in particular is incredibly difficult to talk about. I'm glad that we've begun speaking about sexual abuse. I hope something changes because of it and we don't forget about it again, because it's incredibly difficult to speak about but we need to, otherwise the damage is compounded.
I couldn't have predicted what was going to happen with today's context, but it's been since Jimmy Saville really. It's become part of the public consciousness in terms of people being able to talk about it, and I think that's really important. People who have been affected by it are able to speak out, or go to seek help and be listened to and believed. In some ways, people don't want to know – but it's important that we speak about it.
The subject matter was really difficult, so it was a tense shoot
Were you conscious of telling the story delicately?
It was really important to me to do it delicately, carefully and sensitively. One of the important things for me was that you knew straightaway that it was a story about sexual abuse in the family, so it wasn't a narrative reveal at any point.
I wanted it to come across in a subtle way, which was really difficult, to get that balance right. In the very first scene, she has an intrusive memory that her father is in the room with her – getting that right was really important. Different people are going to take different things from that scene, but I think you understand what's happened and what she's dealing with.
Memory and PTSD play a big role in pushing the narrative. How did you approach playing this on film?
It's really difficult. Figuring out how to portray that on screen was one of the biggest challenges, along with the subject matter. There were different parts to that process – first was the script, and getting it as fluid and subtle as possible, then we had to find a way to shoot it, and finally in the cutting room. What we found very quickly was the less we showed, and the less narrative there was, the more impactful it was.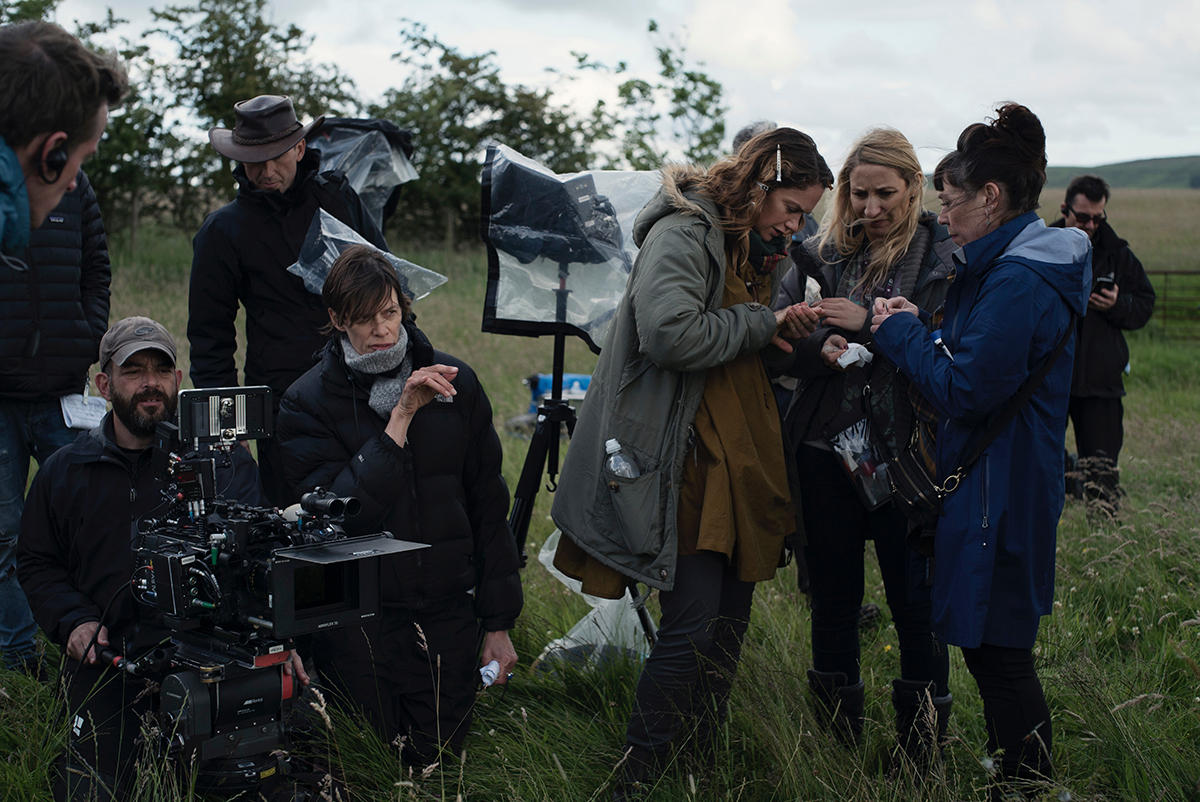 The sound design plays a huge part in that, doesn't it? How collaborative was the process with your sound and editing team?
The sound is crucial to that. Tim [Barker] is our sound designer, who I've collaborated with for a really long time, and he helped us understand the part sound might play in those particular moments. Right until the very last minute in the dub recordings, we were still playing around with the sounds of those intrusive memories. We tried dialogue in those moments and they didn't work, so the sound design had a huge impact on their success. They were really, really fiddly.
The cast are amazing – what was your process with them developing their roles?
It was exciting for me because Ruth and Mark are such talented actors; I could partly hand over the characters of Alice and Joe to them, and say, "What are you going to do with them?" It was very collaborative between the three of us, and I loved what they did with them, their commitment to playing them, and how much they were able to convey without speaking. The film wouldn't work without their skill and the way they inhabited their characters. It was incredible.
Their scenes are very tense, was it like that on set?
It was quite tense, yeah. The subject matter was really difficult, and where we were shooting was quite difficult, so it was a tense shoot. When we were off set, we needed a release; Ruth and Mark actually got on like a house on fire, they were like naughty siblings. They're a lot of fun to be around off set, which we needed because on set it was intense.
There are a lot of scenes when the actors are live with the sheep. What was that like? Were the sheep cooperative?
They were not cooperative! It was really, really difficult! We had a brilliant shepherd called Brian Nutter and his dog Jess, and they were really fantastic at helping with wrangling the sheep, but it was still so difficult. On The Selfish Giant, we had this gorgeous horse called Ragdoll that was really calm and would do whatever you wanted it to do. You could go and lean against them if you were stressed out!
Relationships have been the driving force in your films so far, with friendship in The Selfish Giant and family in Dark River. Is that important to you when devising narrative and characters?
I think it is. It evolves, I don't sit down and think, "What is it I'm interested in?" With Dark River, there were other strands in the narrative, but I kept being compelled by Alice and Joe, and what happened between the two of them. It became honed in about those two.
It's now your third feature set in Yorkshire. What is it about the county that makes you want to tell these stories?
The thing that took me back there originally was the documentary on Andrea Dunbar, and Alan Clarke's film Rita, Sue and Bob Too; then The Selfish Giant kind of grew out of that. I grew up there, so I think where we grow up has a huge impact on how you see the world. Especially with The Arbor and The Selfish Giant, I got to know the place incredibly well and formed a bond with people there. I think that's why I've stayed there.
I might head out next, I'm not sure yet. There are different things I'm looking at, but I'm not really at that stage where I can talk about them!
Dark River premiered at the Toronto Film Festival a few months ago. What's that wait been like since then and its release this week?
Quite tense! I've been trying not to think about it, and get on with other things. But at least I haven't had to wait as long as I did with The Selfish Giant from premiere to release. I finished Dark River last April, so I'd already began moving onto other projects, but once the release has happened I can fully move on.
Dark River is released in cinemas on 23 February
It was really important to me to do it delicately, carefully and sensitively
Share this article