Antony Sher: Year of the Mad King - extract |

reviews, news & interviews
Antony Sher: Year of the Mad King - extract
Antony Sher: Year of the Mad King - extract
The actor's Lear Diaries tell of his preparation to clamber up theatre's tallest peak for the RSC
Antony Sher as King Lear
In 1982 Antony Sher played the Fool to Michael Gambon's King in the Royal Shakespeare Company's production of King Lear. Shortly after, he came back to Stratford to play Richard III, for which he won the Olivier and Evening Standard Awards for Best Actor.
Sher kept a record of his performance in Year of the King. Other Shakespearean memoirs have followed, including Year of the Fat Knight about playing Falstaff and, with Gregory Doran, Woza Shakespeare!, about staging Titus Andronicus in South Africa.
In 2016 Sher returned to Lear, this time in the title role, for the RSC production, directed by Doran: theartsdesk described Sher's performance as a "remarkable journey". Next month the production travels to New York, and in May returns home to Stratford. In the meantime, Sher has kept another diary. This is an extract, with Sher's illustrations, from Year of the Mad King: The Lear Diaries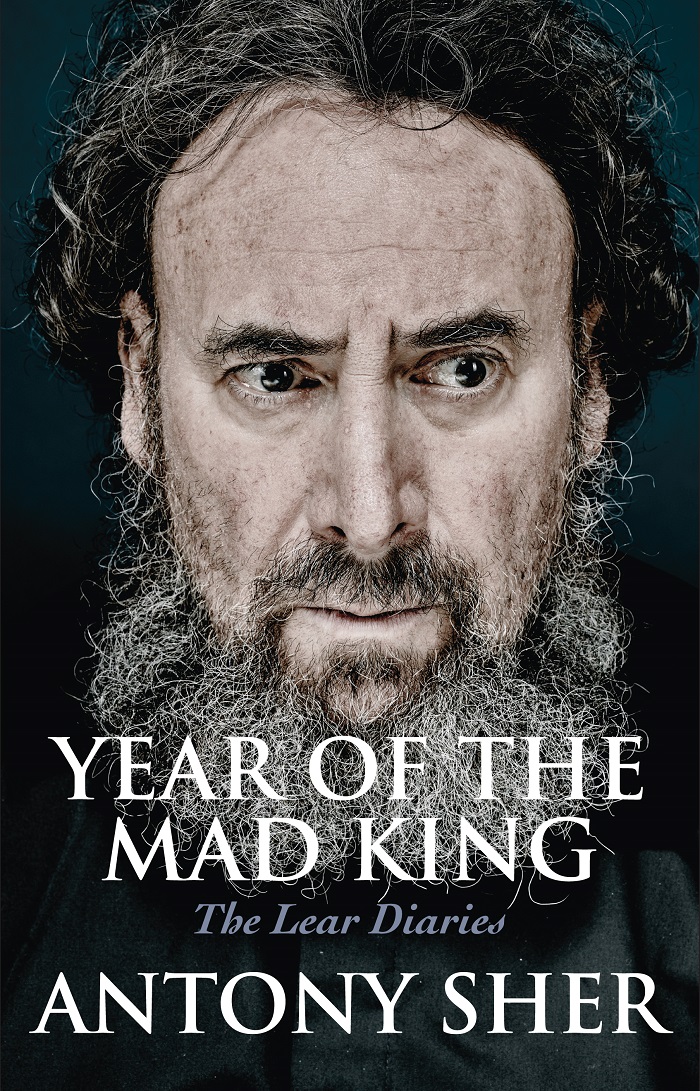 Monday 1 June 2015
It's June but could be November. Cold, wet, windy. I've lived in England for 47 years now, so why does the weather still continue to surprise and appal me?
Never mind – I'm holed up in my warm study, with a little stack of Lear scripts on my desk.
I want to try reading it afresh, despite the fact that I know it well. It has cropped up rather frequently during my life in this country…
1968. On the first weekend after we checked into the Pastoria Hotel, my mother joined me on a special pilgrimage to a place which held mythic status for me. Stratford-upon-Avon. I was finally going to see the Royal Shakespeare Company in the flesh, and in action. We would have happily watched anything that was in their current repertoire, but the play at that Saturday matinee performance happened to be King Lear. Directed by the RSC's new Artistic Director, the 28-year-old Trevor Nunn, and starring Eric Porter. In the first scene, Lear was carried in on a litter, and all the courtiers abased themselves, as if to a god. I was immediately on the edge of my seat, and I don't think I sat back for the next few hours. I had never seen theatre like this. I remember the design was very dark, with a strong use of chiaroscuro: figures lit in the surrounding blackness, Rembrandt-like. I remember Norman Rodway as Edmund – his effortless amorality. I remember Alan Howard as Edgar, and the shock of his near-nakedness in the storm scenes (exposing what I was later to hear Terry Hands describe as "the strongest thighs on any Shakespearean actor"). Most of all, I remember Michael Williams as the Fool, his face frozen in the mask of Comedy, his heart visibly breaking. I'm afraid I don't remember much about Porter himself. Years later when I worked with him (Uncle Vanya, National Theatre, 1992) he said that it was an unhappy and unsuccessful production. What? – but it was a revelation to me. Later, Tim Pigott-Smith (who talked to Porter about it when they worked on The Jewel in the Crown) told me that Porter simply resented having a young upstart as his director. (Illustrated below right: Eric Porter and Michael Williams)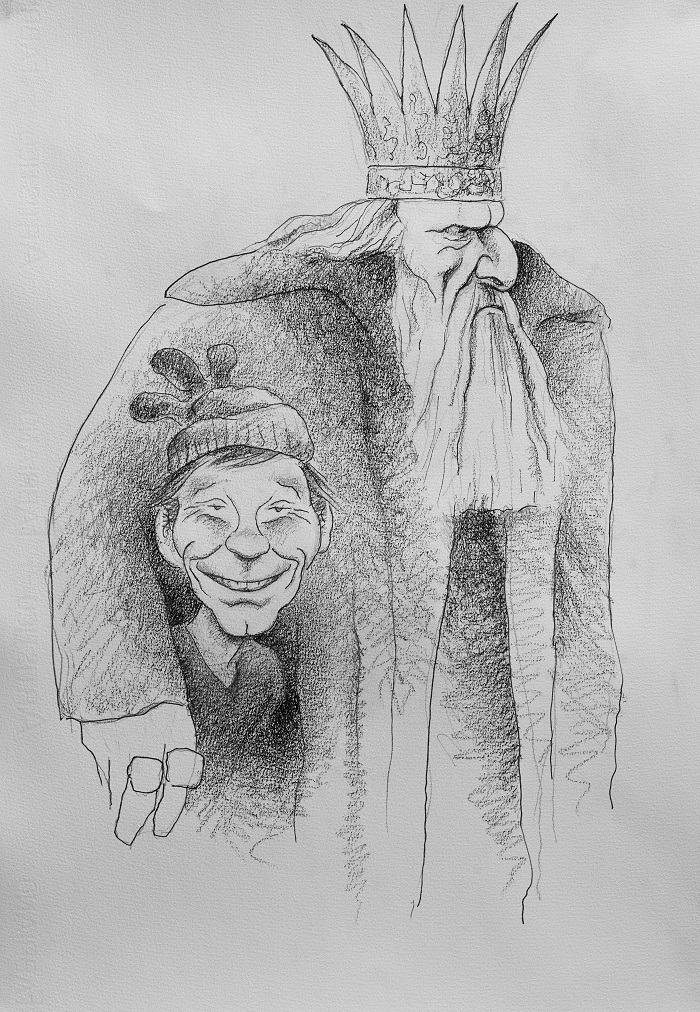 1972. My first proper job as an actor was at the Liverpool Everyman, and my first show there was King Lear, directed by the company's great Artistic Director, Alan Dossor – though by Everyman standards it was a very conventional production. An Australian actor, Brian Young, was too young for Lear, Jonathan Pryce was electric as Edgar, and I was the Fool. Inspired entirely by Michael Williams' performance, I tried to make the character both funny and tragic. He became a scruffy little figure in a huge overcoat, with a slight underbite which gave an unintentionally goonish sound to anything he said. He was being laughed at, as much as with. This suited the cruelty of the play.
1982. When I began my career with the RSC, it was again playing the Fool in King Lear. Adrian Noble directed a brilliant, anarchic production, and Michael Gambon was the best Lear I've ever seen. The Fool didn't just have an underbite now, he was disabled, hobbling about on inward-twisted feet. But he also had a red nose, a white-painted face, a battered bowler hat, and carried a miniature violin which he couldn't play. He and Lear did little routines together – a ventriloquist act, a front-cloth act – and later, still together, they were plunged into the chaos of the storm. It ended with Lear accidentally stabbing the Fool to death in the mock-trial scene. (Hence explaining the Fool's mysterious disappearance from the play.)
Today, sitting in my study, I put aside the A4 text from the RSC Literary Department. That only has the dialogue, but to fully understand the play, I'll need help from the editor's notes in one of the published editions. I look at my script from the 1982 production. We didn't get issued with A4 typed-up scripts then, and mine was the old Arden edition, with a beautiful portrait of Lear in his crown of flowers on the cover (done by the artist Graham Arnold, a member of the Brotherhood of Ruralists). I open it. No good. It's full of my sketches – of Adrian, Gambon, the rest of the cast, and my efforts to work out what the Fool might look like – and there are scribbled notes, and my lines are underlined in red. All this would be distracting. (Illustrated below left: sketch for the Fool, 1982)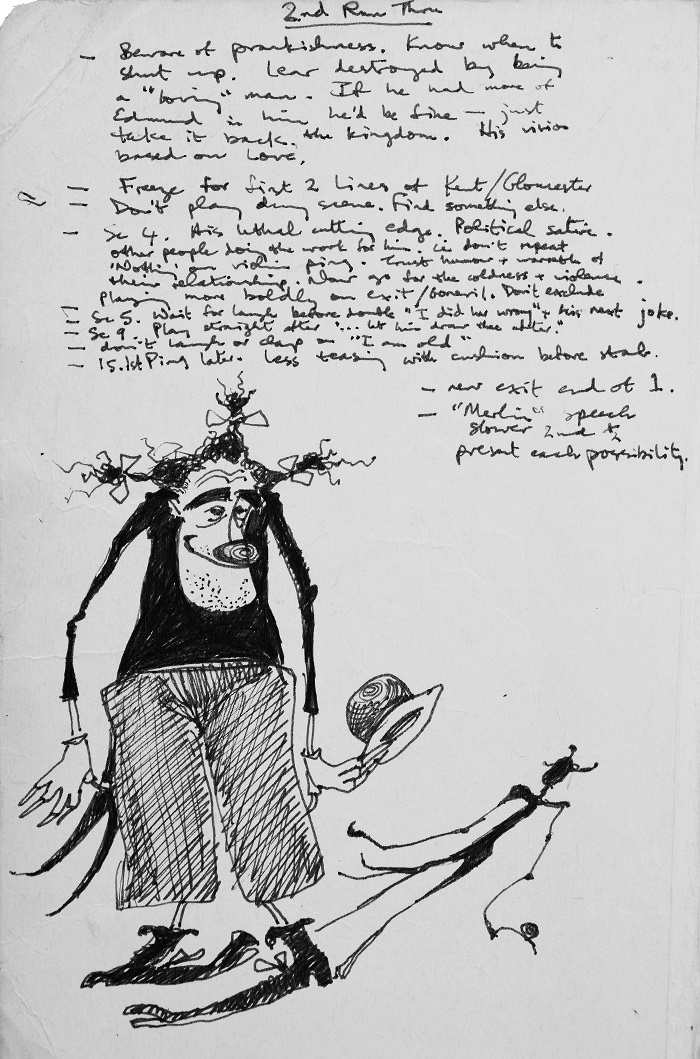 I pick up another edition, the RSC's own, edited by Jonathan Bate and Eric Rasmussen. I start to read the Introduction. It quotes Charles Lamb:
"The Lear of Shakespeare cannot be acted. The contemptible machinery by which they mimic the storm… is not more inadequate to represent the horrors of the real elements, than any actor can be to represent Lear."
I lower the book, sighing.
Well, nobody said this was going to be easy. After all, Lear is known as the Everest of Acting.
I'm always surprised that people think that the creation of a character happens in rehearsals, and that rehearsals happen a few weeks before the show opens. Not so. Impossible, in fact, with Shakespeare's major roles. The RSC may regard the beginning of King Lear rehearsals as 20 June next year, but for me the beginning of rehearsals was today.
The Royal Shakespeare Company production of King Lear, starring Antony Sher and directed by Gregory Doran, plays at BAM, New York, 7 to 29 April, and the Royal Shakespeare Theatre, Stratford-upon-Avon, 23 May to 9 June
I had never seen theatre like this
Share this article