The Good Fight, Series 2, More4 review - the longer they do it, the better it gets |

reviews, news & interviews
The Good Fight, Series 2, More4 review - the longer they do it, the better it gets
The Good Fight, Series 2, More4 review - the longer they do it, the better it gets
Public perils and private passions as the scintillating legal saga returns
If you're indicted you're invited: Maia Rindell (Rose Leslie, left) and Lucca Quinn (Cush Jumbo)
The mystery remains of why they keep tucking away The Good Fight on More4, as they did with its illustrious predecessor The Good Wife. No disrespect to 4's ancillary channel – now seemingly the designated last resting place of Grand Designs – but it's like hanging a sign on the door saying "niche viewing, please knock quietly before entering".
In fact The Good Fight, having hit the ground running in series one, has stormed into series two swinging like a champ. Its finely tuned blend of character and beautifully detailed milieu accompanies a feeling of seamless inevitability in the plotting, so that while the dramatic twists can be startling or outlandish, they still feel as though they belong right here, this instant. Quite how masterminds Robert and Michelle King have accomplished the transformation from the original series to this one so seamlessly, possibly even surpassing it, is one of the great wonders of our television era.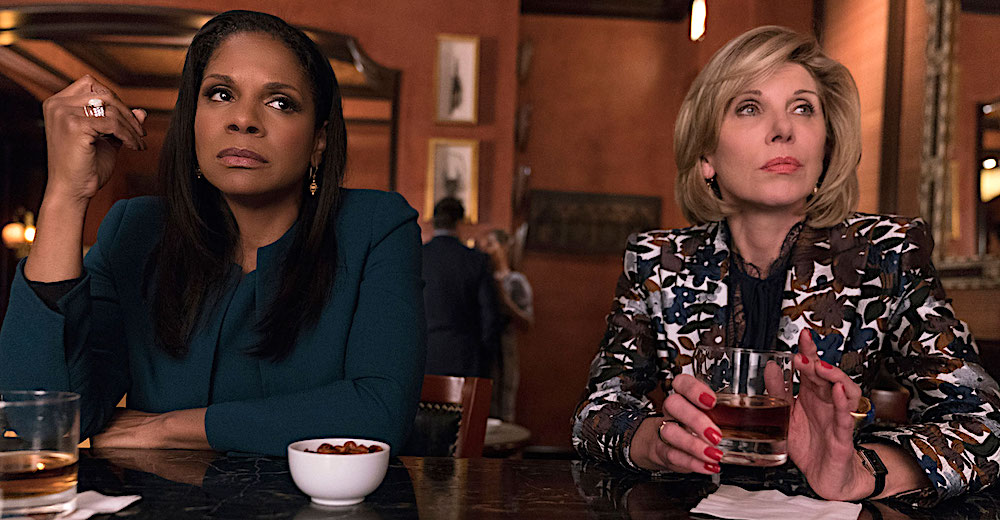 In this second episode, the spotlight blazed pitilessly down on Maia Rindell (Rose Leslie) as her struggle to drag herself out from under the wreckage of her father's Madoff-esque investment racket came to a climax. As we've already seen, FBI agent Madeleine Starkey (Jane Lynch, just one more of the show's astonishing phalanx of powerful female stars) is happy to ride roughshod over protocol, decency and even legality in her determination to put Maia behind bars, right down to concocting a fake telephone recording.
However, Maia's law firm, Reddick Boseman & Lockhart, has acquired a new secret weapon in the form of Liz Reddick-Lawrence (played by Broadway superstar Audra McDonald). It looks like we're in for plenty of abrasive interplay between her and her ex-husband Adrian Boseman (Delroy Lindo), and we've already seen sparks fly as she jousts with fellow showbiz heavyweight Christine Baranski, playing the imperious Diane Lockhart (Baranski and McDonald pictured above).
But Liz also brings heaps of ballast from her previous job at the Department of Justice. She hates her old employers, who brusquely sacked her after she wrote an ill-advised tweet about President Trump – the Donald's disruptive influence on American life is a running theme, cheekily evoked via fleeting images and newsbites – so she has been sailing perilously close to the ethical wind by slipping vital nuggets of inside information about Maia's case to her new partners.
It now looks as though a heroic team effort (with Cush Jumbo's guileful Lucca Quinn spearheading Maia's defence) has swung the issue decisively in Maia's favour, with some priceless assistance from feisty and super-bright investigator Marissa Gold (Sarah Steele), even if Maia may have to kiss off her relationship with her lover Amy after the latter's treacherous testimony. As usual, this entailed some crackling courtroom scenes packed with crafty feints and lethal thrusts. The way Lucca blackmailed Judge Abernathy (Denis O'Hare, superb) into neutralising a damaging piece of evidence would have made Machiavelli weep with joy (pictured above, Justin Bartha as prosecutor Collin Morello).
With all this going on, there's still room for a satirical counter-narrative about the general public's loathing of lawyers, which has seen a couple of fine, upstanding professionals murdered in the streets by former clients seething about being systematically over-billed. The "Kill All Lawyers" movement is gathering pace, and The Good Fight's creators seem to be enjoying watching their characters squirm uneasily. We even watched an interviewee on TV retelling classic lawyer jokes ("How do you stop a lawyer from drowning? Take your foot off his head"). This whole production zings as if it's been tuned a semitone above concert pitch, and it's a joy to behold.