Ready Player One review - Spielberg goes back to the future |

reviews, news & interviews
Ready Player One review - Spielberg goes back to the future
Ready Player One review - Spielberg goes back to the future
Thrilling cyber-universe puts drab real world in the shade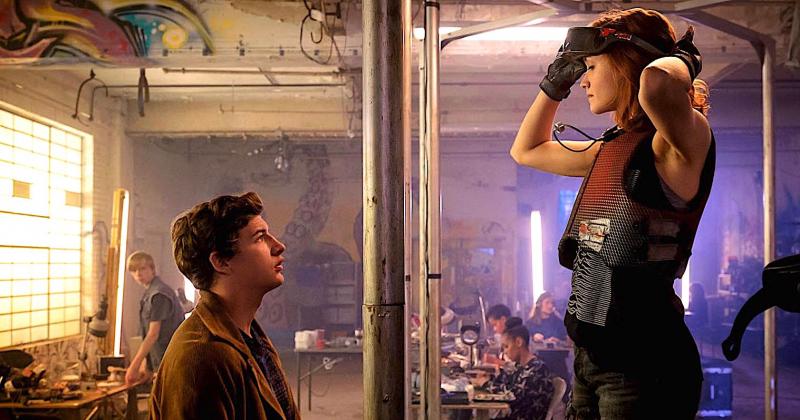 Buckle up: Wade (Tye Sheridan) and Samantha (Olivia Cook) prepare for cyber warfare
Suddenly Steven Spielberg movies are plopping off the production line like Ford Fiestas or Cadburys Creme Eggs. It seems like only seconds ago that we were greeting The BFG and the breast-beating earnestness of The Post, and now the director comes steaming back with this huge and hectic tribute to the gamer-world and his own long-lost youth.
Based, albeit with a fair bit of latitude, on Ernest Cline's bestselling novel (Cline wrote the screenplay with Zak Penn), it's set in a dismal, overcrowded 2045. Wade Watts (Tye Sheridan) is not only named like a superhero's alter ego, but he escapes into a mind-blowing imaginary existence as "Parzival" inside the virtual reality universe known as the OASIS. Mind you, so would you if, like Wade, you lived in a high-rise tenement slum in the dogsbodyville of Columbus, Ohio (it's called the Stacks because it's a bunch of derelict trailers dumped on top of each other). With the "real" world reduced to a state of rotting decrepitude and afflicted by such cataclysms as the "corn syrup droughts" and "bandwidth riots", so the populace gratefully succumbs to the digital opiate of VR-world. "It's the only place that feels like I mean anything," Wade laments.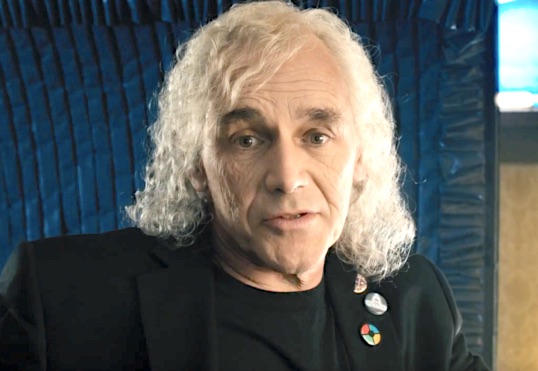 It's a pertinent theme at a time when various all-engulfing online monoliths are coming under extreme scrutiny, though Spielberg being Spielberg, he's inclined to opt for heartwarming nostalgia where edgier directors might tilt the table more towards lacerating satire. Wade wishes he'd grown up in the lost paradise of the 1980s, so the film is saturated with pop-culture nuggets from that most synthetic of decades, from the music (Van Halen's "Jump", plus Prince, New Order, A-Ha and adoring nods to Duran Duran) to references to Ferris Bueller, Fast Times at Ridgemont High and filmmaker John Hughes.
The film excels in its hectically brilliant action sequences, where the screen seethes with energy, anarchy and in-jokes. The story revolves around a quest for three keys which have been hidden many layers deep inside the OASIS by its creator, James Halliday (an absent-minded nerd-messiah played with Struwwelpeter hair and a gormless grin by Mark Rylance, pictured above). He or she who finds all the keys will inherit the OASIS as well as Halliday's priceless shareholding (Halliday is dead incidentally, but technology ensures that you can't tell). The pursuit of these keys galvanises the citizenry into action in a fantastical array of machinery, from monster trucks and Indiecars to the Batmobile, Kaneda's motorbike from the graphic novel Akira and Parzival's Back to the Future DeLorean. Their banzai-gamer inner-city racing is ravaged by such hazards as a rampaging King Kong and a hungry dinosaur from Jurassic Park. The film peaks with a fabulous sequence where Kubrick's The Shining is absorbed into the fabric of the OASIS, the joke being that some characters know what happens next while others never saw Stanley's movie. Brilliant.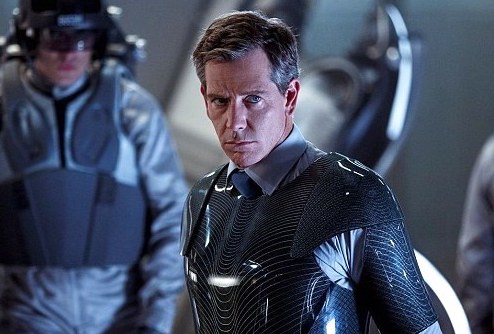 However, it's in the humdrum everyday wasteland outside the OASIS's hysterical visions that the film falls flat. You can see how it happened – Spielberg fell in love with his giant techy playground and, like the 71-year-old child he is, he just couldn't drag himself away (it's surely not accidental that Alan Silvestri's theme music gives a nod towards Willie Wonka's "Pure Imagination"). Thus, the day to day lives of the protagonists are of scarcely any interest, though Spielberg obviously thought he ought to try to make us care about the inevitable romance of Wade and Olivia Cooke's Samantha (or the pixie-ish Art3mis, as she becomes on planet-VR).
Ben Mendelsohn (pictured above) delivers as much wattage as the script allows him as Nolan Sorrento, boss of the despicable Innovative Online Industries (IOI), without ever achieving the Mendelsohn-madness we know he's capable of. He wants to seize control of the OASIS and turn it into a profit-generating machine, thus cruelly trampling over the Utopian dreams of Halliday. Strip away all the techno-dazzle and the story boils down to the Freaks versus the Man, and your guess at the way it ends is probably correct.
Strip away all the techno-dazzle and the story boils down to the Freaks versus the Man
rating
Share this article
Subscribe to theartsdesk.com
Thank you for continuing to read our work on theartsdesk.com. For unlimited access to every article in its entirety, including our archive of more than 10,000 pieces, we're asking for £3.95 per month or £30 per year. We feel it's a very good deal, and hope you do too.
To take an annual subscription now simply click here.
And if you're looking for that extra gift for a friend or family member, why not treat them to a theartsdesk.com gift subscription?