Anna Meredith, Southbank Sinfonia, QEH review - triumphant genre-busting treat |

reviews, news & interviews
Anna Meredith, Southbank Sinfonia, QEH review - triumphant genre-busting treat
Anna Meredith, Southbank Sinfonia, QEH review - triumphant genre-busting treat
Classical composer makes a roaring success of crossover project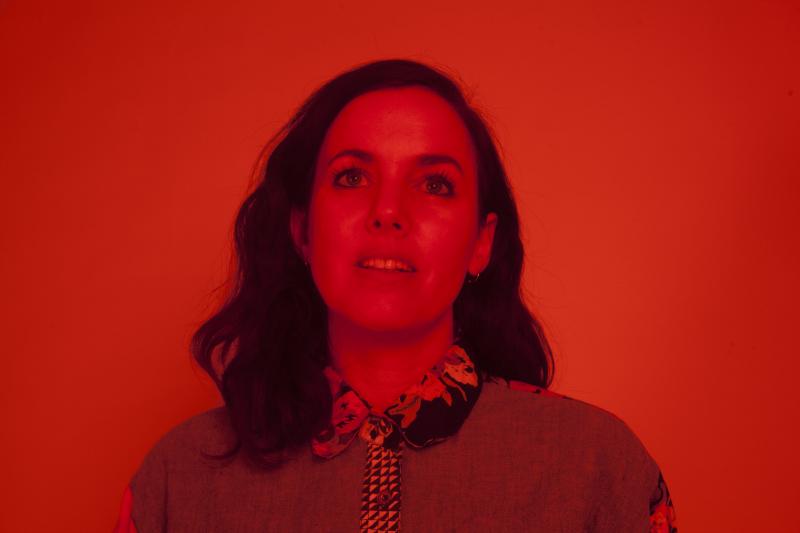 Composer and performer of 'Varmints', Anna Meredith
I'm not sure what exactly this event was – orchestral concert, electronic dance music gig or multimedia extravaganza – but however you define it, I loved every mad minute.
Anna Meredith (b 1978) is one of the most successful
contemporary classical
composers of her generation but revels in crossing genre divides, and this event delighted in smashing boundaries with breathtaking confidence.
Meredith, whose starry classical CV includes pieces in the 2008 Last Night of the Proms and the recently announced First Night of the 2018 Proms, has a taste for the unusual or technically challenging, not least her Concerto for Beatboxer and Orchestra, or HandsFree, for orchestra using purely body percussion. But it was still a surprise when in 2016 she released an album, Varmints, embracing dance music beats, eerie ambient electronica, folky vocals and mainstream pop.
She created the album – and has been touring it since – with a unique band of Meredith herself on clarinet, electronics, percussion and vocals, Maddie Cutter (cello), Jack Ross (electric guitar), Tom Kelly (tuba) and drummer Sam Wilson (pictured below). At this concert, part of the re-opening season of the Queen Elizabeth Hall, the line-up was augmented by a full symphony orchestra, the Southbank Sinfonia, playing the complete Varmints album, plus three new songs.
Having loved the album since it came out I wasn't sure whether adding orchestra would gild the lily. But the orchestral arrangements, made by members of the core band, were skilfully absorbed into a self-described "pimped-up super-monster band", against the backdrop of synthesised sounds triggered through Meredith's laptop. The sizeable string section provided both driving rhythmic ostinatos and, in the slower numbers like "Honeyed Words", acoustic glissandos to match the electronic swoops and slides. The Southbank Sinfonia were terrific throughout. I had last seen them in the National Theatre's Amadeus, and I love the way this band of young professionals is so willing to embrace any challenge.
Meanwhile, there was a big screen projecting animated images of animals, geometric shapes or Escher-like spirals constantly looming towards the audience. Striking as these were, they largely felt superfluous as there was so much to concentrate on onstage, and I rarely had time to give them my attention. Only during "Catford Lullaby" did the visuals come into their own, as unpredictably intermittent orchestral chords (the real orchestra overlaid with the classic MIDI "orchestra hit" sound) were co-ordinated with flashing images on screen.
The origin of Varmints was the track "Nautilus", dating back as far as 2012, which plants all the seeds harvested in the full album. Building from a simply repeating triad into a mad polymetric cacophony, it has a brashness that belies its compositional subtlety. With the players on click tracks, there are often several pulses happening simultaneously, overlapping, taking turns at coming to the fore, the pounding drumbeat continually in and out of kilter with the orchestra. The effect is thrilling.
Meredith seems to be making this music purely because she wants to, which has to be the best starting point
Anna Meredith was centre-stage throughout, surrounded by her many instruments, whether singing, speaking between numbers or doing gleeful violence to her drums. Most engaging of all, though, was the sight of her bopping delightedly during the faster numbers, visibly enjoying her own music. The band, all dressed in silver, somehow made their unlikely combination make sense, each player having their moment in the spotlight. Cellist Maddie Cutter was rapturous in "Honeyed Words", electric guitarist Jack Ross thrilling in "The Vapours" and all five utterly virtuosic in "Shill".
Meredith's singing, heard on several tracks, is simple, unaffected and direct, with clear folk origins. The most effective vocal moments were in "Dowager", with drummer Sam Wilson's falsetto in touching duet with Meredith, and on "Orlok", from an earlier EP, where a freewheeling orchestral climax dissolved into a cappella singing, orchestra and band united in a ghostly chorale.
There is a danger with Varmints that the metrical irregularities and ambiguities make it problematic as dance music, and the volume, electronics and drumming might put it out of the comfort zone of a classical audience. But for me the fusion of styles hit a sweet spot, and the sold-out QEH audience seemed to concur. Above all, Meredith seems to be making this music purely because she wants to, which has to be the best starting point.
They should have finished with "The Vapours", an exercise in boundless good humour. Given its driving rock guitar, energetic irregular metres, juddering beat and ecstatic climaxes, you couldn't blame Meredith for jumping with sheer elemental joyfulness. The glorious virtuoso chorus triggered a standing ovation, after which it seemed a slight miscalculation to end on the admittedly lovely but downbeat "Blackfriars".
But that's a small quibble: the exhilaration of this brilliant concert will live long in my memory.
Most engaging of all was the sight of Meredith bopping delightedly during the faster numbers
rating
Explore topics
Share this article