Rodin and the Art of Ancient Greece, British Museum review - magnificence of form across the millennia |

reviews, news & interviews
Rodin and the Art of Ancient Greece, British Museum review - magnificence of form across the millennia
Rodin and the Art of Ancient Greece, British Museum review - magnificence of form across the millennia
A game-changing exhibition illuminates the great sculptor and his links to antiquity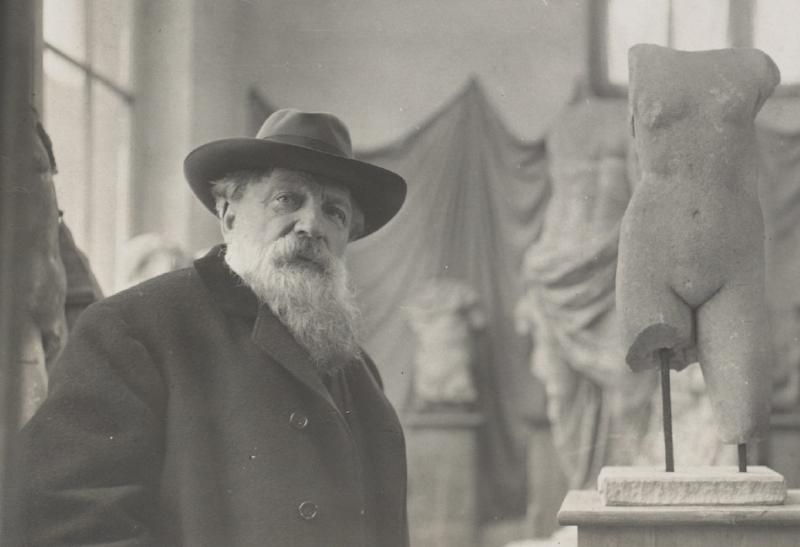 Auguste Rodin in his Museum of Antiquities at Meudon, about 1910
In bronze, marble, stone and plaster, as far as the eye can see, powerful figures and fragments – divine and human, mythological and real; athletes, soldiers and horses alongside otherworldly creatures like Centaurs – stride out. They pose, re-pose, twist, turn and captivate as that 19th century sculptor of genius, Auguste Rodin (1840-1917), encountered and absorbed, with such sensual pleasure, the art of antiquity.
This game-changing exhibition places a selection from the magnificent Greek marbles, taken from the Parthenon by Lord Elgin and now residing – not without controversy – in the British Museum into an illuminating public conversation with a wide selection of Rodin's works, including sculptures that have become embedded in the world's visual imagination. The Thinker, The Kiss and The Burghers of Calais (the last from its normal site next to the House of Lords in Victoria Tower Gardens) have been brought together in the museum's vast, shed-like Sainsbury Galleries.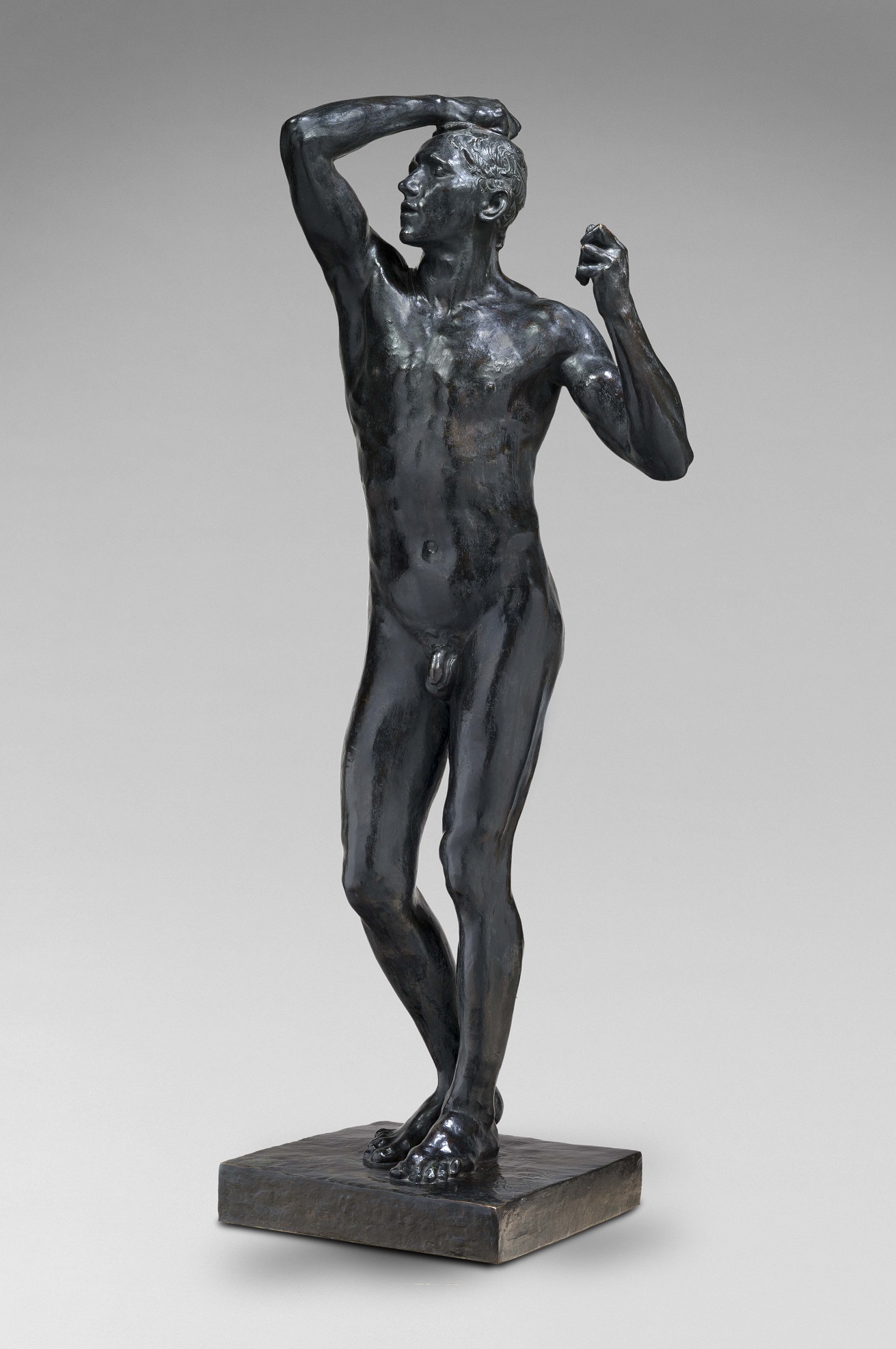 Although he never lived in London – nor spoke English: "writing and speaking put me in a muddle; my natural resources are clay and pencil" – Rodin was enormously appreciative of the city, which was home, of course, to many emigré French artists of his period. In his spare time he "simply haunted the British Museum", the Elgin marbles in particular, making ever more frequent visits to look at them, often staying nearby at the Thackeray Hotel. Between 1881 and 1914 (when the outbreak of war stranded some of his work in England), Rodin visited London 11 times.
He had already been drawn to antiquities, in the form of fragments from the Parthenon at the Louvre, but the British Museum – he was to protest against proposed "restorations" – offered him far more. The love affair was reciprocated, with significant pieces by Rodin to be found in British collections today.
"I love the sculptures of Ancient Greece. They have been and remain my masters," he once explained. He drew incessantly both from life and from art, and used live models and art equally as exemplars and inspirations. Rodin collected too, several thousand objects – a sample of them is on view at this show – with as abiding an admiration for antique fragments as for pieces in their entirety (main picture). Over the millennia of their existence the Parthenon sculptures had, of course, been broken and fragmented; Rodin was so struck by this that he invented a new idiom for newly-crafted sculptures based on the human figure, taking away heads, arms and legs and creating the limbless torso as a work in its own right.
He evidently worked like the ancient Greeks too, in so far as we now know about the working methods of that star of antiquity, Pheidias (c. 480-430 BC), modelling clay and plaster for gifted artisans to replicate in stone carvings. Both Pheidias and Rodin were inspired by poetry, the former by Homer, the latter Dante. For all the apparent bravura and boldness of these humans even in divine form, they are also curiously introverted, thoughtful, introspective. There is an inner life on subtle display, defined by outward appearance. (Compare the form of The Age of Bronze, 1877 (bronze © Musée Rodin, pictured above) with the main figure of the "Unmounted youths preparing for the cavalcade", block from the north frieze of the Parthenon, c. 438-432 BC, pictured below)
Among the many delights here is seeing all the sculptures close up, daylight pouring in from the vast west windows of the galleries, as well as admiring the processions of variations of the human form. Most of course are alarmingly fit, their muscles brilliantly delineated, with Rodin, enamoured among other things of the beauties of the body in movement and of dance, paying particular attention to feet. The British Museum exhibition is a collaboration with the Musée Rodin in Paris (which lent 90 works), itself currently home to an exhibition of Rodin and dance.
Rodin's fascination with dance is underlined here too, by subtly bringing our attention to the vivid choreography of the processions of gods, creatures, men and animals, telling their stories of myth and derring-do high on the Parthenon frieze. One of the purposes of the superb pairing of the heights of Greek art and Rodin is indeed to demonstrate that the inspiration for Rodin's The Kiss to have been the intertwining of two goddesses on the Parthenon frieze, although Rodin, rampant heterosexual that he was, makes sure we understand his version as man and woman. (Pictured below: Pallas (Athena) with the Parthenon, marble and plaster, 1896, © Musée Rodin)
His sculptures appeared almost too realistic to his contemporaries, and he was accused of casting from life; to us, they probably appear larger than life, idealised. What this pairing of the ancient and the modern reveals is the high emotional content of this fascination with vitality, with the living form. Of course, the Rodins are in the round, whilst the Parthenon sculptures are friezes, but the Roman sculptures on view which Rodin also studied are free-standing. The display brings everything to our level; except for small items in cases, this is as up close and personal to these marvels as we are likely to get.
Also on view are many of Rodin's drawings, particularly those which demonstrate the intensity and care with which he studied the holdings of the British Museum (there is also the delightful bonus of a few minutes of film of Rodin himself at home, and working in his studio). He engaged with the new technologies, harnessing photography (some examples here, too) to record and publicise his work. What we find most of all are new and refreshing ways to look at both the sculptures of antiquity and those of Rodin. This innovative and magnificent show points out the intertwining of several narratives: by studying the past, Rodin transformed his own art. It is an object lesson through objects in how the material remnants of the past matter for our understanding both of history and of art.
'I love the sculptures of Ancient Greece. They have been and remain my masters,' Rodin once explained
rating
Share this article
Subscribe to theartsdesk.com
Thank you for continuing to read our work on theartsdesk.com. For unlimited access to every article in its entirety, including our archive of more than 10,000 pieces, we're asking for £3.95 per month or £30 per year. We feel it's a very good deal, and hope you do too.
To take an annual subscription now simply click here.
And if you're looking for that extra gift for a friend or family member, why not treat them to a theartsdesk.com gift subscription?