The Handmaid's Tale, Series 2, Channel 4 review - it's not getting any better for Offred |

reviews, news & interviews
The Handmaid's Tale, Series 2, Channel 4 review - it's not getting any better for Offred
The Handmaid's Tale, Series 2, Channel 4 review - it's not getting any better for Offred
Further horrific adventures in the Republic of Gilead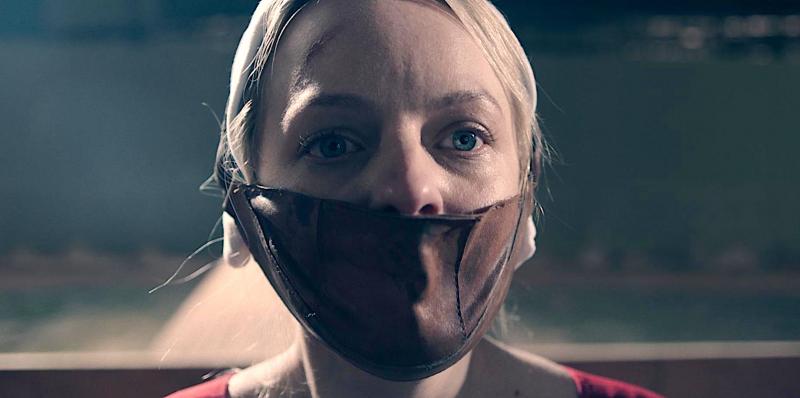 Speak no evil: Elisabeth Moss returns as Offred
Not the least startling element of Bishop Michael Curry's house-rockin' sermon at the royal nuptials was his quotation from the old spiritual "There is a balm in Gilead". Evidently the Bishop was not referring to the endlessly looping nightmare that is The Handmaid's Tale, where "Gilead" means not balm, but torture, terror, misery and misogyny.
The first series used up Margaret Atwood's source novel, so series two relies on showrunner Bruce Miller and his team of writers to take the narrative onwards, while also filling in background information about how the Gilead Republic came into being, with rights of women and minorities being steadily whittled away and the former US government annihilated in devastating terror attacks. It's safe to say that Handmaid 2 is going to be even darker than its predecessor, and we haven't even got to the gruesome radioactive wastelands known as The Colonies yet, the Gilead Republic's very own concentration camps where "Unwomen" are sent to die a painful, lingering death. That comes next week, in an episode you may find difficult to sit through.
Ofwyatt drank drain cleaner in an attempt to induce a miscarriage
The story picked up precisely where we left off last time, with Elisabeth Moss's Offred being carted away in the back of a van to an unknown destination. She didn't know if she was going to be executed or rescued by the Resistance. In fact she and dozens of fellow handmaids were taken to the derelict shell of Fenway Park, home to the Boston Red Sox in happier days, and (now wearing sinister leather gags) made to stand on high platforms where their heads were placed in nooses.
The iconography of the scene – theatrically orchestrated mass murder in a ruined symbol of the decadent former times, shot in muted but carefully coordinated colours – revealed the hand of a diabolical designer. Kate Bush's "This Woman's Work" wailed eerily on the soundtrack, perhaps a reminder (though hardly a necessary one) that career opportunities for female singer-songwriters are negligible in Gilead. Then one of the Gilead stormtroopers gave the execution order… but it was just a bluff. The petrified women were being punished by the gloating Aunt Lydia (Ann Dowd, who one imagines may be becoming an "unwoman" in her own social circle after taking this role) for their unspeakable crime of not stoning to death Ofdaniel at the end of series one.
However, it's revealed that Offred is pregnant, so for the time being will be being spared the casual horrors doled out to her fellow-maids. When she declines to eat a meal, Lydia takes her to see Ofwyatt, who drank drain cleaner in an attempt to induce a miscarriage, and is now chained up in a prison room. Later, in another warning to bolshy Offred, another handmaid is attached to a kitchen gas ring while it incinerates her hand.
It's all enough to keep you awake at night, though sometimes the show's litany of sadism begins to look dangerously like torture-porn. There's a kind of paradox, too, in the way that a series which has been championed as a feminist call to arms is almost entirely taken up with depicting horrific crimes against women.
There was a glimmer of hope when Offred was indeed whisked away into hiding by the Resistance and the enigmatic Nick (Max Minghella, pictured above with Moss), and cathartically burned her handmaid's uniform and reclaimed her real name, June Osbourne. You think her freedom is going to last, though?