Der Rosenkavalier, Glyndebourne - detailed acting, great singing |

reviews, news & interviews
Der Rosenkavalier, Glyndebourne - detailed acting, great singing
Der Rosenkavalier, Glyndebourne - detailed acting, great singing
More austere drama, but richer voices, in this revival of Richard Jones's tour de force
Knight of the rose Octavian (Kate Lindsey) kisses unwilling bride Sophie (Elizabeth Sutphen) beneath the portrait of her deceased mother
If Hugo von Hofmannsthal's libretto for Richard Strauss in their joint "comedy for music" is the apogee of elaborately referenced dialogue and stage directions in opera, Richard Jones's realisation - for all that it throws out much of the original rulebook - may well be the most rigorously detailed production on the operatic stage today.
Seeing it live a second time after its dizzying 2014 premiere as resurrected by his trusted movement director Sarah Fahie leaves me reeling with surprise, admiration and perplexity for how much more there's still to discover in its symmetries and ambiguities - not least with a complete change of cast for the four main roles.
Glyndebourne Music Director Robin Ticciati has returned to fine-tune his way through the Strauss labyrinth - more luminous than ever in the purple passages, more incisive in the rapidity of what turns out to be black comedy in Act Three, with incredible clarity from lower strings bringing out yet more details in a fathomless score. This seemed last night as far as it's possible to go in perfect mastery of Strauss's cornucopia (I choose the term carefully bearing in mind the horniest of operatic preludes). Co-ordination with the new team will improve in the first act when they settle to some of his slower tempi (though clearly Siberian tenor Andrej Dunaev was having a bad night in his few minutes as the Italian Tenor, cracking up top and then taking the higher notes down the octave. It happens; he was fine first time around).
Certainly the Marschallin this time round for half the performances, Rachel Willis-Sørensen (alternating with Michaela Kaune, and pictured above going back to her youth for David Harrison's Dr Freud), is very different - more opulent of figure than the model-like Kate Royal, avoiding the Venus Anodyomene body-stocking moment on curtain-up, but just as fair and expressive of face, and much more ample of tone. Too ample at times, perhaps, for this size of house - not so Covent Garden, where I first heard her in the role - but she knows how to scale back to velvety softness and intimacy. The test-case of floating her last phrase in Act One was triumphantly surmounted, and the final tableau where Jones leaves his Marschallin alone with her love-struck page Mohammed - Adrian Richards, exquisitely touching and funny - brought the requisite tears to the eyes at the end of an act which, thanks to Paul Steinberg's flattened set, Nicky Gillibrand's ever-surprising costume melange and Mimi Jordan Sherin's lighting as revived by Nigel Pashley, is otherwise a slightly nightmarish Wonderland. The volume is impressive for her total command of the "Viennese masquerade" in the sleazy room of Act Three, again softened when the personal love-triangle comes to the fore.
And you won't hear a more opulent trio anywhere. Uniquely, in my experience, all three ladies hit the heights with equal aplomb. Kate Lindsey is, perhaps, a more conventional 17-year old firebrand than Tara Erraught, not so hilarious as her delightful predecessor in the comedy of Octavian disguised as chamber-maid Mariandel but more flame-toned, and like Willis-Sørensen managing her final pianissimo top note as beautifully as the singer of whom she's most reminiscent, Frederica von Stade.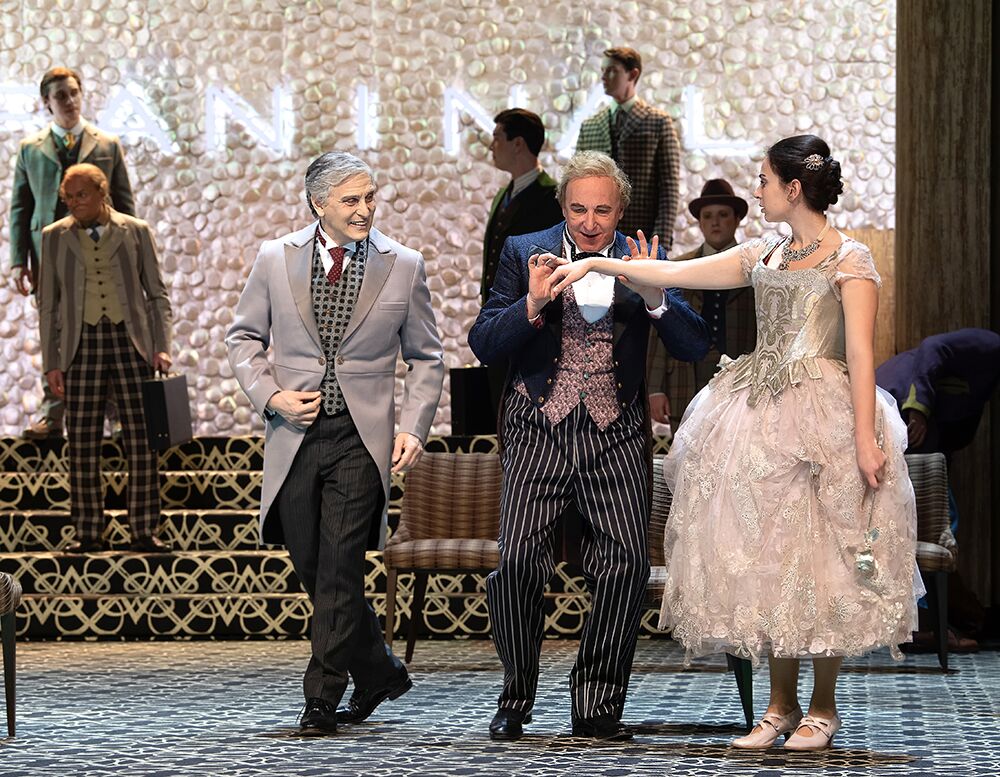 With Erin Morley expecting, as Lindsay was this time last year, two Sophies now step into the breach. I was hoping to catch dream lyric soprano Louise Alder this time round, having set eyes on a born star for the first time when the Glyndebourne covers joined us for a study day back in 2014, but a third American, Elizabeth Sutphen, made a delectably characterful young fighter against her horse-traded marriage - hers was the comedy face this time round (Sutphen pictured above with Michael Kraus's Faninal and Brindley Sherratt's Ochs). From the sound of it her Duenna, Gabriele Rosmanith, would make no less fine a Sophie - we seem to be living in a golden age for this voice-type.
Biggest change in the dramatic dynamics comes from Brindley Sherratt's odious groom Baron Ochs. Not a born comedian with the mug for it like oddly lovable predecessor Lars Woldt, he's slow to kindle the laughs but is instead oddly sinister, half cut-price old Tory buffer, half gammon-faced provincial with a hideous wig. His ease with the text shows in the second-act humiliation of his bride to be; by the third act we are so comfortable with his sonorous interpretation - rarely have the bottom notes been so impressive - that we're won over completely, and even - as is intended - feel slightly sorry for this monster in #metoo's eyes having reached the end of the road.
And what a stupendous third act it is (pictured above). No-one is likely to come out with the usual cliché that this is where Der Rosenkavalier drags: business with a noose, the gimmicks of the room made for debauchery and the ease with which a crowd brings its chairs for a trial on and off make this charade go like clockwork. Exceptionally well-taken middle and smaller roles this time - Alun Rhys-Jenkins' purposefully pinched-toned scandalmonger Valzacchi and the best coloratura dudgeon ever from Stephanie Lauricella when his accomplice Annina plays a discarded "Baroness" Ochs, Martin Snell as an authoritatively phrasing Police Inspector - all add to the richest of mixes. Michael Kraus reprises his vocally lustrous Addams Family father Faninal. And let's not forget, among the perfect actors, the six foot six bastard son Leopold, Joseph Badar; this production would not be the same without him. The mastery with which Strauss and Hofmannsthal transition from farce to bittersweet sentiment seems all the more miraculous given such incredible fluidity. This is a tour de force of operatic staging, matched this time by much more sheerly beautiful singing. Don't miss it.