Edie review - Sheila Hancock gets summit fever |

reviews, news & interviews
Edie review - Sheila Hancock gets summit fever
Edie review - Sheila Hancock gets summit fever
Octogenarian widow aims to conquer a Scottish mountain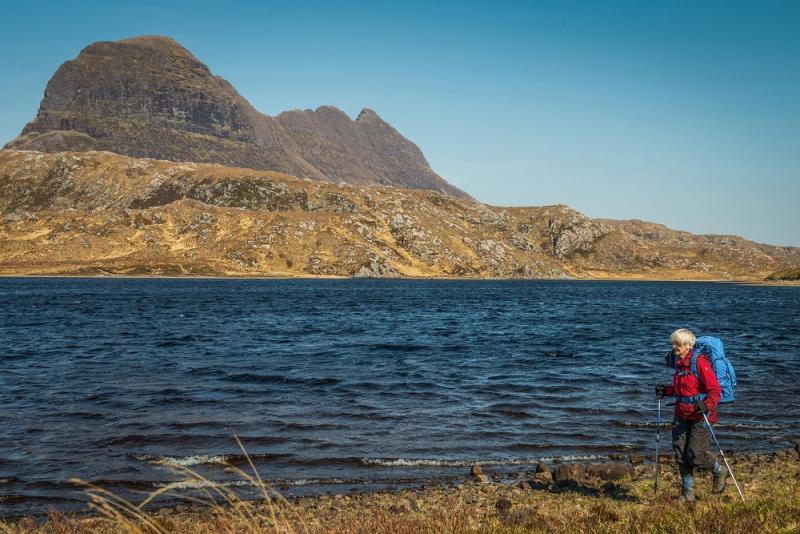 Sheila Hancock and Suilven star in 'Edie'
There have been plenty of films about mountains, and they are mainly about men. The plot tends not to vary: man clambers up peak because, as Mallory famously reasoned, it is there. Whether factual or scripted, often they are disaster movies too: Everest, Touching the Void, the astonishing German film about the race to conquer the vertical wall of the Eiger, North Face.
So
Edie
, in which an
octogenarian
woman determines to hike up a
Scottish
mountain, is quite out of step with the rest of the genre.
Edie, as played by Sheila Hancock, is a bit of a forbidding crag herself. She has spent her life at the beck and call of a controlling husband who for 30 years was silenced by a stroke. In the first scene he quietly dies, but her liberation is by no means immediate. All she has is her regret at a wasted life in a drab brown cluttered suburban terrace, where it seems to rain a lot. Her sole daughter Nancy (Wendy Morgan) is appalled by the private rage broiling in her mother's s diary. The retirement home beckons. Edie's grief at lost opportunities is at its sharpest when she remembers her father, who tried to bridge the distance imposed by her marriage by sending cheerful postcards. One depicted Suilven, a Scottish mountain with a rare and noble profile, up which he promised they would one day clamber. Soon she's dragging an unwieldy suitcase onto the Caledonian Sleeper.
When she disembarks in the morning, she's knocked over by a couple hurrying for the train. The young man introduces himself as Jonny (Kevin Guthrie, pictured with Hancock) and offers her a lift in his Land Rover back to the west coast village where he happens to live within striking distance of Suilven. There being no free beds owing to a fishing festival, he puts her up in his quite disgusting bedroom, though receives little thanks. In truth Edie is a difficult and aggressive old bag. But she needs help getting up the mountain and hires Jonny as a trainer. With a failing outward-bound shop to run, he takes on the job in order to milk her of her money. Sure enough, their relations thaw and an inspirational odd-couple movie is born. But will their developing bond be enough to get her up the mountain?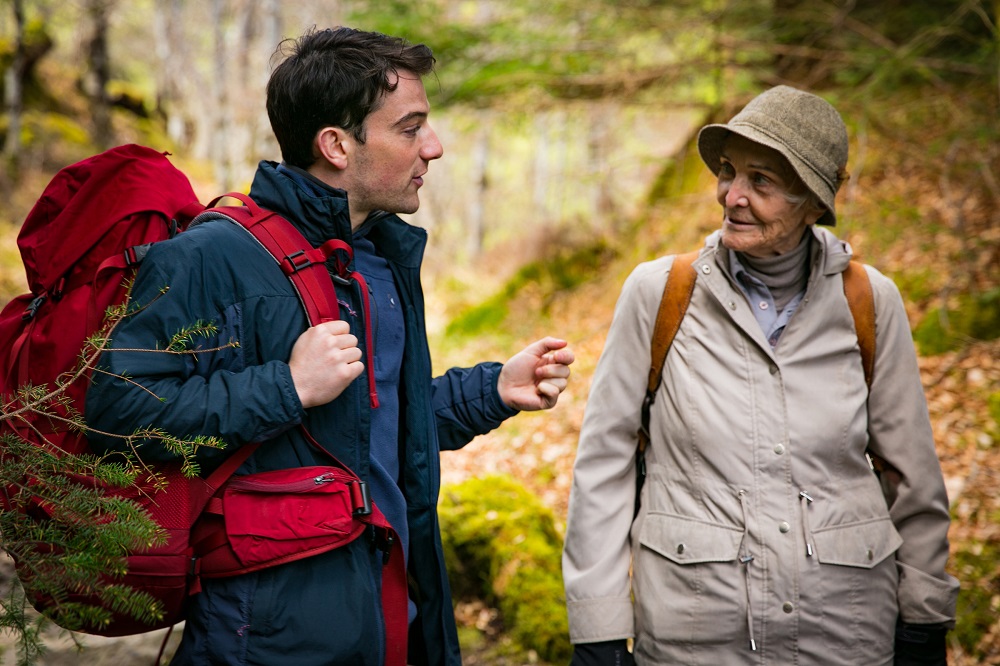 Hancock explores Edie's several shades of crotchetiness with energy, verve and a ruthless lack of vanity, and puts up herself through quite a bit of discomfort in the climactic last quarter. Guthrie has innocuous charm as Jonny, a young man trapped by village life and bossed about by an entrepreneurial girlfriend. It's undoubtedly an original way of exploring the cliché of redemption through summit-bagging.
And yet for all its flights of fancy, including one hallucinatory storm scene in a bothy, the script remains stubbornly earthbound and, in some places including the finale, sketchily written. It seems to have had a bit of a twisting journey itself, and possibly had too many cooks at the camp stove, being based on an idea by director Simon Hunter, while the story is credited to Edward Lynden-Bell and the screenplay to Elizabeth O'Halloran. There's fair warning of this when Edie, whose diet consists of fried food, worries she's arrived too late at her local greasy spoon. "Never too late for you, Edie," says the deep-fat fryer like the corniest Delphic oracle.
Most fun was had by DoP August Jakobsson, who creeps in to steal poetic close-ups of Hancock and takes advantage of wonderfully sunny weather to show the Highlands to spectacular advantage. The Scottish tourist board will be cock-a-hoop. And it is certainly welcome to see a film focus on an under-represented demographic. But the message in the end is of the bog-standard off-the-peg variety about seizing the day. See Edie for Hancock and Suilven.