Proms 25 / 26 review - Russian masters, noodling guitar, late-night perfection |

reviews, news & interviews
Proms 25 / 26 review - Russian masters, noodling guitar, late-night perfection
Proms 25 / 26 review - Russian masters, noodling guitar, late-night perfection
Modern drama in early music and Tchaikovsky's genius eclipse anodyne new concerto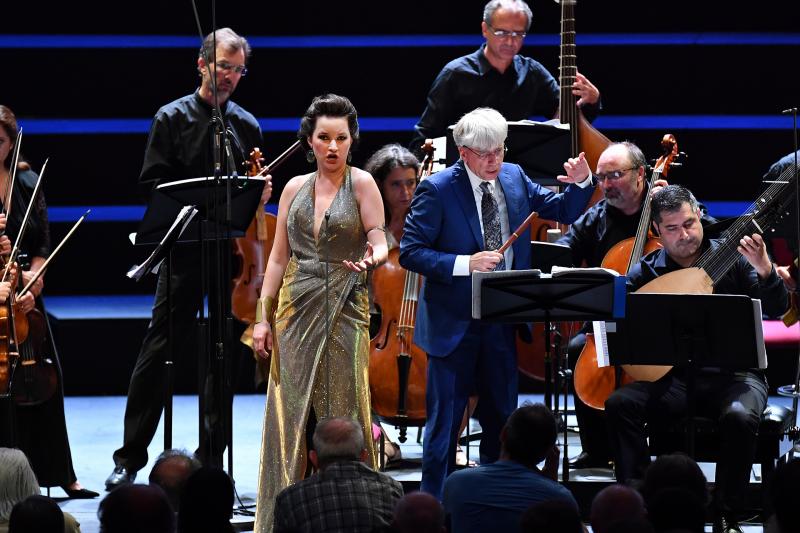 Electifying communication from Anna Prohaska with Il Giardino Armonico and Giovanni Antonini
Sometimes the more modestly scaled Proms work best in the Albert Hall. Not that there was anything but vast ambition and electrifying communication from soprano Anna Prohaska and the 17-piece Il Giardino Armonico under Giovanni Antonini, making that 18 when he chose to take up various pipes (★★★★★).
By contrast the big BBC commission from Joby Talbot to write a work for much-touted guitarist
Miloš Karadaglić
and orchestra in the evening's first Prom left very little impression. Praise be, then, to Glinka and
Tchaikovsky
for showing what glittering substance is all about, and to Alexander Vedernikov for perfection of style in both (★★★★).
It was obvious the BBC Symphony Orchestra should ask the one-time Bolshoi chief conductor back for Tchaikovsky ballet music after they excelled together at the Barbican in the composer's Third Orchestral Suite. In the event, their Nutcracker Act One turned into an exquisitely poignant tribute. The great Gennady Rozhdestvensky died on 16 June, and the orchestra dedicted the concert to his memory. I well recall his quirky Festival Hall performance with a rather less refined BBCSO of the complete Sleeping Beauty back in the 1980s, and their two Prom performances of the last ballet's second act, one of them happily available on DVD, needed completing with the first act. Vedernikov is no disappointment as a successor; though by and large less eccentric than Rozhdestvensky in his gestural repertoire, he too knows exactly how to scale, to tense and release, the miraculous sequence of inspirations in ever-original orchestrations Tchaikovsky packs into 45 minutes.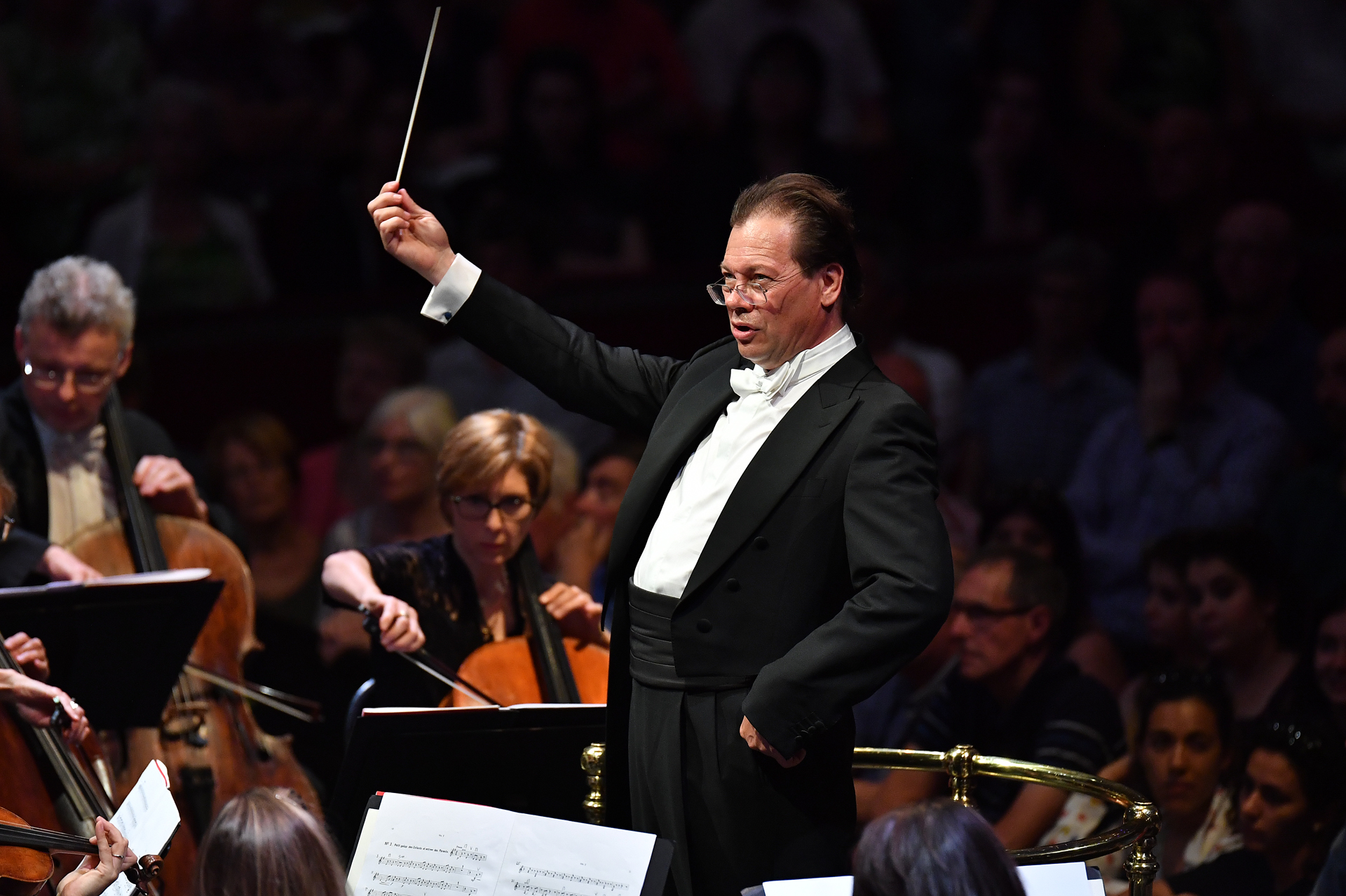 The Miniature Overture – violins and violas only among the strings – gave notice of an intimately scaled Christmas party, strings as a whole light and spry for the dances and toy-giving around the tree, though there were some surprises in slower tempi which worked. All the more impressive, then, the symphonic scale the ballet takes on after midnight, with the two big transformation scenes justifying their concert context in a big and airy space.
Above all, though, it was the BBCSO's woodwind department – I don't know a more characterful one in any orchestra – which underlined the strangeness of Tchaikovsky's special magic. The clarinet family had a field day with Hoffmanesque oddity Dr Drosselmeyer and his peculiar gifts, underpinned by singing personality from first bassoonist Julie Price. The final icing on the cake, even if it is a bit sugary (the lady in our row decided to sing along), comes from the youthful voices cutting through the snow-scene, courageously taken by the Finchley Children's Music Group.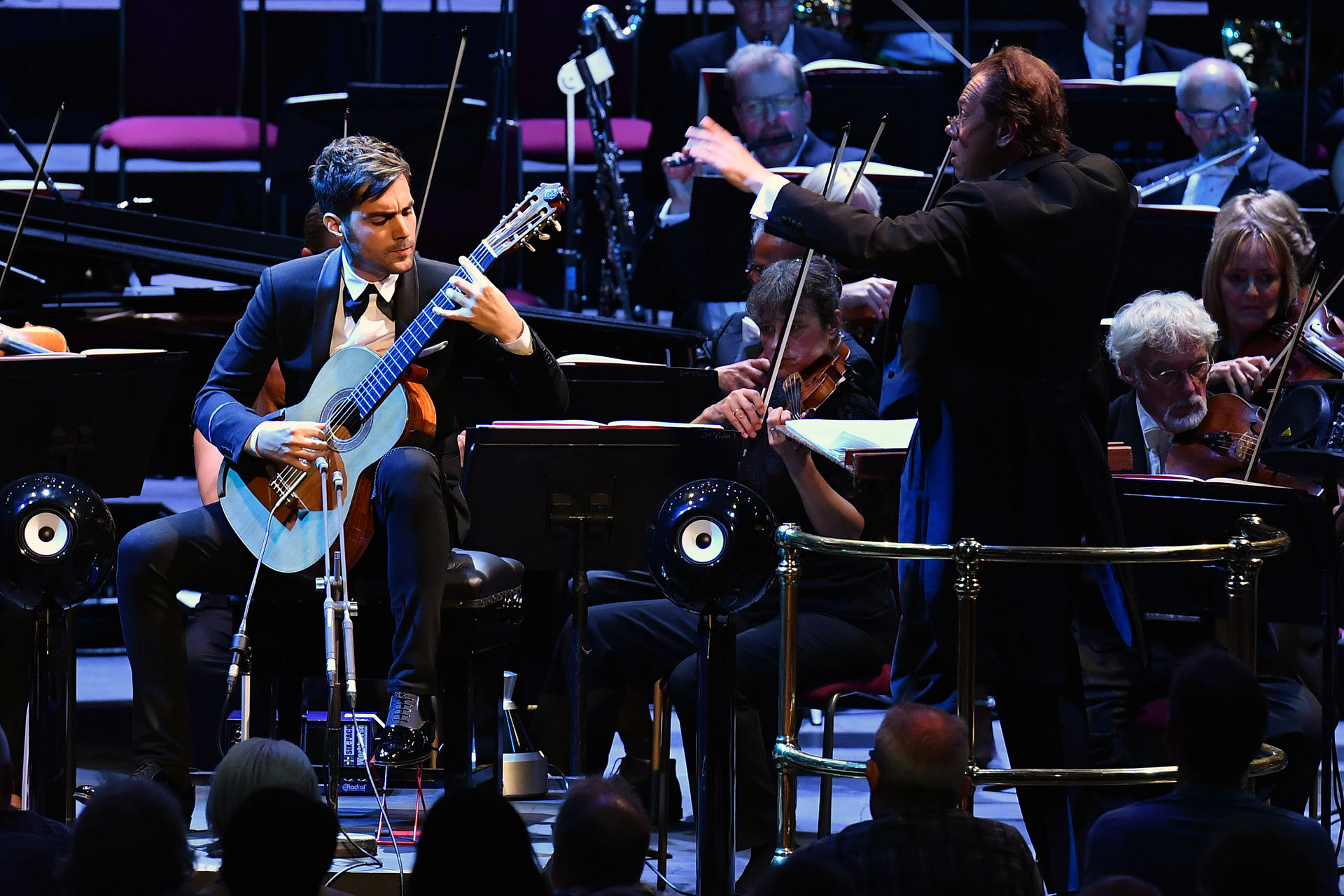 Few will have heard father of Russian music Glinka'a Summer Night in Madrid, otherwise his Second Spanish Overture, anywhere live before, and certainly not at the Proms. Its candid, lean orchestration, giving Tchaikovsky the cue for selective groups of instruments, came hand in glove with a dance-lilt and an elegance that Vedernikov encouraged from his spirited players. Joby Talbot could have taken a leaf or two out of Glinka's art; his own is multi-purpose glitter which is fine, if a bit too much of a good thing, in his score for the Royal Ballet's Alice's Adventures in Wonderland, but exposed in its lack of real substance in a concert work like Ink Dark Moon.
Left alone or with eerie string support, Miloš – as he's still marketed – created discreetly-amplified atmosphere which could evoke the intended scene, Northern California's Sierra Nevada. The problem was in the vigorous ensembles, more like music for BBC classic drama than anything bolder, where the guitar was simply swamped, in the hall at least, and subordinate to what themes there were from the woodwind. The expected solo encore, José Luis Merlin´s Evocación, was short, generic and artistically done.
For meaning and depth, the Tchaikovsky and the late-night Prom eclipsed the new concerto in every way. Difficult to count those ways in Prohaska's only-connect programme with Il Giardino Armonico, which has had time to acquire depth since the programme's indispensible CD release (as "Serpent and Fire"). It came across as a compact but in some ways epic five-act opera interweaving the fates of Dido and Cleopatra, with equally compelling instrumental interludes like the startlingly sombre Handel C minor Concerto Grosso as a central divertissement for the shades of Hades, and some startling but always successful segues.
Cleopatra and her musicians – upper strings standing to take advantage of free movement – danced vivaciously in two delicious arias from Sartorio's 1676 Giulio Cesare in Egitto and Egyptian Princess Menalippe's joyous pastoral from Christoph Graupner's German/Italian-language Dido. It wasn't only here that Prohaska used her whole body to express the music, the gestures always organic, never mannered.
Best of all, what we would normally call ornamentation in repeats came over as the highest creativity, bringing new expression and depth to what always seemed like emotional substance. Prohaska packs an amazing amount of tone-colour and projects textural meaning into every phrase. An element of crowd-thrilling display was inevitable in the fiery defiance of Hasse's Cleopatra, but in two known classics, Prohaska simply seemed to go deeper than any other interpreter of Handel's Egyptian queen (with "Se pietà di me non senti") and Purcell's Dido (astonishing new decorative/expressive invention and full dramatic voice, as in the Handel, for the key laceration, in the famous Lament).
This was also a masterclass in a singer's fusion with her fellow musicians, trills in perfect accord and a joy as well as a profound seriousness in music-making that gave us the perfect, tiny encore, Purcell's "Fear no danger to ensue", the wonderful Antonini taking up the second voice in instrumental guise. A clear highlight of the Proms season and of the musical year as a whole, whatever's still to come.
So-called ornamentation in repeats came over as the highest creativity from Prohaska and company, bringing new expression and depth
Explore topics
Share this article