Bodyguard, BBC One, episode 2 review - a wild ride to who knows where |

reviews, news & interviews
Bodyguard, BBC One, episode 2 review - a wild ride to who knows where
Bodyguard, BBC One, episode 2 review - a wild ride to who knows where
What's love got to do with it? Jed Mercurio's counterterrorism thriller starring Richard Madden and Keeley Hawes continues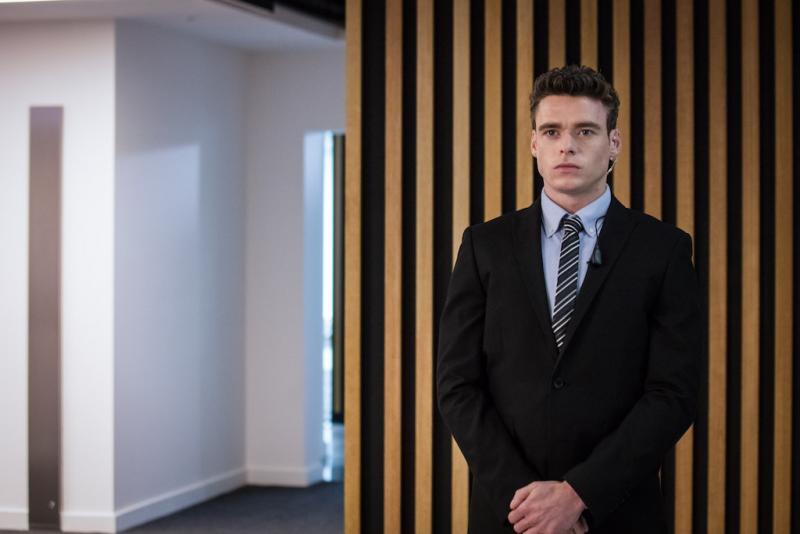 Winding his neck in: Richard Madden as protection officer David Budd in 'Bodyguard'
It was always a question of when. As in when would the hoity-toity Home Secretary and her poker-faced bodyguard move into the horizontal? "I'm not the queen, you know," she said, by way of a hot come-on. "You can touch me." As a mode of discourse, this marked quite a step-up from the first episode of Jed Mercurio's new drama. Then the Rt Hon Julia Montague didn't even want his vote.
Now she was after her bodyguard's body. "I Will Always Love You", anyone?
The great thrill of Bodyguard (BBC One) is one's absolute uncertainty about which way it's going to twist next. By the end of episode two, PS David Budd had been assigned the mutually exclusive tasks of spying on and assassinating the woman he's both protecting and sleeping with who, to complicate things, happened to know in advance that his children's school was a terrorist target, and did nothing. It's a cat's cradle of moral dilemmas; Prizzi's Honour wrenched through a mangle.
Such is the clout of Mercurio nowadays that he can call on half the staff of BBC News to play themselves. You can also tell we're neck-deep in his world because, as with Line of Duty, the script contains an absolute blizzard of official-sounding fact-checked acronyms – EXPO, SO15, RIPA etc. Even the Home Secretary is codenamed 79 Lavender (a hint of feminising scent, but isn't that number also a nod to the year the Iron Lady got in?). The deeply rooted verisimilitude permits Mercurio to rocket off into a parallel world. This deep state, ripped apart by a spiteful turf war over counterterrorism, is a matriarchy: the Home Office, Scotland Yard, the police's protection unit – all are headed up by women, while the shoutiest and sharpest-shooting operatives of the security services in the high-octane opening to episode one were women. The only male boss is the director general of the security services, one Stephen Hunter-Dunn, who must surely be related to Betjeman's Joan ("Miss J. Hunter Dunn, Miss J. Hunter Dunn,/Furnish'd and burnish'd by Aldershot sun").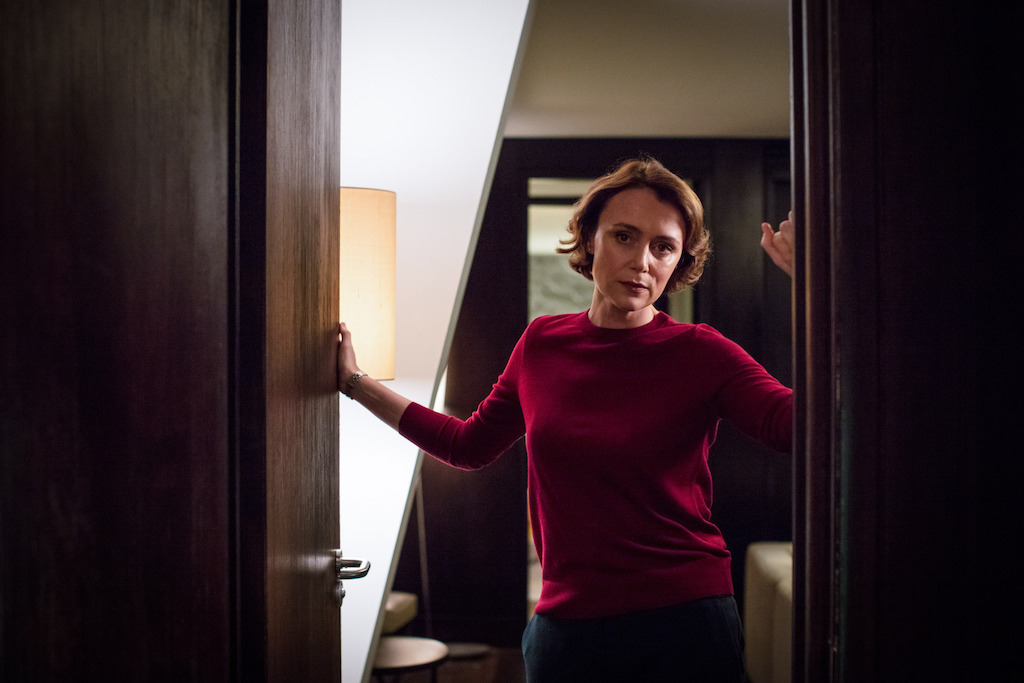 If that astounding curtain-raiser had you gnawing your knuckles to pulp, there was a double dose of unbearable tension in the second episode. First the HGV driven by terrorists bore down on a primary school, culminating in the sinful smile of a martyr and a plume of smoke billowing over the rooftops of London. Your pulse rate had just about recovered when Montague (Keeley Hawes, pictured above) and Budd (Richard Madden) found themselves under fire in the heart of Whitehall, with only bullet-proof metal shielding them from a rooftop sniper (Tom Brooke) who just happened to be Budd's damaged old mucker from Afghanistan. Meanwhile, the police seem to have been mysteriously sluggish getting to the scene.
There's not a great deal of point in counting the ways in which Mercurio breaches the bounds of plausibility. Budd probably wouldn't have got past the vetting procedure when suffering so acutely from PTSD that, on the plus side, he could find a common language with a suicide bomber ("We're just collateral damage"). Despite claiming to his ex (Sophie Rundle) that he'd put a lid on it, which is never a good idea, even the school drop-off exposed his raging anxiety: "Never show weakness, they only hurt you more!" was his spectacularly unsuitable lifestyle tip to his little boy. Also, how can he afford that gleaming flat?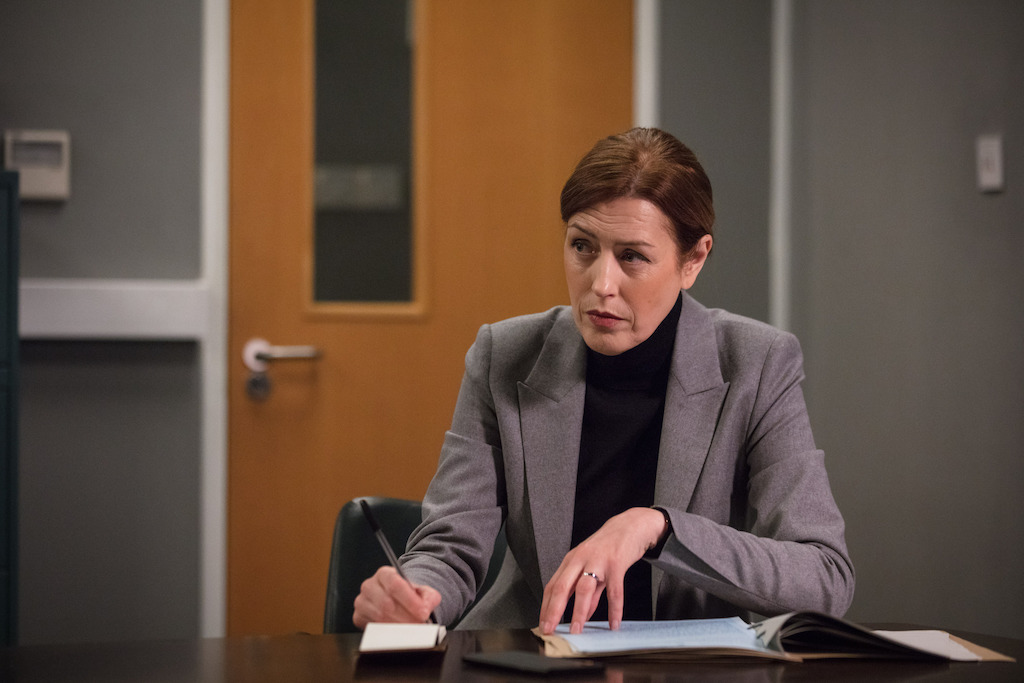 Richard Madden played Mellors in Mercurio's version of Lady Chatterly's Lover. With a clenched fist for a face, he is equal to the task of exploring Budd's wounded interior and navigating a path through some deliberately stilted dialogue ("Kettles, ma'am, they can be quite a danger in untrained hands"). As for Keeley Hawes, her Home Secretary in dagger-sharp suits and stilettos feels like payback for the sad-sack detective Mercurio cast her as in Line of Duty. She played her seduction with filigree subtlety. The workplace canoodling of two trauma victims looked as wrong as a car crash, and even the soundtrack seemed to agree, not knowing whether to hesitate or prod.
What's intriguing is that everyone who has it in for Montague is perfectly awful – Chanel Dyson (Stephanie Hyam), the ranting, coffee-hurling SPAD who thinks her ex-boss is a sociopath; the scheming minister of state for counterterrorism Mike Travis (Vincent Franklin); Anne Sampson (Gina McKee, pictured above), the Met chief bent on decapitating the Home Office; Montague's fuming ex Nicholas Gleaves (Roger Penhaligon), whose respect for the police seems to have been transcribed from the Andrew Mitchell playbook ("you work for us, plod, so wind your neck in").
As to who stops Montague – and whether Budd protects her – is impossible to predict. Already it's a wild, thrilling ride. One thing is clear: Bodyguard is heading nowhere obvious.