Mantegna and Bellini, National Gallery review - curated for curators |

reviews, news & interviews
Mantegna and Bellini, National Gallery review - curated for curators
Mantegna and Bellini, National Gallery review - curated for curators
An intriguing tale undone by loose ends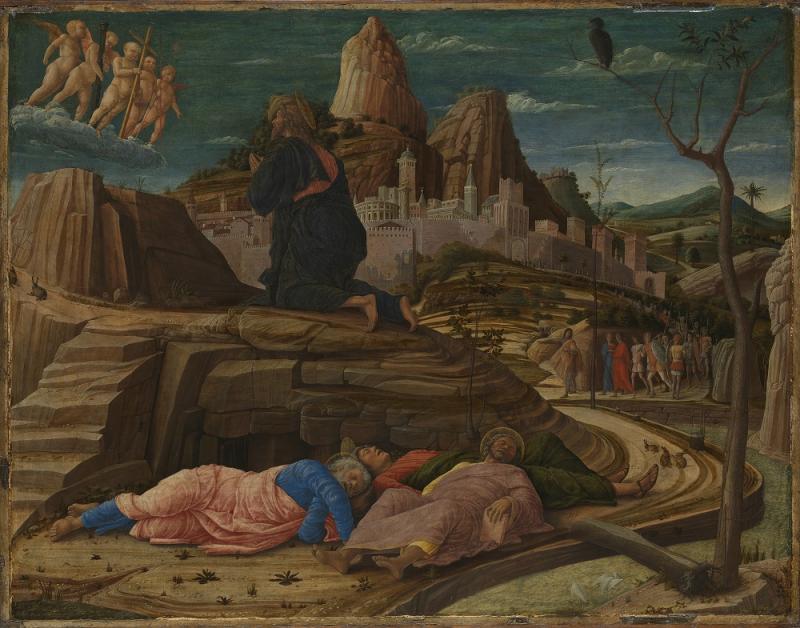 Andrea Mantegna, 'The Agony in the Garden', about 1455-6
Pitched as "a tale of two artists", the National Gallery's big autumn show promises a history woven in shades of friendship and rivalry, marriage and family, privilege and hard graft.
Andrea Mantegna and Giovanni Bellini were brothers-in-law, Mantegna's marriage to Nicolosia Bellini in 1453 a strategic match that brought fresh blood to
Venice
's greatest artistic dynasty. The marriage kept commissions, and so money and prestige, safely within the family, but the two artists pursued entirely separate careers, Bellini distinguishing himself as a
painter
of landscapes and Mantegna as a master of illusion and sumptuous high drama. And yet they remained in close artistic dialogue throughout their lives, and after Mantegna's death in 1506, Bellini completed the decorative cycle commissioned by the nobleman Francesco Cornaro, honouring the work of his brother-in-law, but introducing elements that are distinctly his own.
By the ends of their lives, both men had achieved widespread acclaim, Mantegna at the court of Mantua's ruling Gonzaga family, and Bellini in the service of the Venetian state. Following Mantegna's marriage to Nicolosia, the two artists worked as closely as they ever would, and the opening rooms of this exhibition suggest Mantegna's self-confidence and prodigious talent, as vividly as they struggle to identify Giovanni Bellini, an artist born in the shadow of his father. An early example of Mantegna's work, Saint Mark the Evangelist, about 1448, shows him already honing his abilities as an illusionist, an architectural setting intensifying and personalising the encounter between viewer and saint, while demonstrating a knack for visual trickery that elevates the image beyond its relatively simple composition.
But where is Bellini? Perhaps his hand is there in the Crucifixion by his father, Jacopo. Perhaps the delicate, almost ghostly pen and ink drawing, The Three Crosses, about 1456-7, was made by him. The first we really know of him here is his Presentation of Christ in the Temple, about 1470 (Pictured above). Except it's not his. Giovanni traced Mantegna's painting of this subject to make a copy, which he added to for reasons that are not entirely clear, diminishing it in the process.
Giovanni Bellini was cowed, one senses, by the overwhelming pressure of expectation that comes with esteemed parentage, Mantegna's raw talent providing a refreshing and liberating contrast to the exacting example of Giovanni's father. We see Bellini emulating his brother-in-law's visual trickery in the foreshortened figure of Saint Peter, in his Agony in the Garden of about 1458-60, and his Descent of Christ into Limbo, about 1475-80, is closely modelled on Mantegna's development of the theme, which introduces dramatic tension into earlier explorations by Jacopo Bellini from the 1450s. Mantegna's chief innovation, taken up by Bellini, was to show the figure of Christ from behind, a compositional device that builds tension through concealment, demanding emotional engagement from the viewer.
It's easy to lose sight of Bellini in all of this. Where Mantegna's Agony in the Garden (Main picture) agitates us with the menace of imminent brutality, Bellini, literally, takes a step back. The soldiers are relegated to the middle distance, the figure of Christ in prayer elevated to a position of serene isolation. Where Mantegna hounds us with searing reminders of Christ's humanity, Bellini uses an expansive landscape to impart an atmosphere of spiritual equilibrium, and the promise of salvation.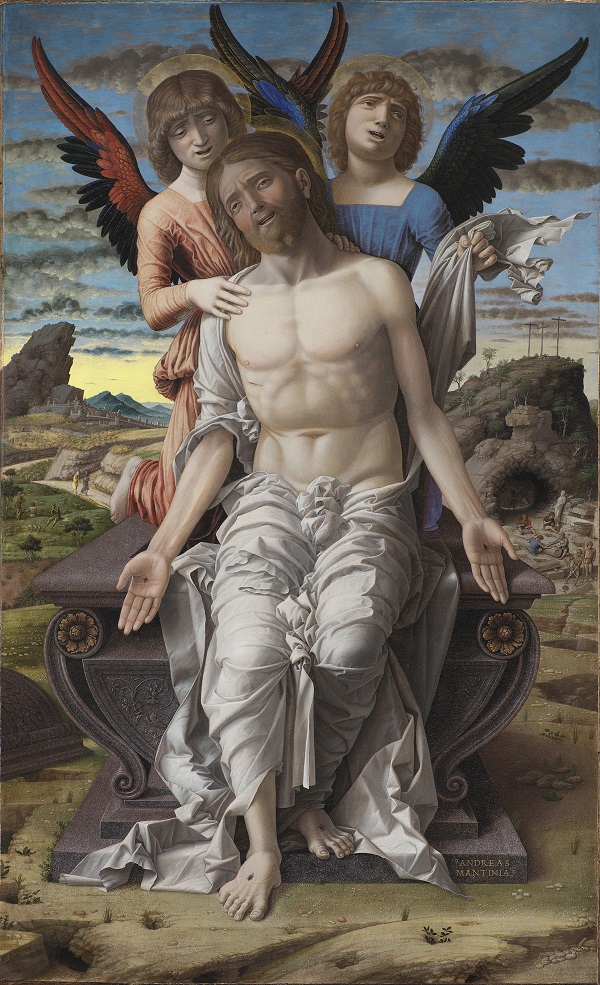 Over their lifetimes, Bellini would prove to be as much of an influence on Mantegna – Bellini's skill at using landscape to both evoke and amplify atmosphere and human emotion something that Mantegna emulates very noticeably in his Dead Christ Supported by Two Angels, about 1485-1500 (Pictured right), in which a carefully observed new dawn is used with obvious symbolism. By the end of his life, Mantegna's drawings have an elegance and refinement more easily comparable to Bellini's hand, than his own in previous decades.
But if the presence of drawings allows for broad observations about each artist's evolving style, the preponderence of graphic works in this show is as problematic as it is welcome. The curators point out that in their youth, when Bellini was particularly in thrall to Mantegna, their hands are difficult to distinguish from one another, and drawings now attributed to Bellini have previously been given to Mantegna. The comparisons we are asked to make rely on painstaking scrutiny of the drawings, something that even a willing visitor will undoubtedly find hard to do, given the crowded viewing conditions that are to be expected.
Indeed the emphasis on drawing is somewhat hard to fathom, when so much can be said through their paintings, which highlight the points of similarity between the two no less than the differences. In fact, given the intense reciprocity that seems to have existed between the two, the differences between them are made all the more intriguing, none more so than their preferred media. While Bellini took to oil paint, Mantegna would continue to paint in the traditional medium of egg tempera. It barely gets a mention in the show, though you can read about it in the catalogue.
Bellini was cowed by the pressure of expectation that comes with esteemed parentage
rating
Explore topics
Share this article