Measure for Measure, Donmar Warehouse review - Shakespeare twice-over packs a partial sting |

reviews, news & interviews
Measure for Measure, Donmar Warehouse review - Shakespeare twice-over packs a partial sting
Measure for Measure, Donmar Warehouse review - Shakespeare twice-over packs a partial sting
Double vision as Angelo and Isabella swap roles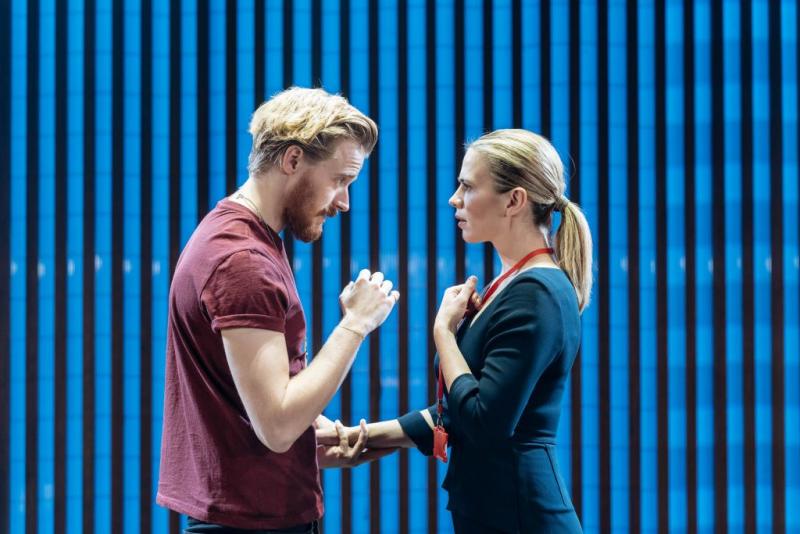 Double vision: Jack Lowden and Hayley Atwell in 'Measure for Measure'
Shakespeare exists to be refracted and filtered through the age in which he is presented.
So there's every good reason for the
Donmar
's artistic director Josie Rourke to approach the eternally problematic
Measure for Measure
as a twice-told tale that effects a startling shift in time period and gender politics at the interval. A characteristically ambitious venture, Rourke's penultimate Donmar production delivers best when most in period, and it's in fact the modern-day revisions and reversals that make one wish she had carried her vision through still further.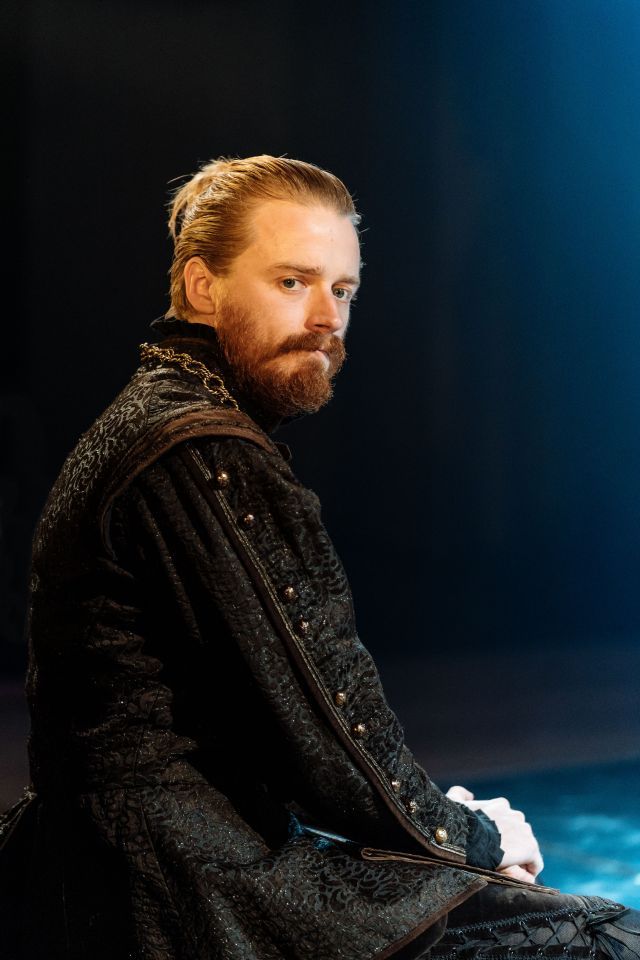 The first half of the bifurcated staging delivers this dubious "comedy" in full period regalia, with the text extensively filleted and stripped of such characters as Barnardine and Elbow (whom I suspect not many will especially miss). A sumptuously attired Jack Lowden (pictured right) makes a furtive-eyed Lord Angelo, the deputy who gets placed into the hot seat of power by the shifty, self-disguised Duke (Nicholas Burns). Scarcely has Angelo signed on to the gig before he is using his new-found post for malignant sexual gain against the chaste novitiate, Isabella (Hayley Atwell), whose brother Claudio (Sule Rimi) has been condemned to death for reasons of fornication: the hypocrisy sits heavily in the air.
"I will behold his sway," the now-cloaked Duke here reports of Angelo, and what we collectively witness cannot help but chime with a climate hyper-attuned to sexual harassment, Angelo breaking the shackles of self-restraint with scant regard for the consequences to come; his man bun, one senses, is not easily loosened. Watching a moist-eyed Atwell make the case for Isabella's doomed brother only to discover that she is being passed from pillar to post within a soul-crushing patriarchy, I doubt I was alone in recalling Christine Blasey Ford and the absolute right of a woman to be heard and understood – or so one would hope.
This remains potent stuff indeed and chimes with today's shifting moral and sexual sands, notwithstanding the century to which Peter McKintosh's costumes may or may not belong. (His set is as stripped-back at the text, so as to allow the licentious Vienna of the play to register primarily as a state of mind.)
Following the interval, we hear the play again, this time with further revisions and tweaks that nonetheless amplify such remarks as the Duke's concept-defining "If power change purpose, what our seemers be". The difference is that Isabella – here called Isabel – has taken charge in a modern-day re-orientation of the play that recasts Angelo as an abstinence-prone, newly-reformed man of purity who against expectation stirs the affections of the modern-day Duke: a gay crush that offers one solution as to why the Duke may be so keen to spy on his deputy in the first place (pictured above, Nicholas Burns)
Lowden is among the cast of Rourke's upcoming film version of Mary Stuart, and both he and the crisply spoken Burns are in top form throughout. I'm not as sure about Atwell, whose gesticulations seem a tad much (her Isabella isn't in any way reined-in) and who is puzzlingly used in a second half that has the peculiar and counterintuitive effect of demonising the woman. One feels as if all involved were penning their own Shakespearean gloss on, say, Caryl Churchill's Top Girls to a degree that muddies, rather than magnifies, their centuries-old source.
Still, the result is handled briskly and without pretension, and the play's capacity to disturb is allowed to ring out twofold. But there's a further sting to this creepiest of plays that remains untapped and that, for all this production's provocations, leaves you awaiting a third act still to come.
Angelo is recast as an abstinence-prone, newly-reformed man of purity who against expectation stirs the affections of the modern-day Duke
rating
Explore topics
Share this article