LFF 2018: In Fabric review – Peter Strickland's horror comedy is dressed to kill |

reviews, news & interviews
LFF 2018: In Fabric review – Peter Strickland's horror comedy is dressed to kill
LFF 2018: In Fabric review – Peter Strickland's horror comedy is dressed to kill
Plus first looks at the revolting Scots of Outlaw King and tech dreamers in The Hummingbird Project
There's no removing those phantom threads for Marianne Jean-Baptiste, In Fabric
While much has been said of Luca Guadagnino's remake of Dario Argento's cult horror Suspiria, it's the latest stylishly bizarre confection by British writer-director Peter Strickland – about a demonic dress, no less – that comes much closer to the strange spirit of Italian horror.
Strickland is the sort of filmmaker who wears his inspirations on his sleeve, while managing to transcend them with his own wit and imagination. Berberian Sound Studio was his homage to giallo, The Duke of Burgundy to Euro-pudding erotica. In Fabric has a bit of both of those genres, sumptuously evoked through the director's brilliantly baroque synergy of sound and image, and lent added weirdness by the incongruity of its Eighties English setting.
When lonely bank clerk Sheila (Marianne Jean-Baptiste) decides to start dating, she buys a new dress to boost her confidence, from Dentley & Soper's, the "trusted department store" whose hypnotic TV advertisements are drawing some increasingly frenzied shoppers. Sheila should have been warned off by the creepy attentions of the black-clad shop assistant (scene-stealing Strickland regular Fatma Mohammad), whose florid sales patter invokes "an echo in the spheres of retail" and who with her opulent wigs and affectations is slightly reminiscent of Gary Oldman's Dracula. But Sheila buys the smooth, scorching scarlet dress anyway. The immediate rash will be the least of her problems.
What ensues combines English provincial gloom with lurid horror, and it's debatable which is more disturbing – the bank managers who challenge Sheila's toilet breaks while inviting her to join them in role play (a rum paring of Steve Oram and Julian Barratt), Mohammad and her boss – a Nosferatu gone to seed – as they indulge in macabrely erotic acts with the store dummies, or the dress floating above its victims.
Sumptuously filmed, and with an atmospheric synth score by Cavern of Anti-Matter, this is a flamboyant, sinister and very funny comedy horror. So it's unfortunate that Strickland dilutes its effect when he suddenly breaks with Jean-Baptiste's storyline and takes his dress onto new owners. With the diversion, the film loses momentum and its potential for some definitively chilling horror.
Nonetheless, what I'd give to see this in a wigged out fashion double bill with Phantom Thread.
Outlaw King
The English are never more villainous onscreen – nor is their comeuppance more enjoyed – than when they're pitted against the Scots. David Mackenzie's Outlaw King follows in the footsteps of Mel Gibson's Braveheart, both chronologically and in spirit, as a rousing historical epic spiced with cruel injustice and inspiring rebellion.
It starts in 1304. The English Edward II (Stephen Dillane) has defeated the Scottish revolt, led by William Wallace. Among those nobles pledging loyalty north of the border is young Robert the Bruce (Chris Pine). But on seeing the English continuing to mistreat his countrymen and women, Robert soon reignites the conflict. And as the newly crowned King of Scots, David takes on Goliath.
Today's Scots may wonder why one of their own is never cast as a national hero. The Australian Gibson gave himself the role of Wallace, Irishman Liam Neeson was Rob Roy, and now the American Pine is the Bruce.
That said, Pine's involvement is surely a consequence of his fine collaboration with Mackenzie in Hell or High Water, and he doesn't let his director down. Using a mild accent that doesn't offend, therefore, when it goes AWOL, he has a very winning presence as the thoughtful warrior king, who engages in a canny guerilla war against the superior English forces.
Robert's family and supporters include trusty Scots character actors (James Cosmo, Tony Curran) as well as an unrecognizable Aaron Taylor-Johnson as the mad dog in the pack and another terrific turn by rising star Florence Pugh as his spirited English wife. The excellent Dillane presents a smiling tyrant, who says of his latest castle-wrecking ball: "It took three months to build, so I don't want to waste it".
There isn't a great deal of nuance in characterisation or motivation; this is neither Shakespeare nor even Game of Thrones. But it's an enjoyable romp. The English are dastardly, the Scots proud and true, the landscape ravishing, the battle scenes muddy and brutal. It's never nice to see a man hung, drawn and quartered, but there is usually a quip to ease the pain. "Is it true, are you the king of the Scots?" asks a young boy of the noble hunk before him. "He certainly is, you cheeky wee shite."
***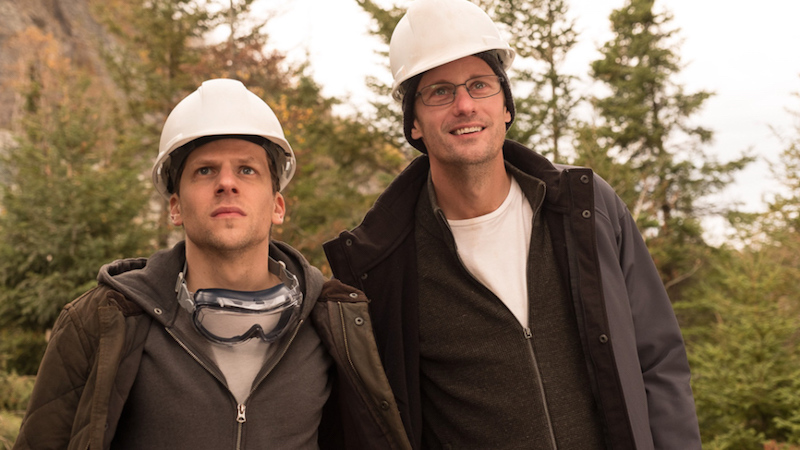 The Hummingbird Project
The Wolf of Wall Street and The Big Short were big, bold, blackly comic exposés of the dodgy dealings of the financial world. While The Hummingbird Project ostensibly exists in the same milieu, it's an altogether different animal – a quirky, bitter-sweet fictional take on the extremes that stock market types will go to make a fast buck… or in this case, an astronomically fast million.
Jesse Eisenberg is fast-talking entrepreneur Vincent Zaleski, Alexander Skarsgård his cousin Anton, a computer genius and social misfit. Together they work in high-frequency trading, an area of the financial market where the technology that facilities speed of information is key. And the pair have a dream, of laying down a 1,000-mile fibre optic cable from Kansas to New York – under homes, through mountains, whatever it takes to shave a few milliseconds off the trading time.
While Vincent handles the business end, pulling the strings and finding the cash to dig their tunnel, Anton has to complete the code without which none of it matters. All the while, their old boss (an enjoyably over-the-top Salma Hayek) is after their blood – and a quicker solution of her own.
Written and directed by Canadian Kim Nguyen, this plays like a mix of caper, deadline thriller, satire and a buddy movie involving two chalk and cheese but endearingly bonded individuals. Eisenberg has got the arrogant motormouth role off pat, but he adds poignancy to it here, not least through Vincent's protective nature towards his balding, lurching, desperately awkward cousin – played with relish and against type by Skarsgård; there's definitely a touch of Rain Man in the relationship. But, typically of Nguyen's surprising script, it's Anton who has the happy family life.
There's quiet commentary on how business enterprise threatens the environment, and philosophical musing about time itself, as the race to trade in milliseconds is measured against one man's fight to stay alive long enough to fulfil his dream.
****