LFF 2018: The Ballad of Buster Scruggs review - Wild West tales, and Redford and Jackman |

reviews, news & interviews
LFF 2018: The Ballad of Buster Scruggs review - Wild West tales, and Redford and Jackman
LFF 2018: The Ballad of Buster Scruggs review - Wild West tales, and Redford and Jackman
The Coen brothers go west, old man Redford gets his gun, plus The Front Runner and Shadow
Wednesday, 17 October 2018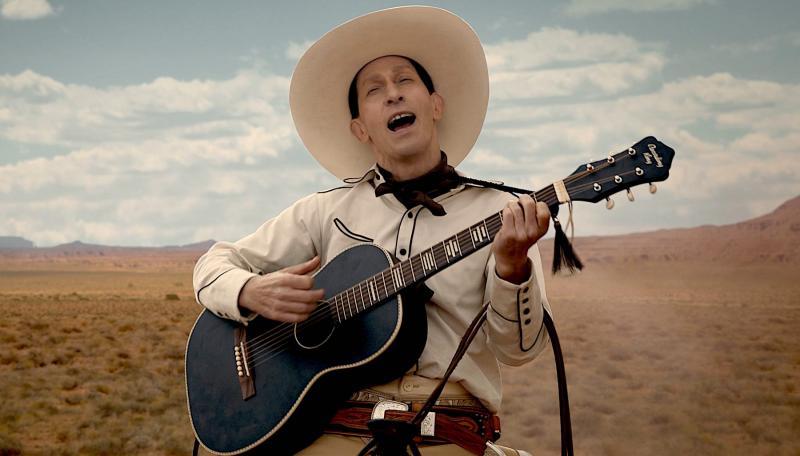 Crooner and gunslinger Buster Scruggs (Tim Blake Nelson)
The "portmanteau" form of film-making is almost guaranteed to deliver patchy results, and The Ballad of Buster Scruggs, the Coen brothers' six-pack of tall tales from the Old West (screened at London Film Festival), can't quite avoid this age-old trap.
But it gives it a helluva good try, and even its less successful portions offer much to enjoy.
Perhaps they shouldn't have opened with the titular story of Buster Scruggs, because it's so outrageously laugh-out-loud brilliant that the viewer is apt to suffer a kind of bereavement at the realisation that Scruggs won't be reappearing in later sections of the film. We first meet Buster (Tim Blake Nelson) trotting languidly through a canyon on his faithful horse Dan, in pristine white suit and stetson, strumming his guitar and crooning the old Marty Robbins favourite, "Cool Water". Turns out Buster is a garrulous fellow who loves talking to the camera in the Coens' finest folksy, ornamental manner, but he's no mere Roy Rogers wannabe. He's also a spectacularly lethal gunslinger, who can slaughter a room full of folks without blinking.
If the stories (each one introduced by its title page in an old musty volume) have a theme, it's that if fate don't get you one way, it'll damn sure get you another – hence James Franco's cowboy who's rescued from a lynching by a Comanche war party but learns you should never celebrate too soon, or the poignant one about a girl called Alice (Zoe Kazan), travelling west with a wagon train hoping for a better life, who is harshly taught the downside of being too kind to animals. Tom Waits isn't perhaps at his best in a shapeless story of an old gold prospector, and Liam Neeson should be ashamed of himself for the way he treats the limbless actor (Harry Melling) who he drags around the frontier, reciting bits of Shelley and the Gettysburg Address. But even the spottier moments are enlivened by the Coens' knack for myth-spinning, ably assisted by Carter Burwell's eclectic, evocative score.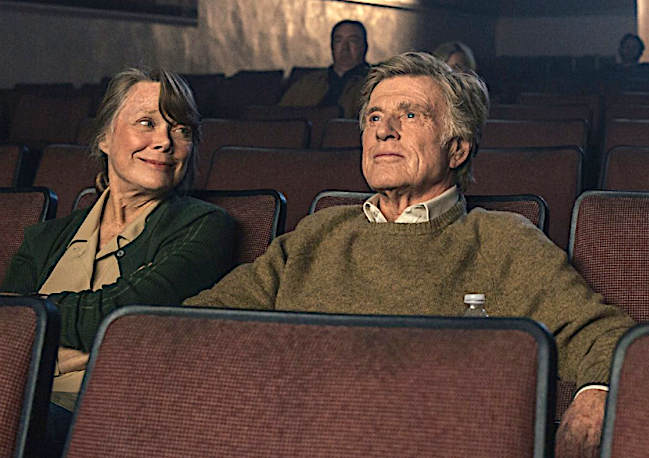 The Old Man and the Gun
Robert Redford has said that this will be his last film role. That might have been the project's kiss of death, so it's delightful to report that this is as fine and affectionate a send-off as any movie icon could wish. Written and directed by David Lowery and based on a New Yorker article by David Grann, it casts Redford as career bank-robber and inveterate jailbreaker Forrest Tucker, a man renowned for the courtesy and good humour with which he held up countless banks all over the American south-west. Although he possessed a gun, he never actually pointed it at anyone.
Lowery has coaxed his star into rekindling some of that golden glow from his great years, never more so than when he's conducting a playful, teasing romance with Jewel (Sissy Spacek, pictured above with Redford). She can never tell whether he's kidding or not, but her look of sheer delight when he unexpectedly kisses her is a wonderful moment. There's excellent support from Casey Affleck as detective John Hunt, who can't help enjoying Tucker's boundless cheek, and from Danny Glover and Tom Waits as the other members of Tucker's "Over the Hill Gang". Lowery's use of Seventies-style Super 16 film stock and period-specific titles, and a 1966 clip of the young Redford in The Chase, reinforce the elegiac tone.
★★★★★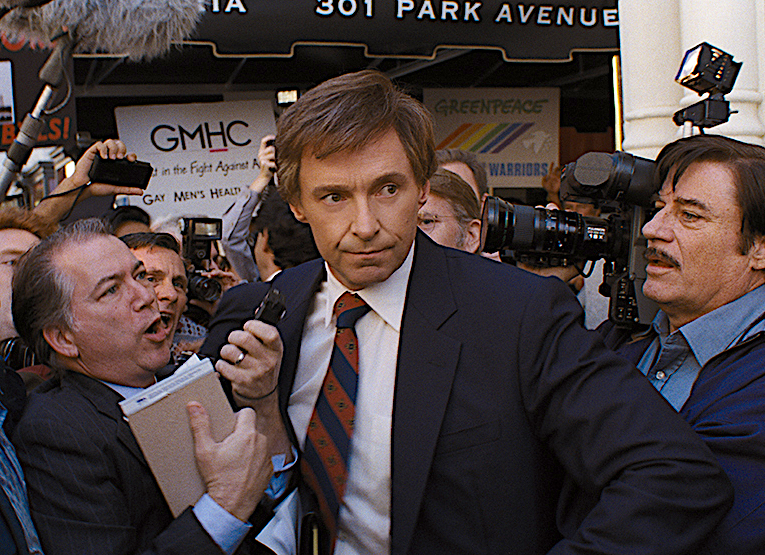 The Front Runner
Erstwhile US Democratic contender Gary Hart isn't exactly a household name nowadays, but for a brief shining moment in 1988 he looked like the guy the American electorate had been waiting for. Smart, good looking, alert to voters' concerns and able to think outside the box, he could have been the antidote to the pork-barrelling shysters who usually get the top job until he was torpedoed by an extra-marital sex scandal. Director Jason Reitman (Juno, Labor Day) has taken the Hart story and fashioned it into a tight, slick political thriller reminiscent of classics like The Candidate, while also shining a bright light on media ethics and our old friend, gender equality. In the lead role, Hugh Jackman (pictured above) does an excellent job of radiating empathy and intelligence, taking every hurdle in his stride until reporters start probing his private life. Suddenly he gets tense, defensive and clams up. When the Miami Herald gets a tip about his liaison with Donna Rice, his fate is sealed, though the media frenzy that burst around him was, at the time, unprecedented. Great support from JK Simmons as no-bullshit campaign manager Bill Dixon, and Vera Farmiga as Hart's very disappointed wife Lee.
★★★★
Shadow
This crunching martial arts barn-burner from China's Zhang Yimou tells the tale of the warring kingdoms of Pei and Jing. Against the wishes of Pei's untrustworthy king, his military Commander wants to fight a duel to win back the city of Pei… but in fact the Commander is really an impersonator, or Shadow, of the real (but incapacitated and scheming) Commander, and a man keen to risk his life in pursuit of military glory. His assault on Pei, abetted by the king's battle-born sister, is a riot of military ingenuity involving underwater air-tanks, wrist crossbows and multi-bladed steel umbrellas, in a stormy, precipitous landscape designed to resemble traditional Chinese paintings. A concluding royal bloodbath rounds things off nicely.
★★★★