Australian Chamber Orchestra, Tognetti, Milton Court review - brilliantly hyper-active Mozart
Australian Chamber Orchestra, Tognetti, Milton Court review - brilliantly hyper-active Mozart
The dynamic Aussies thrill with precision as well as power
Unleashing the beast: Richard Tognetti and the ACO
Think Glastonbury, not Salzburg. It struck me at Milton Court last night that the Australian Chamber Orchestra's ebullient, rock'n'roll Mozart would go down a storm at the sort of music festival renowned for canvas more than canapes.
As listeners now expect from the ensemble that director-leader Richard Tognetti has steered since 1990, the ACO shook the Barbican's junior venue with an electrifying account of the three great symphonies – numbers 39, 40 and 41 – with which Mozart said his revolutionary farewell to the form in 1788.
But if the ACO – all of them (sparing cellos) on their feet and bouncing around the stage like some semi-caged beast – do rank as the Led Zeppelin of today's orchestral scene, then that goes for their virtuosity as much as their live-wire energy. Knife-sharp precision as well as sheer power marked dozens of moments when, under the spell of Tognetti's hyper-active bow-baton – the ACO carved Mozart into radiant, razor-edged blocks of sound with an almost brutal swagger.
Do I wish that every ensemble made the final symphonies sound like this? Probably not. Should we rejoice that the Australians rejuvenate these too-familiar favourites with a ferocious commitment to their bar-by-bar, theme-by-theme drama that gives to every movement as many rhythmic cliffhangers as a ludicrously plot-packed daytime soap? Certainly. And – the question that matters most – would the composer have preferred these crackling, spitting interpretations to the bland prettiness and superficial grace that once, albeit long ago, came as the default setting for orchestral Mozart? We hardly need to ask.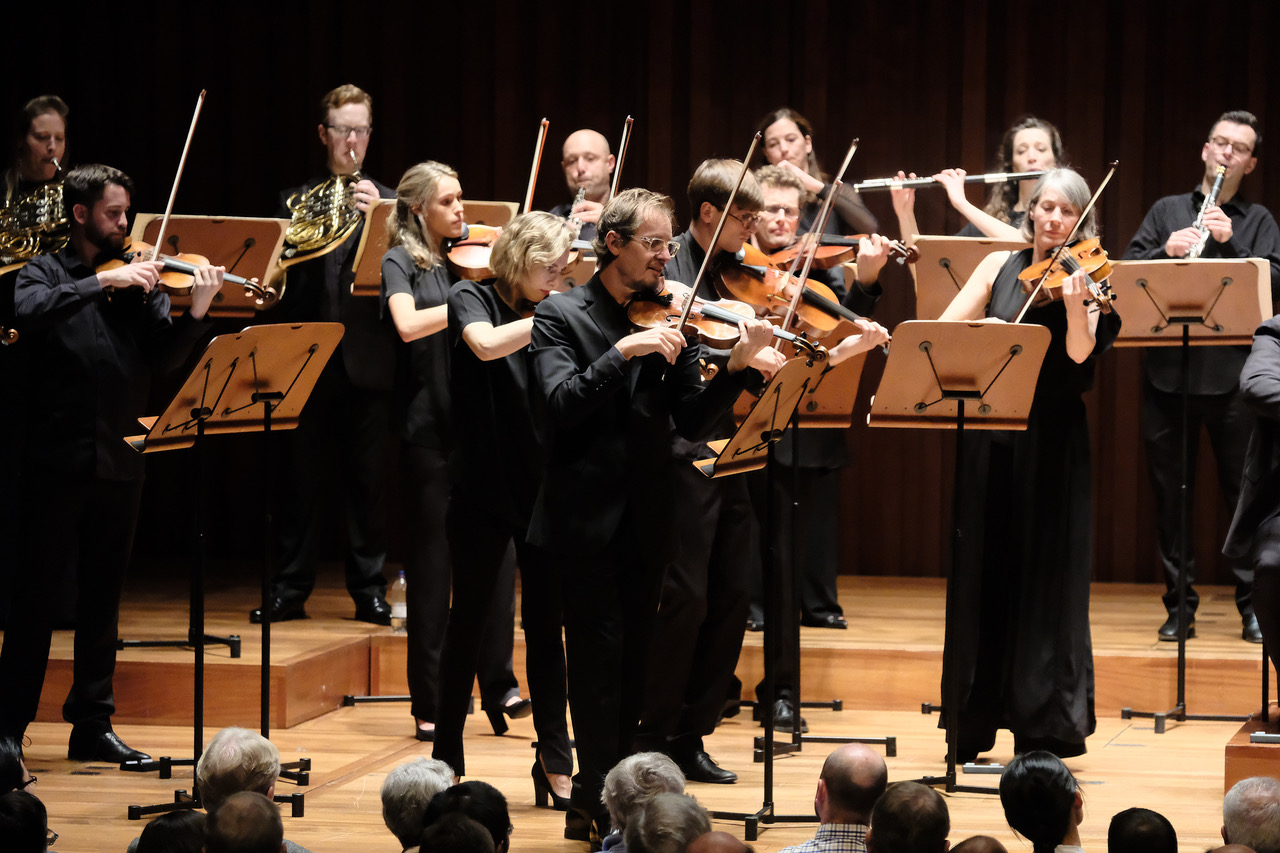 The symphonies formed the first, and most conventionally programmed, concert in a residency that opens the ACO's tenure as "international associate ensemble" at Milton Court. The hall suits their sound, with an acoustic that does justice to the extreme dynamic range. It often ramps up the excitement of the ACO's playing but retains enough intimacy to mean that everyone can feel that they have a VIP pass to the party. Although Tognetti tends to sculpt in sparkling quartz chunks of sound, severed one from the other by astonishing sledgehammer tutti climaxes, the upright instrumentalists seem to play as soloists brought together by free will rather than coercion.
With principals Helena Rathbone and Satu Vänskä to the fore, the violins never lose their warmth and depth, even when Tognetti drives them through his edge-of-the-seat accelerations and brake-screeching emergency stops. Timo-Veikko Valve commands a crack cello squad, while Tognetti's prancing, elevated bow drew some exceptional playing from the woodwinds: the melting clarinets of Olli Leppäniemi and Alexei Depressoir in Nos. 39 and 40; the bassoons of Joost Bosdijk and Dominic Tyler in 41, the "Jupiter". As he switches at a dizzying pace between his player and director roles, Tognetti scurries around the stage like a creature possessed, a galvanic embodiment of the Dionysian frenzy he so often finds in this music.
The hectic finale could have made a corpse's pulse race
From the off, with the shoulder-grabbing opening phrases of the first movement of 39, the ACO sprang into action with a dancing, driving rhythmic force. That initial andante bristled with the coiled energy of a predator about to leap. The subsequent high drama came not from crude pace alone – although sometimes the tempi could be hair-raising – but sudden variation; a stop-start excitement that made for a sometimes jagged, but always captivating, sonic landscape. The minuet of 39 ambushed us with rugby-tackle thumps, while the hectic finale could have made a corpse's pulse race.
At almost every juncture, Tognetti (pictured above, playing rather than conducting) turned up the dial of colour and contrast to the top (even up to eleven, as Spinal Tap might say). That meant, for instance, that the great G minor opening melody of 40 lost some of the wistful or other-worldly glow that more romantically inclined Mozartians might have hoped to hear. In recompense, Tognetti delivered a reading that pulsed with nervous intensity; more angry, or anxious, than lyrical. As often, his crescendi struck with an almost violent surprise. The lilt and drawl of the andante had a near-rustic muscularity, while the smash-and-grab punchiness of the minuet prepared for a finale whose startling chromaticism was well served by the fiercely individual voices of the ACO players.
If Tognetti specialises in disruptive takes on standard repertoire, his direction also tends to deconstruct pieces so that we can hear, and feel, them with fresh ears. He splits rather than joins. The outcome can be a stop-start angularity, febrile and furious. With its hugely stressed entries and exits, he intensifies the thrills and shocks of each individual passage but presents us with a feast of intensely-flavoured morsels – a sort of banquet of Pacific tapas. Or so I feared for the Jupiter – would he sacrifice unity, in this tightly-wrought marvel, for spectacle? The allegro had an almost cheeky jauntiness, but then in the andante we heard a sustained grace and fluency that showed the ACO is about much more than ear-catching stunts and coups. If we thought that that they had gone soft, though, the minuet landed with a punkish, piledriver impact. Tognetti dragged us straight into a delirious finale, a furious gallop, yes, but its miraculous fugal weave once more clarified by the blazing clarity of each instrumental section.
Admirers of a more genteel Mozart would by this point have hankered for a quiet lie-down in a darkened room. There is no single right answer to the challenges thrown up by these inexhaustible symphonies. The ACO's dramatic intensity – their full-spectrum rhythmic and dynamic range – will never suit every taste. Aficionados of a more "classical", Middle-European charm, nuance and finesse have plenty of chances to enjoy another kind of Mozart. This Antipodean angle, though, offers revelation as well as stimulation. It's not just rock'n'roll.
Admirers of a more genteel Mozart would have hankered for a lie-down in a darkened room
rating
Explore topics
Share this article