The Nutcracker, Royal Ballet review - a still-magical tale of two couples |

reviews, news & interviews
The Nutcracker, Royal Ballet review - a still-magical tale of two couples
The Nutcracker, Royal Ballet review - a still-magical tale of two couples
Peter Wright's balance of story-telling and classical dance lacks only elan from the pit
Tuesday, 04 December 2018
Clara (Anna Rose O'Sullivan) and Hans-Peter (Marcelino Sambé) in a snowy forest at night
Once a year is never too often to revisit one of the most perfect of all orchestral scores (not just for the ballet), a climactic Russian Imperial Pas de deux and the old-fashioned magic of illusionist painted flats flying in and out across a production/choreography that manages to crack the soft nut of a fantastical story only a quarter told.
It all adds up in Peter Wright's
Royal Ballet
Nutcracker
. His rekindling of as many elements as he can fit from the Hoffmann-via-Dumas original adapted by Petipa and somewhat reluctantly followed by
Tchaikovsky
is only as good as his two pairs of leading dancers can make it. On opening night this season, both were fine.
A teenage Clara and her Nutcracker, revitalised as Godfather Drossemeyer's bewitched nephew Hans-Peter, get to participate in the Sweet Kingdom's divertissement; but the palm has to go to the big number, in which Wright reverts to classic Ivanov dance-poetry, for the Sugar-Plum Fairy and her Prince. There was easy, aristocratic elegance from Marianela Nuñez and Vadim Muntagirov (pictured left) – she all silvery lightness to match the celesta of her variation, he of diamantine brilliance in a slow-paced but virtuosic tarantella. How he's grown in balletic stature since his early days with English National Ballet.
The harder-won applause goes to Anna Rose O'Sullivan as the vivacious daughter of a Biedermeier family and Marcelino Sambé as the magician's nephew. Their own, Wright-choreographed Pas de deux as the room gives way to a pine forest at night is all youthful charm, smiles and fluency: a necessary balance to the pure stage magic – it never fails to give me goosebumps – as the Christmas tree central to the late Julia Trevelyan Oman's designs grows to enormous size (with phenomenal symphonic mastery from Tchaikovsky),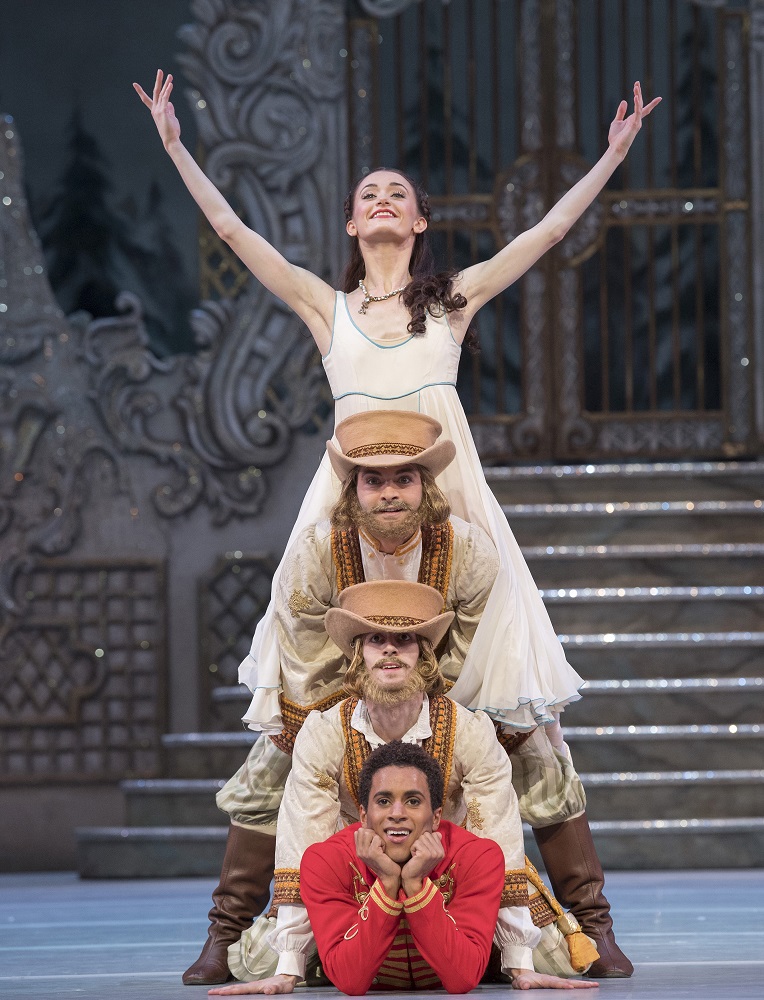 Sambé's mime as Hans-Peter tells the sweet royals about his rescue – perfectly matched by Wright to Tchaikovsky's reminiscence-music – is deliciously vivid and the two's interlacing with the characteristic dances a constant delight (full marks for a witty Trepak with Paul Kay and David Yudes, pictured right). The Arabian Dance in which they don't participate is too cod-oriental, a bit of a bore, and the straight treatment of the supposed confections from around the world loses a certain piquancy; the all-too-often-omitted romp of Mother Gigogne and her children wouldn't fit. But then a classically elegant Waltz of the Flowers and the other high-points bring us back to what the Royal Ballet does best. And Wright's handling of the back-to-reality apotheosis is still the best I've seen.
If only Barry Wordsworth gave an extra lift to Tchaikovsky's symmetrical score. Some of the slower tempi are dictated by the dance steps – though not the gooey opening of Act Two – but that's no excuse for flat phrasing. Thin strings are redeemed to some extent by characterful woodwind (lovely clarinet playing for the dolls at the party). A functional musical basis, then, not an inspiring one, though Koen Kessels may change all that in later performances. No matter; this Nutcracker is good enough to deserve its sold-out status throughout the run. How wonderful that its live screening in the Linbury Theatre kicked off the Royal Opera House's Cinema Festival last night with free admission for children.
There was easy, aristocratic elegance from Nuñez and Muntagirov - she all silvery lightness, he of diamantine brilliance
rating
Share this article