The Long Song, BBC One, series finale review - a stirring adaptation |

reviews, news & interviews
The Long Song, BBC One, series finale review - a stirring adaptation
The Long Song, BBC One, series finale review - a stirring adaptation
Andrea Levy's novel set in 19th-century Jamaica draws a wonderful performance from Tamara Lawrance
Tamara Lawrance as July, whose long song unfolded in a fleet-footed adaption of Andrea Levy's novel.
Broadcast over three consecutive nights, this fleet-footed
adaptation
of Andrea Levy's novel set during the era of abolition in 19th-century Jamaica swiftly gathered momentum and proceeded at pace towards (praise be) a charming denouement. But why Christmas?
In fact the season to be jolly came up twice. In the opening episode there were the Christmas riots of 1831 in which rebellious slaves were subjected to a horrific pogrom. And then in the final episode, they greeted their freedom as the opportunity to down tools and celebrate Christmas just as the cane harvest was due to come in, triggering more violent retribution.
Often when an adaptation of a novel relies on a voiceover to impart information, it is an admission that the material is somehow unmanageable. In the script by Sarah Williams it was an essential flavour. From her first knowing look directly into the camera, Miss July (Tamara Lawrance) was set up as protagonist and narrator whose story unfurled as a memoir inscribed in old age – her long song. The elderly July (Doña Croll, pictured below) was less seen than heard as a tricksy storyteller who, from the first, played around with expectations. In the opening episode she shooed away anyone hoping for a tale about the travails of the overclass ("Be gone!") and kept it up to the end. "There is no need to feel pity for the plight of our July," she said, and a montage imagined a prosperous future for her, before exposing it as a mirage. "If only that were true."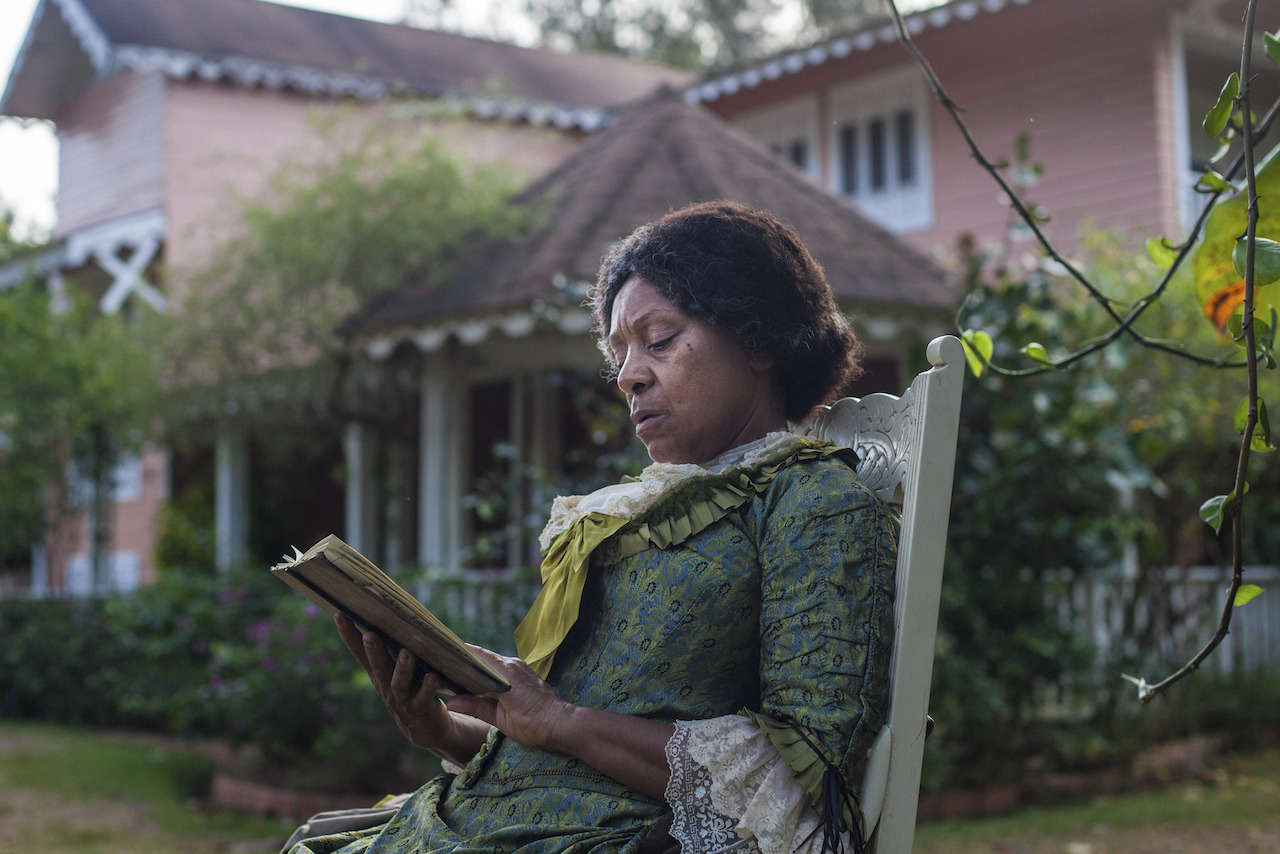 Everything about The Long Song flirted with preconceived notions of what a tale about slaves and their owners should be. There were, literally, lashings of inhumanity, and yet it evolved in a constantly unpredictable direction. At the core of it was an unfathomable love triangle involving July, her mistress Caroline (Hayley Atwell) and Robert Goodwin (Jack Lowden), whom both women referred to as their husband. Set at the dawn of the Victorian era, the story took the Victorian potboiler plot as its template, with July's fortunes switching and jagging just as much as Nicholas Nickleby's: a husband gained, a baby born, both lost, joys and cruelties which Lawrance communicated with almost unbearable intensity. The ending unfolded like a classic final act of Dickensian salvation, but with the key difference that July's empowering saviour was black – her long lost son.
The scheduling allowed the drama to be consumed as novels nowadays are, uninterrupted rather than in weekly instalments. Perhaps this helped to paper over some gaps in the story. There were moments when Caroline's kindliness nearly broke through, but she was rarely allowed to be anything other than a sweating, screaming gargoyle. Her curious tolerance of her husband's infidelity had to be taken as read. Likewise Robert's agonising rejection of July erupted as a form of volcanic madness. Atwell and Lowden gave it their all, but their characters' motivations remained just out of reach.
But then why not? July frankly conceded that hers was a partial version with many an omission: "I have not the stomach to tell of all the troubles," she said. To portray a story that bounced destabilisingly between playful comedy and raw tragedy, director Mahalia Belo found responsive angles and fresh perspectives. No image was more striking than the last: a final montage of the freed slaves looking calmly and directly into the lens, witnesses from a past exhumed in this stirring and ambitious adaptation.
Everything about The Long Song flirted with preconceived notions of what a tale about slaves and their owners should be
rating
Explore topics
Share this article