Fausto Melotti: Counterpoint, Estorick Collection review - harmonious things |

reviews, news & interviews
Fausto Melotti: Counterpoint, Estorick Collection review - harmonious things
Fausto Melotti: Counterpoint, Estorick Collection review - harmonious things
Compact, focused exhibition on lesser-known Italian sculptor
Saturday, 26 January 2019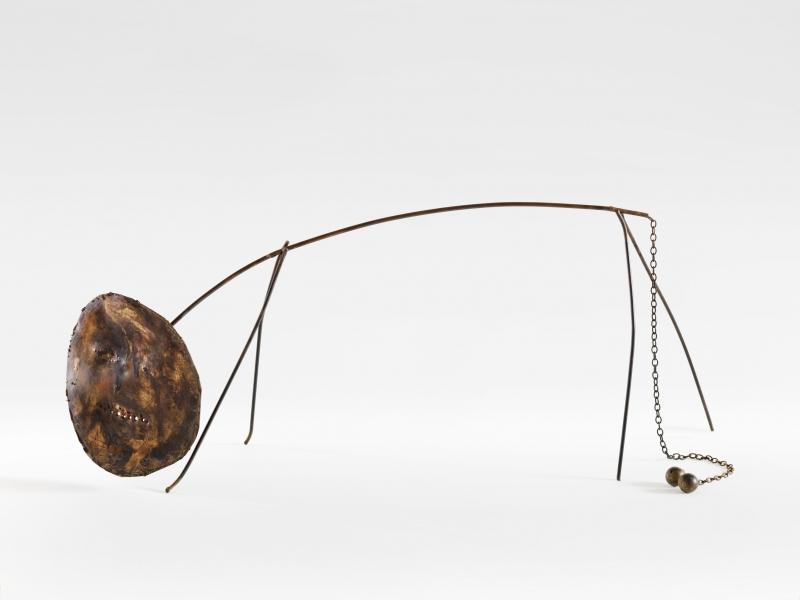 The Lion Friend, 1960
For an artist whose cerebral and frequently playful works reference physics, myth and music, Fausto Melotti's artistic education was appropriately heterogeneous.
The foundations were laid early on at the Elisabettina School in his hometown of Rovereto, an institution well-regarded for bringing together the applied and fine arts with theatre and music, the sciences and the humanities. Later, having enrolled at the Faculty of Physics and Mathematics at the University of Pisa he graduated from Milan Polytechnic in electrical engineering. This was followed by studies in music and art in Turin and the Accademia di Brera in Milan where he met Lucio Fontana, founder of Spatialism, with whom he would become life-long friends. Other friendships were equally important. His cousin Carlo Belli was the author of the manifesto of abstract art, Kn, and despite an age gap of more than two decades, his friendship with author Italo Calvino was especially close: in a first edition of his book Invisible Cities Calvino inscribed the dedication "To Fausto Melotti – the "thin cities" and all the others in this book, which is also his. With great friendship".
While Fontana and Calvino are familiar names outside of Italy, Melotti's work is far less well known. With this compact exhibition, the Estorick Collection aims to redress the balance. Many important pieces do not find space in the show – his gorgeously lyrical later brasses, his ceramic devils and surreal teatrini, for instance – but carefully pitched curation does justice to the shifting dictions which distinguished Melotti's artistic career. Tickets include access to the Estorick's permanent collection housed in the upper rooms, so it's further possible to situate his work among contemporaries and peers. On the ground floor, his career is weighed in personal and abstract terms - a reflection of the currents that coursed through his work.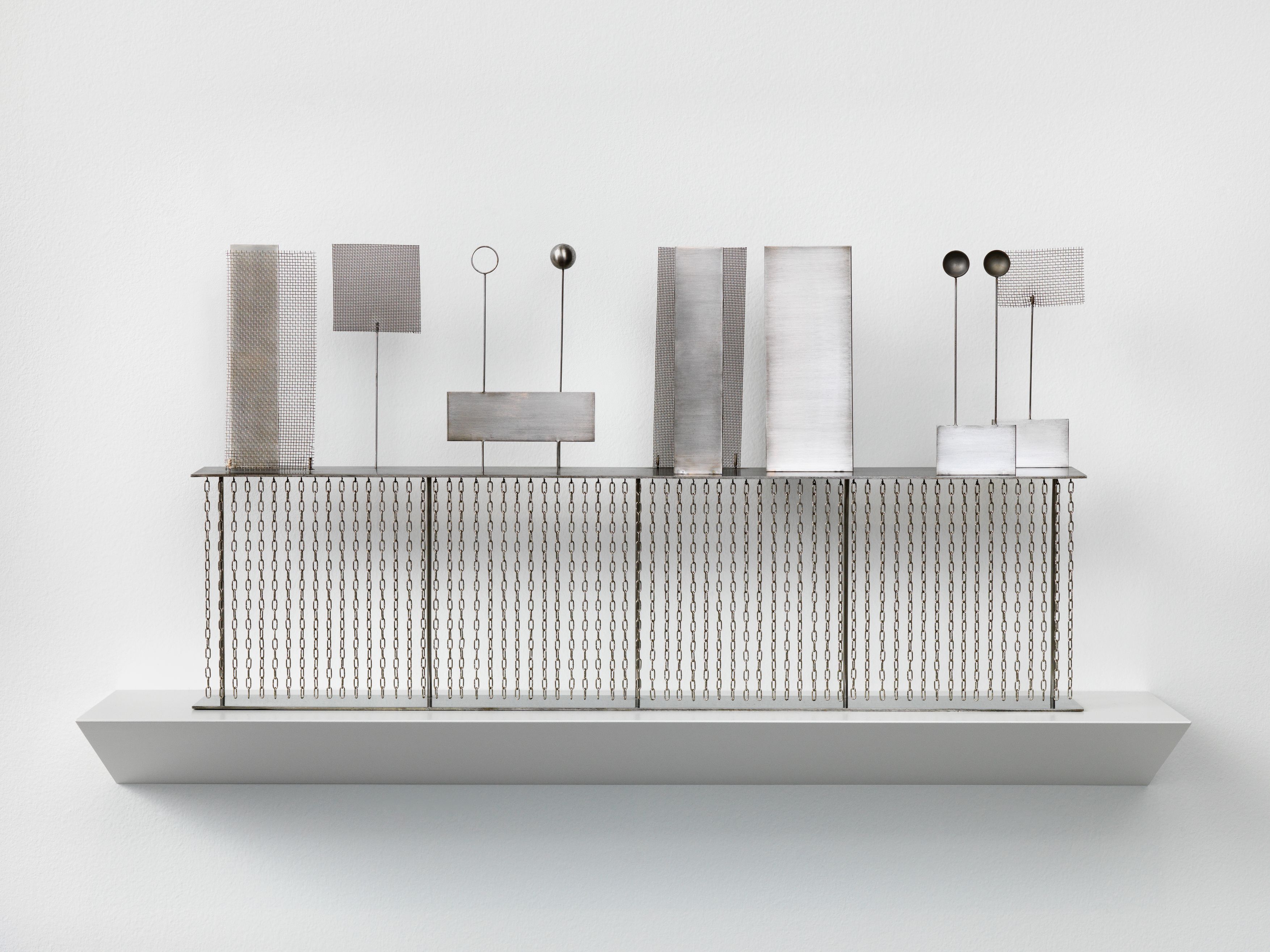 As a life-long music-lover and accomplished pianist, Melotti would switch on music upon entering his studio. In the second of two rooms, the impression is of music or language made visible, systems of behaviour pared to symbolic leanness. Spindly wire boxes with trembling pendant chains barely contain eloquent spokes and curlicues of wire that enunciate the space in and around their linked enclosures (Counterpoint Little Chains, 1973, pictured above left). Bass-heavy pendulums of copper and brass hang plumb from struts and joists and seem to ponder their elevated place between air and earth (Monument to Nothing, 1974), and at the opposite end of the room, triple pendulum Sculpture A, 1968 picks up this refrain with a variation in iron.
As a mature artist Melotti pronounced that "Abstract art knows only art itself. It is not a language that depends on phenomena. It is like geometry, like maths." But even when his sculptures are abstract, they are never inhuman. While Sculpture No.17, 1935, is a duet of triple filaments that crescendo round parallel vertical staves, the impression tends towards a metaphysical meditation on differences in lived experience – one builds classically in incremental bars, the other flows jazzily up the space as if drawn by magnetism. Elsewhere, figurative elements are present: Hanging Garden, 1970, is peopled with abstract lollipops promenading over a landscape of brushed steel and nickel; the other room is watched over by a monumental plaster figure, The Seven Sages (one element), 1960.
And it's in this first room that the interplay of intellect, emotion and invention achieves fuller expression with chiefly smaller, more personal works. It's less coherent, but more fascinating for the fact that it provides glimpses of the many artistic directions he took over the course of his life. In the painting Untitled, 1953, a chorus of upside-down ultramarine Ys thrum in proximity; the different sections of Arabesque, 1955, typified by dots and squiggles and curls, read like visible notation. Both examine how the organisation of individual marks orchestrates larger dynamics. Other pieces invite reflection with levity and tenderness. A glompy lion with a double-balled tail (The Lion Friend, 1960, pictured top), is equal parts atavistic fear-object and friendly psychopomp; a whisked filiform whirlwind topped with a small rectangular looking glass called The Uneasy Conscience, 1973 literally reflects its viewer in its own unsettled image.
Tragedy also runs through the pieces. In a sketch from 1925, a dog paws Orpheus lovingly; in a ceramic from 1945 he appears in supplication at the tomb of Eurydice (pictured right). When Melotti returned from Rome to Milan in 1943 he found his studio destroyed, and with it much of his art. Following the war he made a partial return to figuration and worked almost exclusively in clay, one result of which was his terracotta devils. It is unsurprising, therefore, that over fraught decades the myth of Orpheus should have taken on different resonances. But it's the striking painting on the opposite wall, In memory of my friend Lucio, 1968, that abstract and human elements really chime together. With its and glowing black verticals limned with gold and lone cloud loosening drifts of staccato rain, this almost monochrome requiem is both a homage Fontana's artistic practice and a moving expression of Melotti's grief.
A decade before his own death in 1985, Melotti described "the dramatic raptus of artistic creation" as "similar to the mood of the boy who, finding himself walking at night in a deserted street, sings to give himself courage and, not remembering anything, 'invents' the song". Youth, invention and courage: an idiosyncratic combination – very Melotti.
A duet of triple filaments that crescendo round parallel vertical staves tends towards a metaphysical meditation on differences in lived experience
rating
Explore topics
Share this article