Total Immersion: Ligeti, Barbican review - exploring a 20th-century master mind |

reviews, news & interviews
Total Immersion: Ligeti, Barbican review - exploring a 20th-century master mind
Total Immersion: Ligeti, Barbican review - exploring a 20th-century master mind
Superb interpretations from BBC forces in a day dedicated to the great Hungarian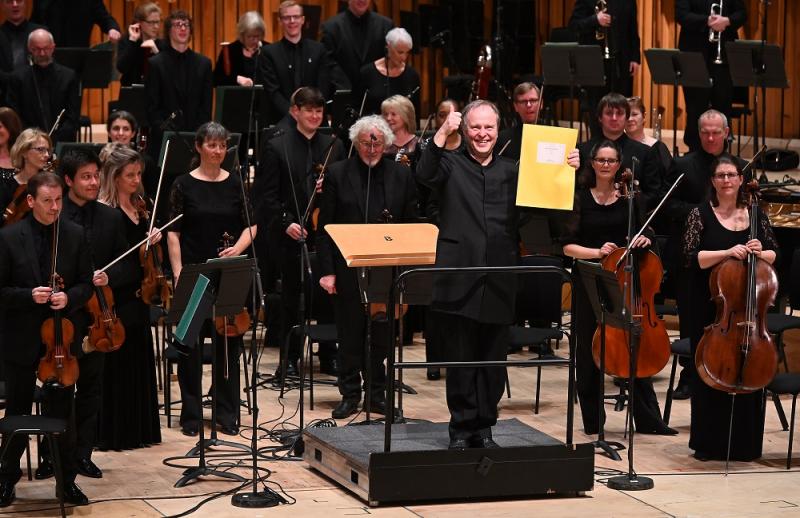 Sakari Oramo proudly holding up a Ligeti score with members of the BBC Symphony Orchestra
A day devoted entirely to the life and work of György Ligeti celebrated this composer's remarkable oeuvre through a sequence programme of film, talks and concerts of his music.
The final two of these performances were a short recital of his choral works, given by the BBC Singers in St Giles' Cripplegate, and a concert from the
BBC Symphony Orchestra
of some of Ligeti's orchestral masterpieces in the
Barbican
Hall.
Under their chief conductor Sofi Jeannin – who led with style, clarity and precision – the BBC Singers (female members, picured below at the later event) opened their concert with settings of two short texts by one of Ligeti's associates, the Hungarian poet Sándor Weöres. Night - Morning began with a beautiful, dusky serenity, then ended with a lively energy to herald the morning. Ligeti's setting of the Lux Aeterna – perhaps best known for its use in Stanley Kubrick's 1968 film 2001: A Space Odyssey – began with shimmering consonants from the choir delightfully peppering the complex chord clusters. Far from Home, a set of four songs, saw the singers evoke the spirit of the Hungarian and Slovakian folk poetry to which it's set, with a lovely balance to their polyphony.
Moving on to some of Ligeti's later choral works, three of his Nonsense Madrigals, set to texts by Lewis Carroll, were performed with a real sense of fun, some of the singers creating a nasal effect by holding their noses. None of their professionalism was lost, though, and these silly songs were delivered with all the finesse of the earlier, more serious pieces.
The day culminated with a superb performance from the BBC Symphony Orchestra, which explored some of Ligeti's seminal orchestral works Sadly, due to complicated stage re-settings which obviously took longer than forecast, at 10 minutes before the concert's advertised end time the second half was yet to begin. Obviously a bit of give and take with timings is to be expected, but this was a surprisingly excessive delay, and as a non-London dweller I had no choice but to leave at the interval if I was to avoid interrupting a piece, or being stranded. (Please blame the rail companies' timetabling!) This was a great pity, as if the first half was anything to go by, the second's performances of Ligeti's Piano Concerto and his 1973-4 work San Francisco Polyphony would have been fantastic. Alas, I'll need to wait until the broadcast to find out.
During the first half, the BBC Singers once again graced the stage, although a with a different line-up from the earlier concert, for the 1972-3 piece Clocks and Clouds. It takes its title from a lecture given by the philosopher Karl Popper, who drew similarities between clouds and clocks when discussing order, chance, determinism and free will. The layering of the voices – which may sound up to chance but in fact is ordered – was brilliantly executed, the singers' voices cutting through the density of the orchestra. An earlier work, Atmospheres, composed in 1961, had a mood of intrigue and almost foreboding, as the BBCSO's chief conductor Sakari Oramo teased out the bubblings and rumblings of the piece.
Violinist Augustin Hadelich (pictured above with Oramo) gave a tremendously athletic performance of Ligeti's Violin Concerto, which was written between 1989 and 1993. His quivering opening melody gradually turned from soothing to disconcerting, and his dialogue with his fellow musicians was gripping, as soloist and orchestra navigated Ligeti's complex and curious harmonic landscapes. The cadenza in the final movement was quite dazzling, Hadelich playing with a fervent, almost obsessive vigour, before the percussion came in to give the piece a punchy, piquant finish.
Hadelich's quivering opening melody in the Violin Concerto gradually turned from soothing to disconcerting
rating
Explore topics
Share this article