Pose, BBC Two review - transgender goes mainstream |

reviews, news & interviews
Pose, BBC Two review - transgender goes mainstream
Pose, BBC Two review - transgender goes mainstream
And the category is: master of gloss Ryan Murphy brings on the world of 1980s drag balls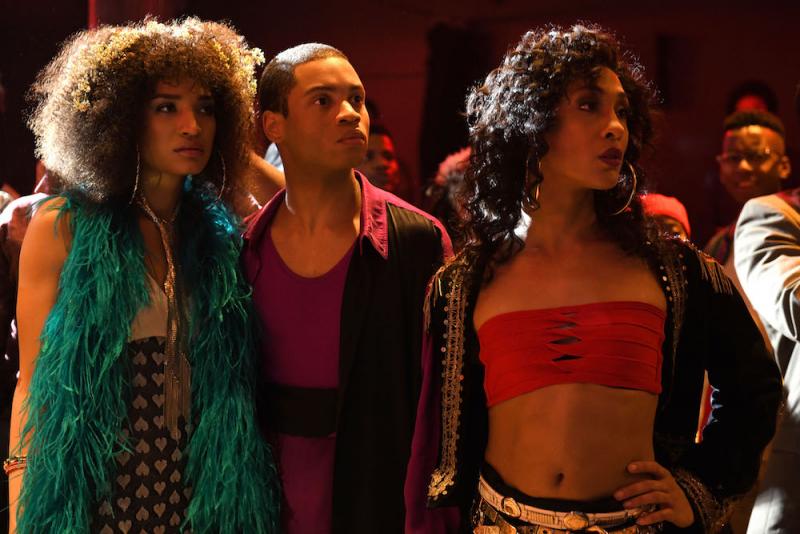 Strictly ballroom: Angel (Indya Moore), Damon (Ryan Jamaal Swain), Blanca (MJ Rodriguez)
NYC, 1987. AIDS is ravaging the city, Reagan's in power, Trump is in his tower. The American dream is available - to some. And for some of those to whom it's not, there's the world of balls, vogueing and competing for trophies. If your family has kicked you out for being gay or trans, the balls are a place where you can strike a pose, find acceptance and make your legendary mark. Even if you're homeless and haven't eaten in days.
Pose, partly based on Jennie Livingston's 1990 documentary Paris is Burning, (she acted as consultant on the series) is ground-breaking because trans people play trans characters. Impresario Ryan Murphy, something of a TV legend himself (Nip/Tuck, Glee, The Assassination of Gianni Versace, American Horror Story, The People vs OJ Simpson and a new multi-project deal with Netflix), co-created it with Brad Falchuk and with Steven Canals, an unknown Afro-Latino queer screenwriter who showed him the script. Transgender activist and writer Janet Mock and producer Our Lady J are also consultants, and it has the largest cast of transgender and LGBTQ actors ever featured in a commercial TV series. The straight white people are minor characters. And that makes quite a change.
Not that Pose is exactly gritty. The hyper-real, glossy, stylised Glee-factor shines on, there's a hint of Fame in the air - though the dancing is often less than impressive - and Washington Square Park looks strangely neat and clean. But the energy and elegance of its cast members draw you in. There's the fabulous, imperious Elektra (Dominique Jackson, pictured below), mother of the House of Abundance, which has reigned supreme in the ballroom categories – such as Weather Girl, Dynasty, Military or Stone Cold Face - for ten years. "I can pass," she spits at her rival Blanca (MJ Rodriguez). "I can be waited on at Bergdorf's same as any white woman." Elektra, whose costumes are masterpieces, is larger than life, but we see her vulnerability when she's discussing gender-confirmation surgery with a doctor in one of the show's most engagingly human scenes.
Blanca, fed up with Elektra's bitching and bravely spurred into action after she tests positive for HIV, leaves Abundance to rent a dingy Bronx apartment and form her own, more caring house, that of Evangelista, named after Linda Evangelista, in homage to the fact that she "stole my look".
Themes of class, opportunity, exclusion, realness, run through Pose. The first three episodes revolve mainly around Blanca's new crew, starting with 17-year-old dancer Damon (Ryan Jamaal Swain) who she "adopts" after she spots him in the park. He's sleeping rough after being kicked out by his parents back in Pennsylvania: "The Bible condemns homosexuality and God will punish you by giving you that disease," says his mother.
Pose's dialogue is often stilted and preachy, but because it's campily heartfelt, it mainly works. Blanca explains what the balls are to Damon: "They're a gathering of people who are not welcome to gather anywhere else." (Not even in a gay bar. Blanca finds out that gay men are as transphobic as everyone else.) They don't have access to the American dream, she goes on, though not because of any lack of ability: they're marginalised and discriminated against.
As for that dream, it's embodied in the character of Stan (Evan Peters, pictured above left), a Jersey boy - and Murphy always loves the suburban prism - married with kids (his wife Patty is played by the excellent Kate Mara) who works at Trump Tower, and his evil, coke-snorting boss (James Van Der Beek, pictured above right). But something's missing, apparently, because there's Stan, cruising down on the piers, where he meets the gorgeous, fragile Angel (Indya Moore). She's saving up, she explains coolly after removing her panties, "to have my little friend removed. It's not cheap it you want to do it right." "It's not that little," replies Stan, smiling, and asks Angel what she wants in life. No one's ever asked her that before, and she's hooked. So is he, and they seal it with a rather chaste kiss - sex is quiet and careful throughout Pose - while Kate Bush's "Running up that Hill" plays on the car radio. "From now on, that's our song," says Angel, whose most fervent wish is to be treated "like any other woman". Stan does his best, though he has to buy his wife a dishwasher first.
The glorious colour of the balls, where costume-maker Pray Tell (a brilliant Billy Porter) emcees to wonderful effect (he spritzes cologne at Macy's as his day job) finds its contrast in the suburban beigeness of Stan's house and in the static surroundings of the Rainbow Room, where Stan and Patty celebrate their wedding anniversary over martinis and lobster. You know things aren't going to go well for Patty when Stan goes into a trance and thinks he sees Angel waltzing alongside him. Two worlds collide, and the trophy goes to the balls and their fabulous contestants.