The People v OJ Simpson: American Crime Story, BBC Two |

reviews, news & interviews
The People v OJ Simpson: American Crime Story, BBC Two
The People v OJ Simpson: American Crime Story, BBC Two
Forensic biopic of fallen sports star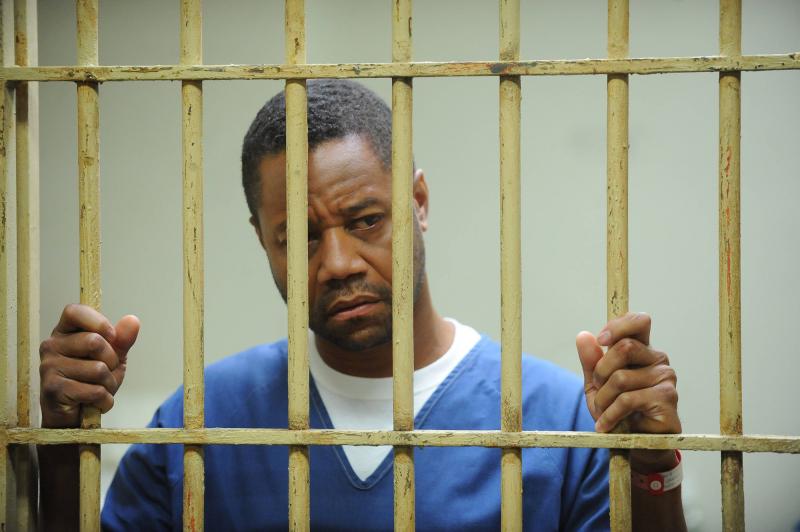 Cuba Gooding Jr conveys OJ Simpson's childish tantrums and monumental self-belief
Halfway through its 10-week run, The People v OJ Simpson: American Crime Story appears to be running in real time as it slowly, painstakingly tells the story of how one of the US's biggest sports stars was accused of the murders of his ex-wife Nicole Brown and her friend Ronald Goldman in 1994. But moving at what is – by modern television drama standards, at least – a glacial pace allows the creators to burrow deep into the American psyche and, more pertinently, examine the deep-rooted racism lurking in parts of US society.
Writers Scott Alexander and Larry Karaszewski have set out their stall from the off; they started the series with footage of the 1992 Los Angeles riots, sparked by the beating of African American taxi-driver Rodney King by LA police officers. When the murders occurred and Simpson was arrested, those tumultuous events were still fresh in everybody's mind.
The prosecutors (almost entirely white) made a fatal error – in not recognising the burning anger that many black people still felt in what was a racially divided city – and sleepwalked into allowing the trial to be tried by a jury in the predominantly black Downtown area: such was their belief in the overwhelming evidence against Simpson. So when his defence team began promulgating the notion that OJ was a victim of LAPD racism, it was a turn of events for which the prosecutors simply weren't prepared.
The drama is based on Jeffrey Toobin's book The Run of His Life: The People v OJ Simpson and, while court testimonies and witness statements, interviews, memoirs and biographies are in the public realm, there are wholly believable scenes in The People... in lawyers' offices and Simpson's home that one assumes came from insiders' contributions. One could easily make the inference, for example, that at least one senior member of Simpson's legal team believed him to be guilty from the off, and that a blind eye had been turned by many of the couple's friends to the domestic violence that Brown suffered at Simpson's hands during their marriage.
Some of the cast are doing pretty passable impersonations of those whom the court case made famous: David Schwimmer as the nice but dim Robert Kardashian, OJ's loyal friend; Sarah Paulson (pictured above) as chief prosecutor Marcia Clark, unfairly vilified for allowing the defence to turn the trial into a branch of showbusiness; and – a revelation, this – a positively lizard-like John Travolta as chief defence counsel Robert Shapiro, who was in turn supplanted by the ruthlessly ambitious Johnnie Cochran, played with quiet effectiveness by Courtney B Vance.
And, while Cuba Gooding Jr can't replicate the stunning good looks and charisma of Simpson in his prime, he neatly conveys the pampered sports star's ego, childish tantrums and monumental self-belief.
In last night's instalment, The Race Card, Cochran's role in proceedings came to the fore in the opening days of the trial. His tactics and mind games with the prosecution sliced through what seemed to many as clearcut evidence, and the earnest prosecutors were no match for his machiavellian ways as he brilliantly stage-managed court proceedings, which were shown live on television.
Like many courtroom lawyers, Cochran – with his gaudy dress sense and florid language – had a touch of the showman about him, as did Dominick Dunne (Robert Morse) who sat through every day of the trial and wrote memorable despatches for Vanity Fair.
The script, acting and direction (last night's episode by John Singleton) are superb, and 22 years after those famous scenes – of Simpson making an escape attempt along LA freeways in his speeding white Bronco, and of the trial and subsequent acquittal – we're reminded that few stories have a definitive ending. Just look at the inexorable and inexplicable rise of the next Kardashian generation, Simpson's later incarceration for robbery, and the recent debate about the white Oscars. Sometimes history seems to have a mind of its own.
Like many courtroom lawyers, Cochran had a touch of the showman about him
rating
Explore topics
Share this article