Take That, SSE Hydro, Glasgow review - capes and cameos in 30th anniversary spectacular |

reviews, news & interviews
Take That, SSE Hydro, Glasgow review - capes and cameos in 30th anniversary spectacular
Take That, SSE Hydro, Glasgow review - capes and cameos in 30th anniversary spectacular
The UK's most successful pop act celebrate their big birthday in style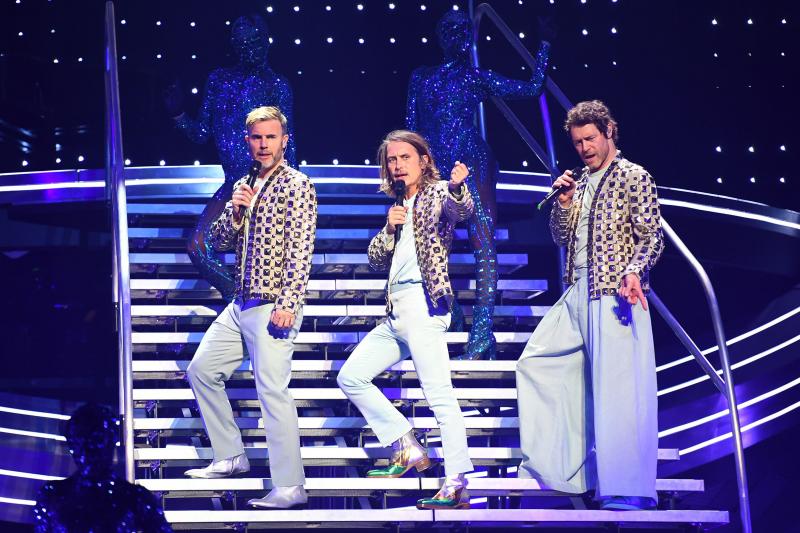 Never knowingly subtle - Take That live
This year, says Gary Barlow, marks 30 years since five boys walked into a room in Manchester and auditioned for what would turn out to be the UK's most successful pop act. It is fitting, then, that what they are billing as the Odyssey tour features 25 hits from across three decades - and more than a few callbacks.
The trio - Barlow, Howard Donald and an increasingly hirsute Mark Owen - may keep promising to take us "back to the 90s", but there's a decidedly futuristic look to the stage with a giant, glowing orb proving the pre-show focal point. As their band take their places in the shadows, the orb slowly rotates to reveal the Take That logo, aping the artwork of their new Odyssey compilation, and three figures in shiny blue shell suits. While Owen's look, in particular, may have changed from his days as a teenage heartthrob, it's comforting to see that the fashion choices haven't.
Take That tour productions are hardly known for their subtlety - sets since their mid-00s comeback have featured giant carousels, a 60 foot robot and a full-on Cirque de Soleil tribute - and by the end of rousing opener "Greatest Day" the 13,000-strong Glasgow crowd is covered in confetti. While the orb, which cleverly doubles as a video screen, is the visual highlight this time around, there are still plenty of fireworks - plus elaborate dance routines, trampolines, a second stage and a slightly dubious interlude during which the trio mime riding motorbikes.
The first part of the set bounces around, chronologically speaking, demonstrating a knack for a good chorus that has remained constant from "It Only Takes a Minute" (1992) to "These Days" (2014). "Could It Be Magic" sees the trio embrace full Americana kitsch, mugging to every part of the crowd in red, white and blue sparkly cowboy capes, while a pre-filmed "Bohemian Rhapsody"-style opening to "Everything Changes" provides an opportunity for a brief cameo from Robbie Williams, his "we're a thousand miles apart but you know I love you" line a dual-purpose message for both the fans and his occasional bandmates.
It's a trick that the core trio pull off a couple of times to varying effect: the Bee Gees video accompanying Barry Gibb's contribution to a new version of "How Deep Is Your Love" was a touching tribute, but black and white footage of a young Jason Orange had us scrambling for our phones to check up on the current status of the former Take Thatter. The Glasgow crowd kept the biggest cheer of a very noisy night for a surprise IRL appearance from Lulu (below, with Take That), reprising her iconic "Relight My Fire" guest vocal in a spectacular cape.
Cartoonish new song "Spin", in which Donald leads the trio on a motorcycle ride through a futuristic desert landscape while interchangeable attractive female dancers hop on and off the back of the bikes, strikes a bit of a bum note - but for the most part, it's a joy to watch these three old friends relive a youthful highlights reel, tongues firmly in cheek. Barlow even goes full hype man, encouraging raucous singalongs during classic ballads "A Million Love Songs" and "Back For Good", while screening the 1996 press conference that broke a million teenage hearts was a cheeky knowing wink to the band's phenomenally successful second act - as well as creating an opportunity for a quick costume change.
The Owen-led "Shine" is the most visually spectacular song of the night, the trio performing in gold jackets on a giant staircase while dancers done up like luminescent peacocks preen along. "Never Forget", accompanied by old video footage, is surprisingly moving, despite the treadmill-driven dance routine; as is a sombre new version of 1993's "Pray", translated into sign language. But they end on a high note with "Rule The World" and a full indoor firework display - until the next act.
Take That's Greatest Hits Live Tour will broadcast live from Principality Stadium, Carfiff into 600 cinemas across the UK & Ireland on Saturday 8th June at 8pm
Take That tour productions are hardly known for their subtlety
rating
Share this article