Takács Quartet, Wigmore Hall review – strong voices in a glorious group |

reviews, news & interviews
Takács Quartet, Wigmore Hall review – strong voices in a glorious group
Takács Quartet, Wigmore Hall review – strong voices in a glorious group
From Hungary to Norway, a great team shows world class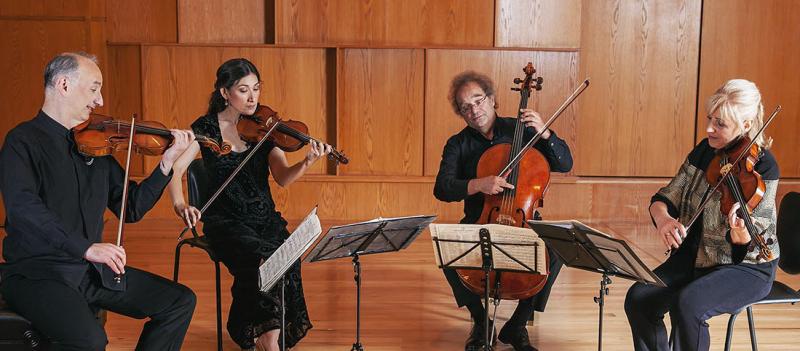 All together now: the Takács Quartet
When critics praise a first-rank string quartet, convention demands they claim that the whole adds up to more than the sum of its parts. True enough, maybe, but with the Takács Quartet, each separate element really does blaze with a soloistic, virtuosic flame. From the first bars of last night's opener at the Wigmore Hall, as Haydn plays pass-the-parcel with an apparently straightforward tune at the start of his G major quartet Op.76 no.
1, the sheer class and distinctive voice of each instrumental contribution grabbed the ear.
Remarkably, this group – first mustered in Budapest in 1975 but long resident at the University of Colorado, Boulder – now includes both a founding member of 44 years standing (András Fejér's cello) and a newcomer who joined only last year (Harumi Rhodes on second violin). Yet their tight-knit togetherness is a thing of beauty in itself. Throughout the Wigmore Hall concert – the first of two this week – they interwove complex musical materials with a mutual attentiveness that spoke at every turn of world-beating teamwork.
So often, Fejér's rock-solid – but never stolid – cello seems to lay the warm and deep foundations for their utterly coherent sound. He can be engagingly droll too, and Haydn's more folkloric touches – especially in the minuet – brought out that bonhomie. Leader Edward Dusinberre, meanwhile, drives his crew onward with a firm, bright voice, rising to sumptuous star-turns when required but, mostly, a watchful and collegiate primus inter pares. By the time that Haydn ends with the darker, G minor wanderings of the closing Allegro, the Tákacs had more than justified their glittering renown.
Then came, arguably, the troubled heart of the evening's programme: Bartók's sixth and last quartet, finished in 1939 just before he left Hungary for his late-career American exile. All four movements carry the marking "Mesto" – sad. At the outset, Geraldine Walther's viola solo united yearning tenderness with a glorious depth of tone: a hallmark of her superb playing from first to last. As often, Bartók in this mood seems to nod gravely to later Beethoven: did I hear an echo of the "Muss es sein? Es muss sein!" motif from the Op. 135 quartet?
Fejér, again, shone with dazzling pizzicato passages. Harumi Rhodes, powerful, assured but deeply expressive too, wrung every drop of impassioned feeling from the second movement as it shifts into a sort of manic gypsy march. As the cello slides and its companion strings lurch, Bartók's distorted street-band sounds summon a truly demonic energy, sustained across the frantic "Burletta" of the third movement. Here, though, viola and second violin find a more serene and song-like voice, until a pizzicato section – brilliantly played by all – scarily tugs us almost into Bernard Herrmann, horror-movie territory. (Kubrick, after all, purloined another Bartók work to ratchet up the dread in his The Shining.) The finale, though, struggles towards a hard-won peace. Walther's viola again creates a radiant and consoling presence, while Fejér's cello opens vistas of beauteous calm, until the music slows and fades into nothingness.
My only qualms about the evening's fare came after the interval, and they had nothing to do with the superb execution of the piece in question. Grieg completed his quartet in G minor in 1878, but it has never quite won a secure niche in the repertoire. It was fascinating to hear the Tákacs tackle this relative rarity with such vitality and commitment, but – after Haydn and Bartók – the material they had to work with was bound to disappoint. Though delivered with ferocious bite and unflagging flair, with Dusinberre outstanding at the front, Grieg's sustained chordal passages can end up sounding rather dull. Here we had four absolutely top-notch individual performers, often forced by the score to suppress their own voices in favour of a thumpingly uniform, unison sound, lacking light and shade. For all the flurrying and scurrying of the opening movement, there's less lyric grace – or Norwegian country charm – than you might expect from Grieg, and sometimes even a wearying grandiosity.
The seemingly syrupy "Romanze" that follows tantalisingly suggests a salon-orchestra pastiche – a witty, not-quite-serious complement to tinkling teacups. As it breaks down into ironic, anxious fragments, we could almost be on the road to Mahlerian ambiguity. However, the work's resolution doesn't sustain this sardonic and bittersweet atmosphere. In the Intermezzo and Finale, the players swapped and shuffled Grieg's leaping dance rhythms with a mesmeric deftness and finesse. For all their consummate artistry, however, there was something heavy-booted and ponderous about the music. It made this listener (at least) wish that he was hearing a mercurial Dvořák quartet instead. Grieg's shade, however, should be thrilled to have found such majestic advocates.
The Takács' tight-knit togetherness is a thing of beauty in itself
rating
Explore topics
Share this article